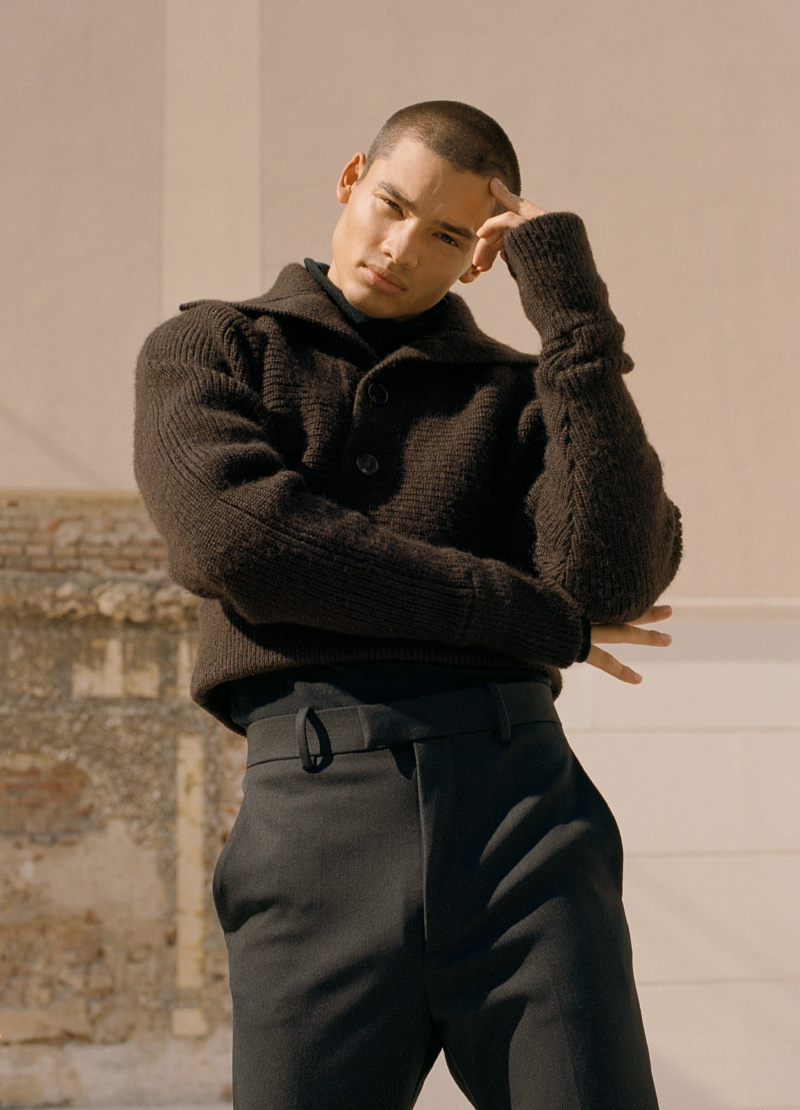 I was born in Parma, a city in the center-north of Italy, the son of an Italian father and a Colombian mother, who came to Italy for love and met my father right after breaking up with her ex.
I grew up quickly and started to study cooking at the hotel school, and in the meantime, I played soccer, doing reasonably well. Slowly, after years of sacrifices for the sport, I began to hate the environment and everything around it, from the falseness of the teammates to the hypocrisy of the managers.
As I grew up, year after year I realized the reality that I lived in was quite narrow to me and I started to think that I didn't want to live in a small town, so I dreamed big and began to take an interest in what happens outside the province, all thanks to my parents who allowed me to travel, increasing my culture and critical sense for the world.
While studying at the university, I started offering myself as a model to various model agencies, both in Italy and abroad, only getting 'no thanks' in reply to my attempts. I was about to give up that path, when one day I met a guy who scouted models and got them assigned with various agencies in Milan. He told me he thought I had a chance of entering that world… I trusted him, used that chance… and after two weeks I signed my first modeling contract! Sometimes it is always the last key in the bunch that opens the door!
I remember many stories from my modeling career, though there's one which always made me laugh. One day I got a chance to take part in an exciting casting, along with forty other guys, to fight for a chance to get a modeling contract with one of the most important fashion brands in the world, Versace.
The casting itself took place at Versace headquarter, a gigantic building in the center of Milan, which already took my breath away while looking at it even from the outside, because of its immensity and beautiful architecture.
So, I turned up for the audition, all dressed up and super fit. I wanted to take the job and above all to make a good impression for future opportunities, so I arrived early, discovering to my misfortune that at least 30 guys have done the same, and I found a fair number of people waiting their turn in front of me.
During my quick chat with a concierge, I was lucky to find out that the models will go up for casting in groups of ten at a time. I was the thirty-first to arrive, meaning I got to the fourth group, which was actually the last one.
I waited patiently for my turn along with nine other guys, and when finally, after an hour of waiting, they called us, we were all pumped up and ready, or at least I was. A young good-looking girl introduces herself to our group and showed us the way to the room where we were later to try on clothes for the photoshoot. She advised us to take the stairs once we turn into the main hallway and walk up to the third floor. So, myself and the other nine guys in the group headed in single file inside the building, all decorated with the brand's iconic aesthetic. It literally felt like walking into an art museum.
When we arrived at a certain point, we found ourselves in front of a flight of stairs, with a small grey elevator next to it. Like most people I quickly ask myself the question, do I walk up or take the elevator? I then opt for the second choice and rush into the metal cage, followed not by one or two but by all nine. In a second I find myself against the mirror of the elevator, cramped and helpless, locked in the grip of the other nine.
In no time at all, the last in line presses the button for the third floor and for a brief moment we feel smart for having broken the girl's suggestion — after all, why take the stairs three flights up when you can ride in an elevator?
All wrong. Next to me I read 'maximum capacity three people' and begin to think that maybe that choice had not been so smart. But the cage seems to hold its weight and slowly starts to rise. On the display I read 'first floor' and momentarily reassured myself.
Quickly the situation is reversed and I went from being on the first floor to 'minus three'. Well, and here you were thinking, they got the stupidest group of models all together to do something like this. Well, yes.
We were on the third floor below the ground floor and all nine of us initially seemed to enjoy it. We pressed an emergency button… five minutes pass. Nothing happened. Again, amid laughter and joking, someone even said: "I'm going to light a joint now". Another ten minutes passed. Cosmic nothingness.
It started to get hot in there, we were cramped like sardines and the elevator seemed to be almost hermetically sealed, allowing very little air to pass through. Fifteen minutes went by and still not a technician or someone turned up to open the door. In the meantime, a couple of guys started getting impatient and tried to force the door open, obviously with vain attempts.
Almost half an hour passed and still nothing, by now we were all nervous about what was going on and no one understood why people upstairs didn't even notice that we hadn't shown up in the casting room.
After almost thirty-five minutes, a technician came to open the door and, seeing the nine of us coming out of a three-man elevator, looked at us scowling and commented with a phrase like 'you're really idiots'.
We went up the stairs to the third floor, where the casting was to be held, and we were laughed at by the whole team, who took the incident 'philosophically' without making us think too much about the huge shit we had done. Well, what could we say? Moral of the story? There isn't one, you just don't go up in nine into an elevator of three!
One more important thing which I realized during my modeling experience was that there's never too late in life to find the right people and true friends. After about two years working as a model, one day I was confirmed for a shoot in Rimini, a seaside resort not far from where I used to live. As soon as I arrived at the location I met Lorenzo, another model who, like me, was waiting for the driver who was supposed to pick us up, Andrea (who worked as a photographer but was also in charge of accompanying the models on the set), who had arranged for us to meet in front of an old kebab shop next to the station. Lorenzo and I started talking and there was an immediate affinity between us and when we saw Andrea arriving late and in a hurry in his old Citroen, we start laughing.
We had already realized that there would be an unforgettable day ahead. And so it was, the day on set flew by amid laughter, jokes and a lot of complicity. We looked like three old friends who happened to meet again after a long time not seeing each other.
At the end of the day, Andrea took us back to the station, and all together, aware of the energy that had existed between us, we promised ourselves that we would see each other again, on some other occasion. At the same time, however, it would not have been easy as all three of us lived in different cities.
Months passed and we continued to keep in touch, with the hope of getting together again. I saw Lorenzo in Milan and shot for his clothing brand, as well as I saw Andrea in Rimini, on the occasion of his graduation. Even though we were not all three together, the enthusiasm that had brought us together seemed not to have died down. In September, the big day arrived, and we agreed to finally get together. After spending the weekend, all three of us realized we had more than friendship in our hands.
After those days we became inseparable, sharing thousand moments, episodes, parties and adventures. We went to Amsterdam, Barcelona, Athens and travelled halfway around Italy, always together. Now we all live together in Milan, after a year and a half of knowing each other. Incredible in how little time you can create a unique bond with one person, let alone two.
Well, what can I say, thanks to the world of fashion, I will always be indebted to what the world offered to me. Right now, when I think of a future in my modeling career, I immediately think of travelling, moving and visiting new cities with other types of markets. I would love to start working in the US and Asia, huge markets always full of opportunities. Here I leave a piece of advice that is as simple as it is important to those guys new to the industry — always be yourself, never emulate anyone, your uniqueness will take you far. I wasted too much time trying to emulate people who had nothing to do with me.
Another piece of advice however, which is a little less 'spiritual', is to never just focus on one market or one country, start travelling and experiencing new places and new countries, a hundred more doors will open for you. I'm also thankful to my parents who always been my strength and inspiration, I owe them everything!
The post Sebastian Matarrese: It Felt like Walking into an Art Museum appeared first on The Fashiongton Post.