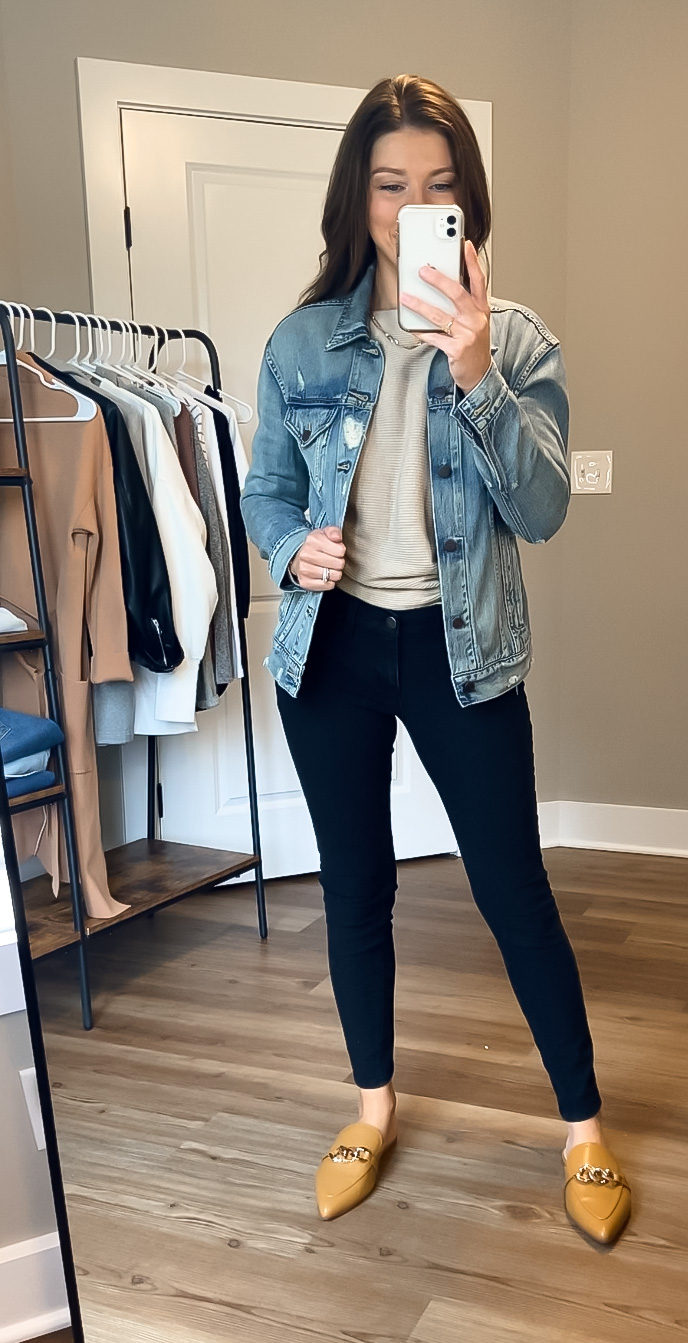 Fall is upon us, and you are looking to get your wardrobe in shape for the season. Where do you go to find the best casual, everyday wear, capsule wardrobe for Fall? Here, of course! Each season, I publish a capsule wardrobe guide to walk you through everything you need to create a capsule wardrobe and style 100 outfits. In case you missed it, the capsule wardrobe for Fall 2022 is available HERE!
In this post I am giving a preview of the capsule and my favorite outfits from the collection.
Capsule Wardrobe for Fall 2022
If you are familiar with capsule wardrobes, you know it is best practice to use only coordinating pieces that can create several outfits. The goal is to create timeless, effortless outfits with as few pieces as possible. Timeless pieces, such as a white tee & jeans, can be worn year after year. Thus, you can shop LESS and SAVE money on otherwise trendy one and done outfits.
Not only are my capsule collections timeless, but they are also versatile and comfortable. The capsules I create are focused on everyday casual wear. With endless looks for working from home, school events, play dates, coffee runs, you name it! Sound like something you need? This capsule wardrobe for Fall is for you!
VISIT THIS PINTEREST BOARD FOR MORE CAPSULE WARDROBE INSPO!
Capsule Wardrobe Benefits
A capsule wardrobe for fall is ideal if you are a fan of minimalist, neutral style, and want to transform your wardrobe to reduce stress when getting dressed and planning outfits. The best part? You may also save some money since you won't be buying new clothes all season!
Fall weather can be quite up and down, therefore a capsule wardrobe for Fall should contain items that work for warmer, sunny days, as well as cool Fall days.  Being from Ohio, we can experience all 4 seasons in a matter of hours, so I like to think I've mastered the art of versatile outfits for any weather!
SNAG YOUR COPY OF THE FALL CAPSULE HERE!
Basic Pieces for Fall
Before I share my favorite outfits for the current season, here are a few basics that you may want to add to your own wardrobe this season.
Denim:
My Abercrombie Dad Jeans are possibly the most comfortable denim I've ever put on my body. So roomy yet flattering. Definitly check them our if you need a denim refresh and update.
The denim jacket from Able is one that can't be missed. I've been wearing it every season and could not pass on adding it to the Fall capsule for 2022!
Faux Leather:
Faux leather jacket under $50?! Thank you, Walmart. I don't wear leather jackets enough to invest in a real leather jacket, so this one is perfect for me. To top it off, it is super comfortable and easy to layer over thick sweaters.
Faux leather leggings are still in style, and I am here for it! This post covers all of the tops I'm wearing with faux leather leggings this year.
Coatigan:
Is it a coat or a cardigan? I'm not quite sure, but it is dreamy. Bought mine second hand a while back and can't stop wearing it. This coatigan is very much on trend again this year. You can certainly wear it into Winter, too!
Fall Outfits
VIEW MORE CAPSULE WARDROBE INSPO HERE!
The post Capsule Wardrobe for Fall appeared first on Penny Pincher Fashion.