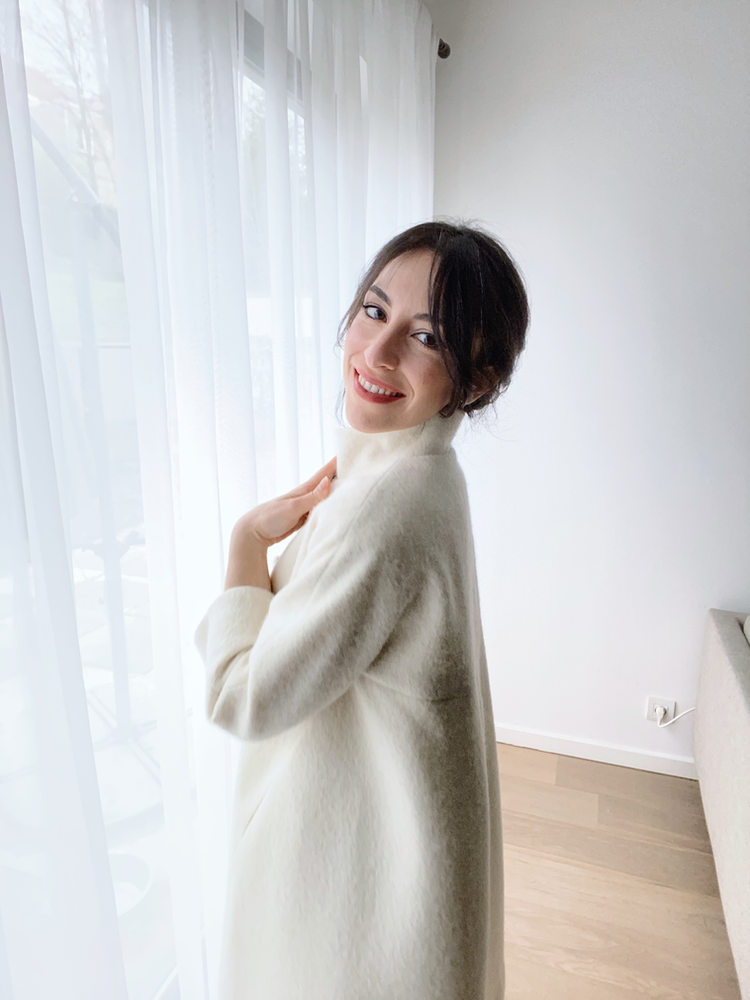 In these cold winter days, what could be the best project to start my blog? Of course the white wool coat.
During the last couple of tough months, I found extra comfort focusing on my passion, fashion design. It's a chance for me to clear my head, and relax after a long day of work. Working full time during the day, I find very little time to invest in my hobby. The result comes slowly but surely is very satisfying.
Sharing my creations online also motivates me because I see a lot of people are interested in custom made garments and want one for their own. So I decided to start this blog to share my passion with everyone who is interested to make their own garments.
The first project is a winter coat inspired by the early 60s Givenchy designs. Elegance, function, flare & japonais were the keywords.
As a silhouette I choose an A-line flared body with a funnel neckline. Fabric choice was perfect for this coat due to its weight. I chose a pearl white mohair wool fabric. I learned so many new techniques while making this coat, as this was my first ever coat made with lining.
Keep reading for more details 🙂
or
Jump to different sections:
Inspiration
Pattern making
Sewing
Final look
---
Inspiration:
Hubert de Givenchy and Audrey Hepburn had an amazing friendship and did great collaborations while Audrey was shooting her classic movies. I love the statement coats Givenchy designed for Audrey. This coat was a combination of different aspects from Givenchy designs back in the 60s and I was inspired from the following looks of Audrey:
Pattern making:
Before starting with the pattern for this coat, first I created a coat foundation block for my measurements. Once you have your coat foundation block, you can copy that pattern and start making modifications to design the pattern you need to achieve the desired look in your garment. In the future I will make a post and explain how you can make your own foundation blocks.
I use the book called Patternmaking for Fashion Design by Helen Joseph-Armstrong to make all the foundation patterns and I use the techniques she teaches in the book to achieve the looks I want.
For this project I used the basic coat foundation, and adapted the pattern to have kimono sleeves. Then I added my style-lines to incorporate the hidden pockets and added a bit of volume on the back of the coat. In total the body made up of 4 pieces of patterns. For the neckline I used the principle of a mandarin collar, but I used draping techniques on the mannequin to achieve the look I wanted.
Once I create all patterns, I make a mock up first to verify if the result is what I want it to look like. If necessary I make modifications on my pattern before I continue to cut the original fabric I want for my garment. I use cotton fabric to make the mockups and I recycle them for other projects later on.
Sewing:
Once I am satisfied with the design and I create the final pattern, I go on and cut the fabric. For this project I used mohair wool fabric from ,The Fabric Sales. This fabric has a lot of weight and supported the design very well. I used a silk lining fabric with matching color. All the lining and facing pieces were cut with the same pattern. I added iron on interfacing to the facing pieces and neck pieces and continued with the sewing process.
Sewing is a domain where I am not very comfortable yet. Since I am an engineer, visualizing the 3D design or constructing the pattern comes very easy for me. However when I need to step on the sewing machine I get very nervous 🙂 Therefore I try to educate myself and learn techniques as I need them along the way when making new garments.
For this coat I used the straight machine stitch and hand sewing techniques. Since I don't own an overlock machine yet, I binded all the fabric edges by hand. For the construction of the coat and the hand sewing part I used the book called Couture Sewing by Claire Shaeffer. You can find great techniques in her book for constructing high quality couture garments. I used the tips for hemming, binding and fabric covered button making.
Final look:
I hope you enjoy the project!
You can send me a message for any questions and subscribe to my blog to be informed about all the future content!
Cheers,
Idil