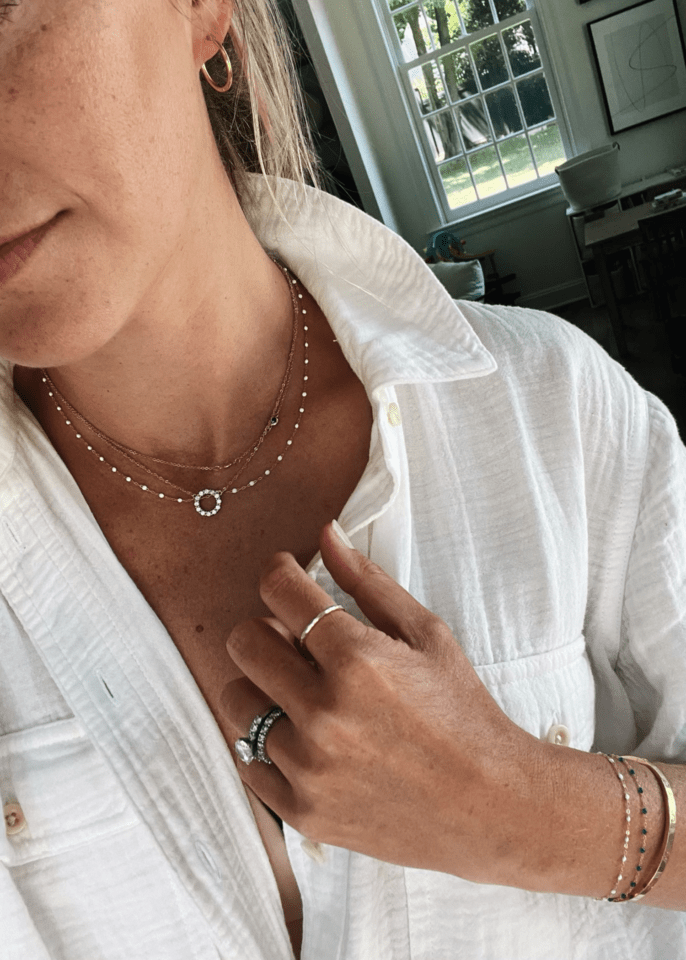 This post is way overdue, but excited to finally have it written and up on the blog. One of my most frequently asked questions, if not the most asked, is where my everyday jewelry is from. If you're new here, I tend to wear the same few pieces everyday and rarely ever take them off. While I do enjoy the occasional statement earring or stacking chunky bracelets for vacations and date nights, I prefer something simple and dainty for everyday wear.
As of now, most of my pieces are either by Gigi Clozeau or Haverhill. Gigi makes dainty, beaded pieces in every color you could imagine and are safe to wear in water. They're amazing quality and they do offer a one year warranty on your purchase. After several years of wear, I recently broke the clasp on one of the bracelets and the brand fixed it for a small fee. Unfortunately, they don't usually offer promo codes, but you can get 10% off when you sign up for email. Etsy also has a lot of similar options if you're looking to try out the style, but not quite ready to commit.
Haverhill is a small company based out of Rhode Island and specializes in quality, custom birthstone jewelry. They're made of solid gold for everyday wear and are also safe to wear in water. Their pieces are designed so that you can add additional birthstones/charms as your family grows verses having to purchase an entirely new piece. Their pieces make great gifts and you can use code KENDALLK for 15% off your purchase.
I've listed out all the details for each of my pieces below along with pictures, but please let me know if I missed anything.
Medium slim hoop earrings – most worn hoops and come in several sizes. Studs has a large selection of earrings and you can purchase in pairs or individually. They usually have sales during the holidays and offer 15% off with email sign up.
Haverhill Personalized Classic 2 Birthstone Necklace 14k gold ,15″, Stones: White Topaz and Sapphire – this was my first Haverhill piece. As our family grows I can send it back and pay to have a new stone added verses purchasing an entirely new necklace. It's sold in yellow or white gold and comes in several different styles depending on how many birthstones/charms you want added.
Haverhill Rosecliff Small Circle Diamond Necklace 14k gold, 17″, Stones: Diamond – you can customize the stones to any colors and add up to 12, but I opted to have them all one color to better layer with my other necklaces.
Classic Gigi White necklace yellow gold, 16.5″ – comes in several different bead colors, metal colors, and lengths. I went with a simple color like white since I planned to wear everyday. Similar options for under $100 here and here.
Rosecliff Stackable Ring 14k Gold, Stone Colors: Diamond and Sapphire – Designed to be stackable and you can choose up to 11 different birthstone colors to be added to a single ring. I went with diamond and sapphires for the boys birth months.
Gold ring is a family piece and not linkable
Classic Gigi Neon bracelet 18k yellow gold, 6.7″ – loved this neon green for a fun pop of color over the summer.
Star Classic Gigi Black diamond bracelet 18k yellow gold, 6.7″ – I knew I wanted to add a black bracelet to my stack, and loved the star charm for something a little different. It also comes in several other charm styles like heart, cross, and madone charms.
Haverhill Personalized 2 Letter Bracelet 14k yellow gold, X-Small – I didn't have any jewelry with both boys initials and thought this was a great alternative to another birthstone piece. Both sides are engraved so you don't have to worry about the bracelet turning/flipping. I think you can add up to 7 letters and they also have styles with both letters and birthstones.
Hammered Ring, 18K gold plated – I've had this ring for several years and it's one of my favorite pieces. I wear it on my left pointer finger and love how dainty it is. Since its gold plated, it has tarnished a little. It's under $100 and they offer 15% off if you sign up for emails.
Classic Gigi White bracelet 18k yellow gold, 6.7″ – I actually bought matching ones for my mom and I as a thank you for her hosting my baby shower with Logan. We wear them every single day and I love knowing it is something that is "our thing" and extra special.
Classic Gigi Sapphire bracelet 18k yellow gold, 6.7″ – I purchased this one while pregnant with Landon so that I'd have one for each of the boys birth months.
Cartier Love Bracelet small model, yellow gold, 16cm – Matt actually surprised me with this as a push present when we had Logan. I have the inside engraved with both the boys initials and birthdates and plan to add to it one day with baby #3 if we are so lucky.
I hope this was helpful and answered any questions you may have. Below I've shared a few other jewelry related favorites. You can also find everything linked on my shop page. I sometimes get questions on the jewelry I'm wearing in older blog posts and you can find most of those here and here or my shop page.
Jewelry Related Favorites
necklace layering clasp – connects 3 necklaces and helps prevent them from tangling. More affordable option here.
jewelry box
travel jewelry case
acrylic bracelet box
The post My Everyday Jewelry appeared first on Styled Snapshots.