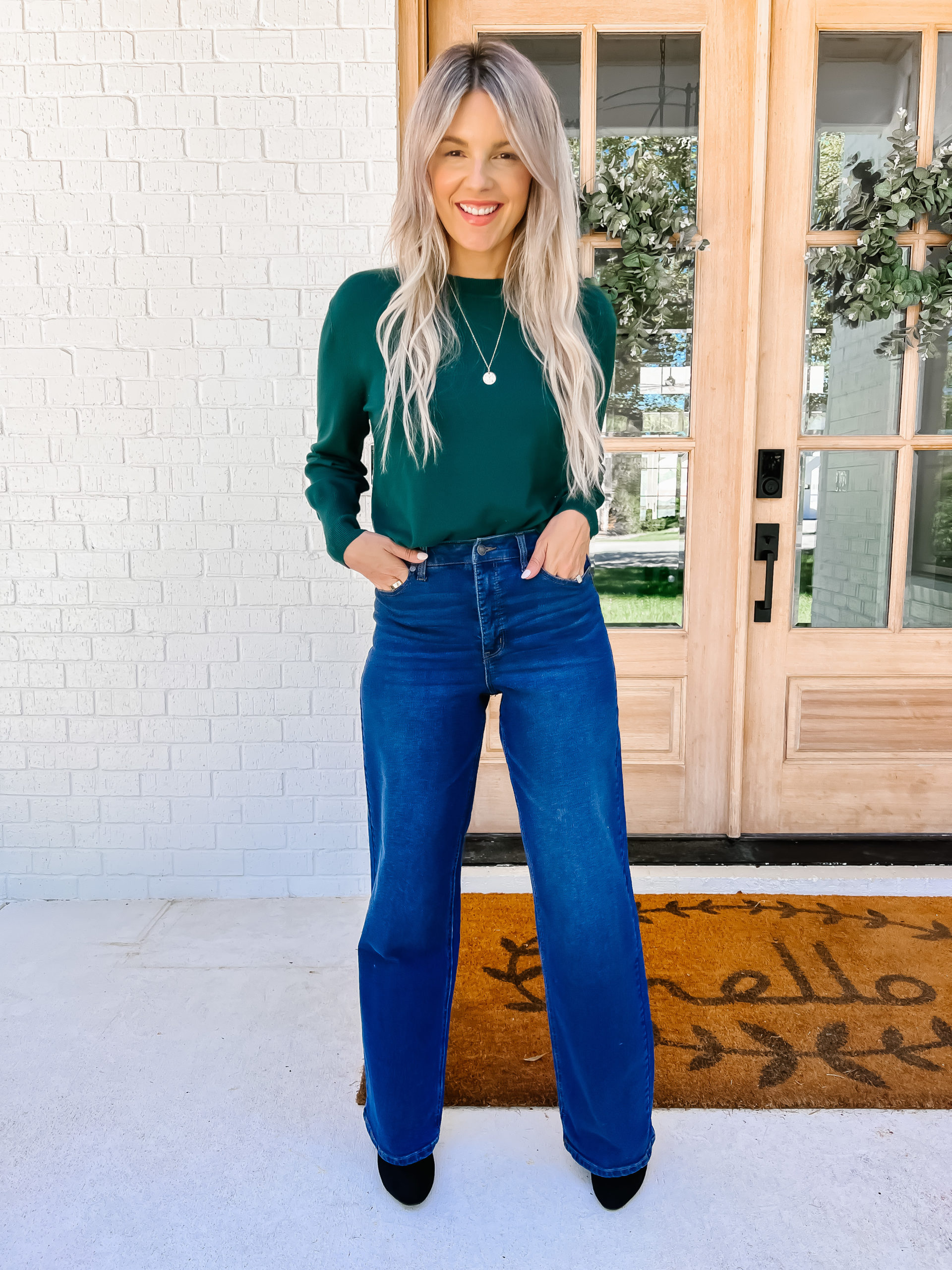 Eeeepppppp!!!! I mean seriously where do I even begin with this Affordable Friday post?! I am freaking obsessed with every single item I'm about to share with you and I feel like this is the absolute perfect early September Affordable Friday post because these pieces are great to transition into fall! I have pieces both for warm weather climates and cooler weather climates, so I feel like there's really something for everybody in this post!
Couple things to note in this post. Pay attention to sizing and I hope you guys find it helpful that I show multiple looks with two different pair of shoes. Some feedback I've gotten from past posts is people want to know what shoes to wear with the outfits I recommend. So I wanted to make sure to show the outfits with options in this affordable Friday post.
Amazing Jeans
Like I said I truly just don't even really know where to start with this post so I'm just gonna start with my favorite jeans quite possibly of all time! These jeans are for all my long torso girls out there and for all my girls who just really love a super high waisted pant. Here's a thing, these pants are super stretchy! So these are the type of high waisted pants that you sit in and you feel like you can breathe. These are so so so stretchy and so comfortable to sit in even after a big meal. I'd legit feel comfortable wearing this pair of jeans to Thanksgiving dinner – that's how comfortable they are.
Let's talking sizing, cause it's important with these. First, you might notice they're long. I got the regular version of them, but they also come in short so if you're 5'7 or taller I recommend getting the regular, if you're shorter than 5'7 I recommend getting the short. I am 5'7 FYI and they fit me pretty perfectly with heels, but I might wanna get them hemmed if I plan on wearing them with flats.

1. JEANS | 2. WHITE POLO SWEATER TOP | 3. GREEN SWEATER | 4. SNEAKERS | 5. BLACK BOOTS
Next thing I wanna say about sizing is size down! I'm usually in between a size 6 or 8. I got the size 6 in these. Honestly I feel like they're a little big. I love them so much that even though I'm keeping the size 6, I went ahead and ordered a size 4 because my weight fluctuates and I want to be able to wear these jeans for the rest of my life – that's how much I love them! They have a 70's vibe and they're super flattering and super high-waisted and super stretchy. I just cannot emphasize enough how badly I think you will love these jeans. They're $32 which honestly is on the high side for denim in my Affordable Friday posts. But worth every penny! I would pay $130 for these jeans, that's how much I love them. Heck I'd pay $230.
Oh and what makes me so happy is that these jeans are size inclusive! They come in size 00 up to size 22!
Last thing I wanna say about the denim is that I wanted to show you me wearing them with two pairs of shoes! These black boots that I'm gonna talk about more later in this post because they are fabulous and super affordable! They have a heel so you can see what the paint looks like with heels. But then I also threw on a flat sneaker, that's also affordable and only $14, so you can see what the pants look like with flats. I love them with both type of shoe.
Crewneck Sweater
Another look to pair these shoes with is this super cute crewneck sweater! This is another one that's an absolute must get! First look at the detail on the sleeve. The long half / half little poof sleeve is so cute and super feminine. I got the green, but it comes in at five colors total. I went ahead and ordered it in the pink as well because I want to be able to wear it this coming spring when I'm wanting brighter colors but it's still chilly out. The navy is really pretty too. I got a size medium which is my normal size and it fits great!

1. GREEN SWEATER | 2. JEANS | 3. WHITE SNEAKERS
I also paired these high-waisted Sofia Vergara jeans with this white polo sweater. What I love so so so much about this sweater is it also has a really 75 so it pairs perfectly with these jeans. I got a size medium which is my normal size but I almost wish I size down in this one just because I plan on wearing it more fitted but if you plan on wearing it not tucked in like I have it then your normal size is perfect. This is a thicker sweater so if you tend to lean away from a chunky sweater this might not be the sweater for you but I love love love it! It comes in this white color but then also three other colors like a gorgeous navy and really pretty sky blue. And it has the really really pretty balloon sleeves as well, which I feel like just make it feel and local really expensive. Oh it is only $26, so heck yes for a great deal!

1. WHITE POLO SWEATER | 2. JEANS | 3. SKIRT | 4. SNEAKERS
I also wanted to show you this top paired with a midi skirt. I think it's so cute with a pair of sneakers I feel like this is a perfect outfit for a teacher to wear to school. Heck I kind of feel like a first grade teacher just wearing it. The skirt is from Walmart, but it's out of stock in most sized. But I just wanted to show you the top with another option. I'll link a similar skirt from Walmart if you want to buy the complete look.
Like a Boss Look
Okay, have you ever put on an outfit that just made you feel bad ass! Excuse my French but that's how I feel in this dress! I feel like a boss! When I put it on I instantly felt more powerful if that makes sense. I just think it's so so so beautiful, sophisticated, classy, and looks super high-end expensive! I'm wearing a size medium which is my normal size. And it fits perfectly. It's size inclusive as are most things in my Affordable Friday post and come in size is XS to XXXL.

1. PLAID DRESS | 2. BROWN BOOTS
It also comes in a really pretty red plaid which would be perfect for the holidays, especially if you live in warmer weather because of the short sleeves – and also a really pretty pink plaid. I feel like the pink plaid screams Elle Woods! If you don't live in a warmer climate, you can easily throw a cardigan over this to transition into fall.
I'm also sharing it with you guys showing two different kinds of shoes so you can see how it looks with a nude pump but then also with a pair of knee-high boots. Again, it just shows that this will be perfect whether you live in warm weather and you need a lighter shoe, or if you live in a colder climate and you need the boot for warmth.
Grab it for $34 and when you wear it out I guarantee you'll feel like 1 million bucks!

1. PLAID DRESS | 2. BROWN BOOTS
Brown Boots
Let me just talk about these brown boots for a second! I linked them in my last Affordable Friday post because I had bought them but didn't get a chance to take pictures of them yet. So I wanted to show them to you guys in this post. Get these boots as fast as you can! I love love love a slouchy brown boot because I feel like it's so much more flattering on a leg rather than a skin tight boot. In fact the black boots that I link to this post below also have a wider fit around the leg because I feel like that just helps balance out the thicker parts of your legs and looks more flattering!
Read the reviews for these brown boots. There are 18 reviews and they're all super positive! I know you're absolutely going to love them and I can't wait to see them when you guys! They also come in a really pretty emerald color and black! When you get these boots you're gonna be shocked that you only paid $34 for them because they are the same quality as boots that I bought for $200.
Fall T-Shirt Dress
Onto the next look that I am just as excited about! The perfect fall T-shirt dress! I love a T-shirt dress because they're just so easy to throw on and super comfortable and this one is perfect for fall because it's longer in length and oh my gosh the fit is incredible! I feel so pretty in this dress and I feel like it is so flattering the way that it's cut! It comes in four different colors. I just got it in this green color because I thought it was stunning. I'm really into green lately as you can probably tell from this post. I got the same color in the green sweater. I got a size medium which is my normal size but it comes in size XS to XXXL – and it's only $24!
In these pictures, you'll see that I styled it three ways to show you guys how it's perfect for transitioning into fall. First (above), you guys can see me wearing it by itself with nothing tightening on me so you can see the fit and shape of the dress. Sometimes T-shirt dresses have no shape and therefore are super unflattering, but this one is so great in terms of cut. I also want to show it to you guys with a cardigan tighter on my waist because as we transition into fall we're going to need warmer clothes but I always find that I'm chilly when I go outside but then when I go inside with the heat blaring in different places I get hot so I want to takeoff a layer. Fall is all about layering! So I wanted to show the dress you guys both with me wearing the cardigan and with me tying the cardigan around my waist. Fashion is not only supposed to look good but it should be functional for your every day life too!

1. T-SHIRT DRESS | 2. WHITE SNEAKERS
Oh and last thing I want to say is to pair this dress with sneakers because it's the perfect sneaker dress! I like to be comfortable and this is a great way to wear a dress with white sneakers and look really put together!
FLORAL DRESS
This next dress is so cute and fun and I had to share it because again I think it looks designer! But you aren't gonna pay designer prices, you're only gonna pay $36 for it! I got a size medium, but honestly I kind of wish I sized down in this one. I feel like it would've been more flattering if it was a little more fitted. But what I love about it so much is that I can button it all way up to my neck, which is so beautiful paired with a ponytail, especially a high pony, I love a high neck line! The asymmetric tie at the waist feels so high end! The dress comes in sizes XS to XXXL but I got my normal size medium. I kind of wish I didn't take the tag off so I could exchange it for a small but oh well. I still love it! But I would recommend sizing down one if you get this dress!

1. FLORAL DRESS | 2. SNEAKERS
It also comes in a super chic navy and white and blue pinstripe. Seriously click and look at the other options of the dress because I honestly think I like them even more. They're just so sophisticated and chic.
And once again showing you the dress both with heels and sneakers so you can see that you can wear a different ways.
Black Ribbed Mini Dress
Last, but certainly not least, is this black ribbed midi dress. There's one review on this dress and it's negative but scroll down and look at it because it's not for the black version of the dress it's for the white. I guess the person found the white a little see-through. But the black isn't at all and also comes in gray, forest green, and a really pretty yellow. I love the black because it's just so classic but I think the green is amazing too! What I love about this dress is that even though it's fitted it's so forgiving and flattering! If you've ever wanted to wear a fitted dress like this in the fall with a big chunky scarf with over the knee boots, this is the perfect dress for that because it not only will be forgiving on your body but you still get that fitted look without feeling self-conscious.

1. BLACK RIBBED MINI DRESS | 2. BLACK BOOTIES
I got a size medium which is my normal size and I feel like it fits a smidge big, but once I wash it, I feel like it's gonna be perfect. It comes in size XS to XXXL.
Also showing it to you guys with something over it. I love love love this oversized boyfriend blazer. But I realize this type of look isn't for everybody. I love a boxy oversized look, but it might not be for you. It comes in two prints and I'm wearing a size medium which is my normal size. I definitely think this one is true to size even though someone in the reviews said that their normal size was a bit tight but they're a size medium and usually an 8/10, but I'm a size medium and usually a 6/8. So it depends if you're a smaller medium or bigger medium I suppose. But I honestly felt that maybe I could've even sized down in this blazer to a small. Up to you!

1. BLACK RIBBED MINI DRESS | 2. BLACK BOOTIES | 3. BOYFRIEND BLAZER
Black Booties
Let me tell you a little bit about these amazing black booties! I am very very very particular about booties – and by booties I mean boots that are ankle height or slightly above ankle height. I do not like it when they are tight to the ankle. I feel like when they're tight to the ankle it accentuates the smallness of your ankle and then therefore accentuates how much bigger your upper thigh is. Look, if you want to flaunt your thighs do it! I personally just like my legs to look more balanced so when there's a little space around my shin or ankle with booties it adds more with there and then instantly balances out the rest of my leg. So I love love love love love these black booties! Because they do just that! Plus, the extra gathered material around the ankle also helps balance out the leg – and you cannot beat the price!
Truly Love This Affordable Friday!
Okay, that's it for me today! I am just so proud of this Affordable Friday post and I really truly love the pieces so so so much and I hope that came across in my writing. I mean I feel like Sofia Vergara needs to hire me as a spokesperson for her denim because I want to tell every person I know about these pants. Ha! Anyway have a great Friday and a great weekend guys! Tell me what pieces you love the most in the comments below!