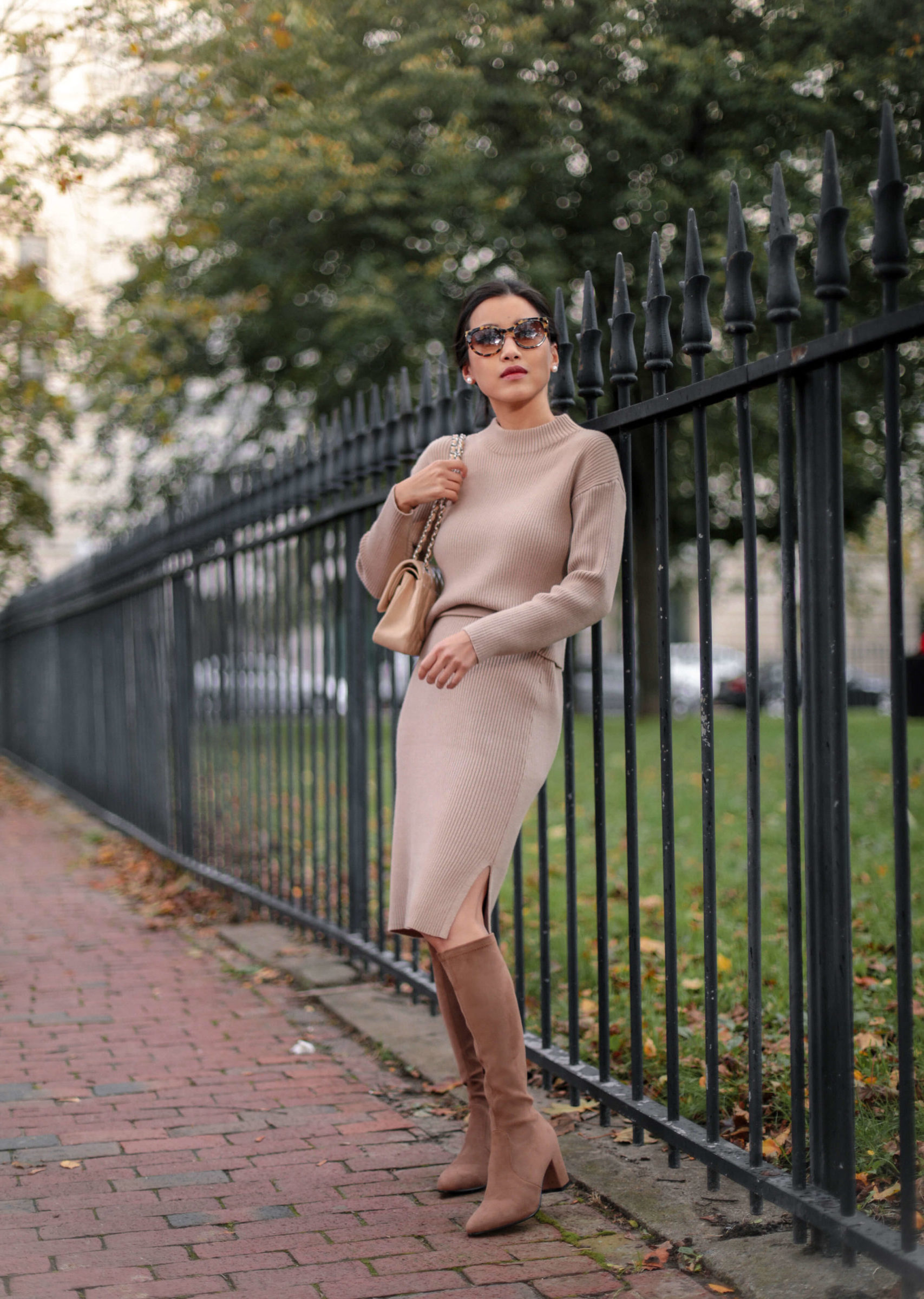 Edited pieces boots (dropping January 13th) + belt (sign up for restock alerts), Quince cashmere dress xs
While I consider myself a bit of a shopping expert after all this time, knee-high boots are still, without a doubt, one of the hardest items to come by for someone with my body type. Over my decade of blogging, it's been a unicorn style that's frequently requested and rarely found off the rack. I always knew it was a style I wanted to refine for Edited Pieces, but that didn't make the process any less daunting.
A while back, a few thousand of you kindly dug out your measuring tapes and helped me fill out a survey all about boots. The fit requests varied greatly: narrow calf, wide calf, narrow ankles, wide footbed, extended foot sizes, slim and tall shaft, short and wide shaft, and every combo in between.
For our first boot, I ultimately decided to focus in on the most requested fit from our survey results. After countless rounds of samples and fit tests, I'm so excited to share a timeless knee-high boot with a shorter shaft + slimmer calf. These will be launching this Thursday, January 13th on Edited Pieces, in US sizes 4 through 9.
I know one style does not suit all, and am always listening to your fit frustrations, and hope to expand our offering down the road to suit more of our customers' needs!
When foraying into the world of boots, I started with a pair that I already owned – one with many positive customer reviews and a record of quality. I worked backwards to research where they were made, which turned out to be a small factory that's specialized in boots for over a decade. Together, we pored over the details and worked on developing a new style with everything I've wanted in a boot but couldn't find:
Generously-cushioned insoles
Flexible, non slip sole
Stable block heel at the perfect 2.5 inch height
Zipper along the inner ankle area for easier on & off
Silicone band along the inner top opening to help keep the shaft from sliding down
Made using high quality vegan suede with a little stretch
Timeless almond-shaped toe
Sizing
Whole sizes 4 – 9. If you take a half size or typically find yourself in between two different sizes, I'd size up in these.
Fit
Slim calf with a petite-friendly shaft height. Black color fits slimmer than brown, and also runs narrow in the foot.
Black vs. Brown fit
As the boots are crafted batch by batch, after fit testing we found our current batch of the black color to run slimmer in the calf and narrower in the foot compared to the brown color. This will be adjusted in any potential future restocks, but I wanted to emphasize this for this droplet.
We would recommend this run of the black color boot for customers with very slim calves and narrow feet.
My Size in This Style
For those of you who are used to referencing my size for comparison, I am 5 feet tall and typically wear 5 to 5.5 in US brands. My calf measures approximately 12.5 inches around the widest point.
In the brown color, someone my same size can take either size 5 (for a snug fit with thin socks) or size 6 (for a looser fit to wear with thick socks). In the black color I sized up to a 6 for a perfect fit.
Below are the measurements in inches, and note the material has stretch. It stretches comfortably about half to one inch wider than the listed calf measurement.
BROWN Color
Size
Calf Circumference (stretches to fit approximately 1 inch wider)
Shaft Height
4
11.8
13.8
5
11.9
14.0
6
12.0
14.3
7
12.5
14.5
8
13.0
14.8
9
13.3
15.0
BLACK Color 
Size
Calf Circumference (stretches to fit approximately 1 inch wider)
Shaft Height
4
11.5
13.8
5
11.7
14.0
6
11.8
14.3
7
12.0
14.5
8
12.3
14.8
9
12.8
15.0