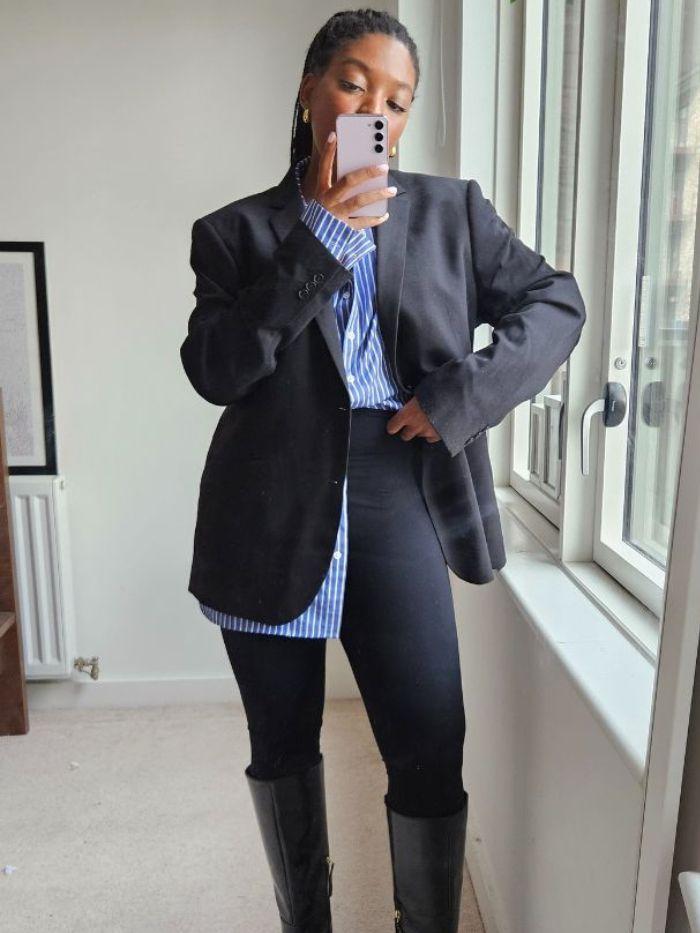 There are a few pieces in my wardrobe that can be considered true staples (namely jeans, blazers, white t-shirts and midi dresses), but the one piece that people are always surprised to see crop up in my everyday outfit rotation is a pair of leggings. It's important to note, in the post-pandemic post-loungewear world, leggings are no longer reserved for lazy sofa days and yoga, they've earned their place in fashion circles too. Don't believe me? Check out the myriad of ways that influencers, editors and industry insiders have been styling the humble black legging with everything from oversized blazers to slingback heels. That's right—the legging is now considered an office-appropriate trouser, evening wear option, and is still the backbone of some of our favourite, comfy everyday ensembles, not bad for a jersey basic.
The beginning of autumn is the perfect time to start planning your new season wardrobe, and easy layers like throw-on dresses, cosy knits and comfy separates come into their own this time of year. That's why leggings deserve a place in your closet; they're just as comfortable as your favourite summer dress, and just as easy to build outfits around your everyday jeans, so where do you find the best leggings on the market? Well, I've done the legwork for you (pardon the pun). 
After searching the net, scrolling through socials and asking my fellow editors, I put together a list of all of the leggings worth testing, and came out with these 7 worthy winners. So whether you're looking for leather leggings for an evening out or the best active leggings to pack in your gym bag, keep scrolling for my tried and tested review of the leggings worth spending your hard earned money on. 
Style Notes: First things first, a brand that delivers on the kind of leggings you can wear for any occasion–Commando. The classic black leggings in stretch cotton are ultra thick and have a built-in internal waistband (that doesn't roll down), but the star of the show are the brands faux leather and patent leggings. There are dozens of colours, styles and finishes perfect for tucking into knee-high boots and pairing with an oversized blazer or chunky knit. If you've ever struggled with finding a pair of leather trousers that fit properly, start here. Whether you're trying a Commando jersey legging,  denim legging, cashmere or even maternity, the fit around the waist is always impeccable, and there's a whole host of outfits you can build around this one key piece. 
The quality of a real leather legging with more flexibility.
A classic all-rounder for dressing up or down.
High-shine, high-impact leggings for dressing up a simple look. 
Style Notes: The first thing I notice when I pull these on is just how much they stretch, and believe me, that is a very good thing. The extreme elasticity means that these leggings behave like a second skin, and as the focus isn't heavy compression, you can really bend and move in these without restriction. Where I would want a fashion legging to suck everything in, these feel like you're wearing nothing at all, and that is a testament to the soft, brushed finish and light, breathable fabric that is perfect for any workout from yoga to cardio. 
I think these just replaced every pair of leggings in my gym bag.
There's a version with pockets too! 
These come in no less than 18 different colours.
Style Notes: There is a reason that you'll always spot Adanola out on the streets on weekend mornings or at the airport, if you're looking for a legging that you can comfortably wear all day without even feeling them, Adanola takes the top spot. Smoothing without constricting and with a flexible fit, these are the kind of leggings I want pull on the moment I get home, but it helps that they're Instagrammable enough to wear out to brunch too. It's about time we had loungewear that looks as good as it feels. 
This dark olive colour might just be one of my favourites. 
That's right, they've got pockets too. 
The inclusive size range extends from a 4 to a 20. 
Style Notes: When I conduct a straw poll in the office for the best leggings for me to road test, Vuori get an immediate mention. My intro to the brand is the Daily Legging, and after wearing these adjustable leggings, it's clear why. As someone who always struggles to find trousers and leggings that fit properly around the waist without the dreaded gap, Vuori have come up with the perfect solution—a tie waist legging that grip and support movement with a little added lift. Never again will you find yourself pulling up your leggings because of sag, these will hug your body for the perfect fit. 
The no-slip fit is a must-try.
How chic is this shade of mink?
No gaps or sagging here. 
Style Notes: If you've already tried Wolford's premium hoisery or stretch basics you'll have an idea of what to expect from the leggings too. Before Skims was even a glint in Kim's eye, Wolford set the agenda for smoothing, body-sculpting pieces to act as the foundation for our everyday wardrobes, and despite the W active range being geared towards gym wear, the thick, waist-cinching, body-hugging fabric is luxe enough for formal wear too. (In fact, pairing these with a knee-high boot feels more like jodhpurs than thin leggings). Out of all the pairs of leggings in the list, these are the ones with the firmest support, and are well-worth paying a little more for getting the best silhouette. 
Fashion editors agree—these are a worthy investment. 
When vegan leather looks this good there's no need to shell out on real. 
A bum-lifting secret weapon. 
Style Notes: As many of the leggings in the list top the £80 – £100 mark, I have also have an affordable option to rival the premium offering. H&M's activewear might not have been tested against the same rigorous performance tests as the specialist sportswear brands, but I'm immediately impressed by just how good they look and feel. Where many budget brands produce leggings that go sheer, stretch and sag, H&M's are surprisingly thick, stretchy and cotton-soft and at under £15 for a pair, you might as well stock up. 
It's a tough decision between charcoal grey, red, spring green, black and light grey. 
A legging fit but with trouser detailing. 
Yes, you read that correctly, these really are £10.
Style Notes: I saw Hailey and Kendall in split hem leggings, and I immediately wanted split hem leggings. Such is the power of this stretchy trouser-loungewear hybrid. Those who already follow Sarah Tankel Ellis and Phillippa Bloom, the brains behind @wearetwinset, will know the girls' affinity for easily-accessible yet polished looks, and their clothing label WATT the brand focuses on elevated wardrobe staples like this split hem trouser with a stretch waistband. Ideal for the days when a pair of jeans just isn't comfy enough, these toe the line between casual and chic, and make the legging ready for evening wear too.
A thick, stretchy trouser with a slight flare.
An ultra high-rise legging perfect for tucking in tops.
Make the most of a good looking boot with a higher split.
Up Next, The Runways Have Spoken—These 5 Winter Colour Trends Will Be Big News in 2024