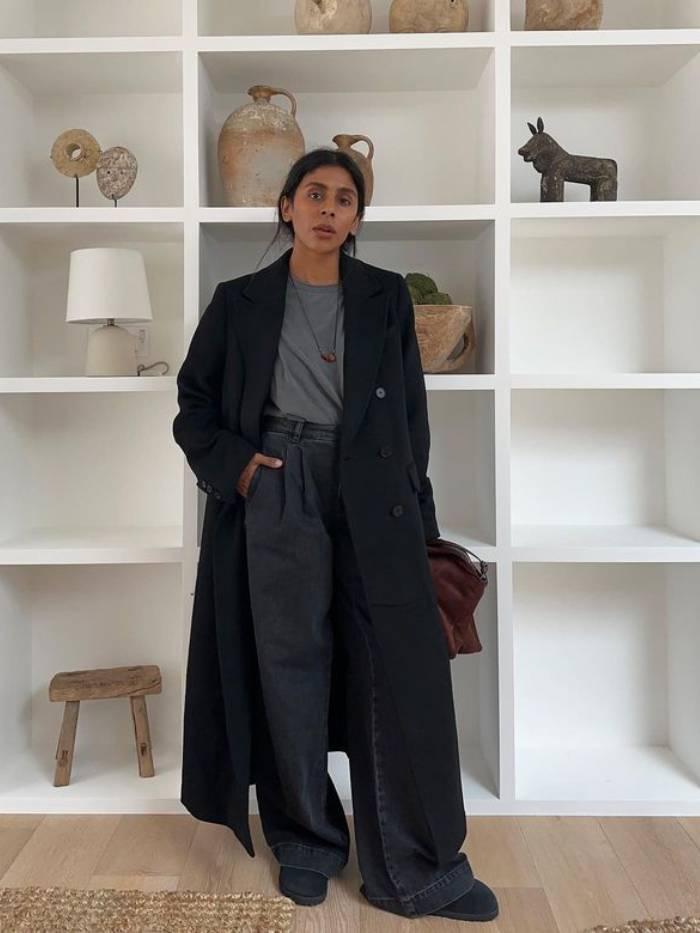 Monikh wears a black wool coat from Hush. Keep scrolling to shop it. 
The sun might still be making the odd appearance, but I'd say it's now officially getting chilly. A reliable coat is an absolute essential for the months ahead, and while a Max Mara or Totême coat will always be my dream purchase, I've been really impressed by some of the high street wool coats that are on offer from the more affordable retailers recently. The key to an expensive-looking coat is picking the right fabric, colour and silhouette. My advice is keep it neutral (think black, navy, greys and camel tones), and I'd always advise looking out for styles with at least a wool blend. Silhouette wise, oversized fits always look more designer-like (I often size up in high street buys to get the look), but if you're petite and prefer a sleeker silhouette, look for softer wrap styles that still have some slouch (without any of the bulk). As for the length, the longer the better these days if you want that really premium yet timeless look. 
Of course, if you want a wool (or wool-blend) coat over polyester, these won't be the most affordable coats you'll find on the high street, but I'm extremely confident that the styles I've highlighted below will last much longer than cheaper options. They all feel modern but timeless, so you'll get the same 'new coat' joy pulling them out at the beginning of autumn for (at least) the next few years. Rest assured these styles are still relatively affordable (all under £400) for a top-quality outerwear piece—especially when they look like they could have stepped off this season's catwalks. 
Our Managing Editor Poppy wearing the COS rounded wool coat.
It can be tedious trying to find yourself the 'perfect' coat—not to mention a little overwhelming with all the choice out there—so I've done the hard work for you. I've trawled site after site scrolling through thousands of coats, as well as compiling all the best high street coats I've seen in person (either in stores or at press previews, and even on the shoulders of my fellow industry pals) in order to share the styles that I, as a fashion editor and stylist myself, have been seriously impressed by this season. So, if you're on the great coat hunt, keep scrolling to see the very best high street wool coats below… 
The oversized collar and notched lapel show the menswear inspiration. 
You can't go wrong with a black belted coat. 
The double breasted silhouettes adds to the elevated feel of this coat. 
It's hard to believe this is from the high street. 
Made from 100% wool. 
I'm into this whole outfit. 
This will make an outfit look put together. 
This is top of my wish list. 
I'm surprised this is still in stock. 
Even the belt is striking. 
Every outfit will benefit from this elegant coat. 
Mango is on a roll this season. 
Massimo Dutti is a key brand for our editors. 
See how Poppy styled this above. 
This outfit is my winter go to. 
Well done, H&M. 
The oversized pockets are such a nice touch. 
Oversized silhouettes are a key trend this season. 
You'll pull this out of your wardrobe every winter. 
The contrast black buttons add to the expensive feel of this coat. 
The long length means you can style this with trousers, mini skirts and maxi lengths alike. 
This looks even better on. 
The multiple buttons sets this one apart. 
It's no surprise that Aligne's outerwear comes highly praised. 
& Other Stories much-loved coat now comes in timeless navy. 
Navy and grey is one of my favourite combinations. 
A coat that will get you excited for the cold weather. 
This coat-mac hybrid is so good. 
Now I need a khaki coat in my life. 
Believe me when I say M&S has hit the brief this season. 
Timeless, versatile and a true forever piece. 
Next Up: Winter Is Coming—7 Shoe Trends That Will Dominate the New Season
This story was originally published at an earlier date and has since been updated.