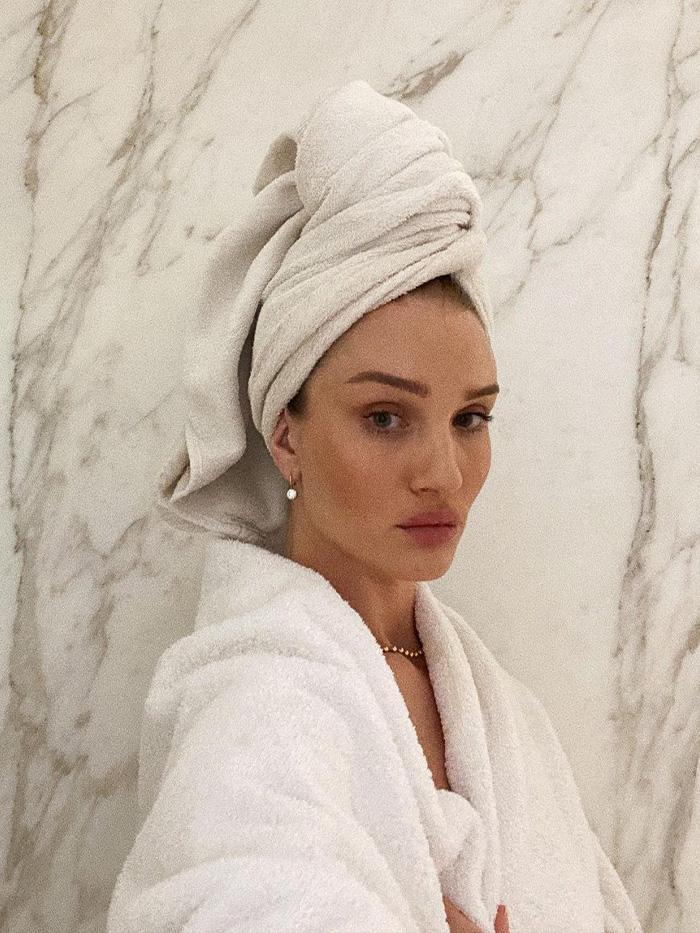 Sensitive skin is never fun—and when you're battling a combination of redness, irritation, itching, and inflammation, sometimes the last thing you want to do is apply more products to your face. Once a flare up starts, the first thing you should do is strip your routine back to the basics of cleansing and moisturising. Next, try to identify the cause of the sensitivity before focusing on soothing and repairing your skin with sensitive skin-suitable products.
Gentle cleansers, cooling mists, and calming serums with ingredients like cica and niacinamide will help to reduce sensitivity and redness, but actually, a good moisturiser can make the biggest difference. According to dermatologist Zainab Laftah, if you have sensitive skin, regular hydration is crucially important. "This will optimise the skin's barrier function and reduce the risk of skin inflammation and sensitivity," she explains. When you're super sensitive, it usually means your skin's barrier has become compromised, which means it's much more sensitive to things like external aggressors or active ingredients. This is why moisturisation is so important for sensitive skin types—by restoring and repairing your skin barrier through gently moisturising ingredients, you can help to improve your skin's resilience.
It's important to keep in mind that it has to be the right moisturiser to actually soothe and calm sensitive skin—the last thing you want to do is cause more irritation. Avoid formulas which have large amounts of fragrance, essential oils, and chemical exfoliants like glycolic or salicylic acids. "Chemical exfoliants can reduce the oil content and the outer dead skin cell layer which may affect the barrier function," explains Laftah. "Therefore these should be avoided when the skin is inflamed." Instead, she recommends looking out for humectants like glycerin, ceramides, and hyaluronic acid which increase skin hydration by drawing moisture from the environment into skin. "To optimise the skin barrier function further, add in an occlusive, for example shea butter, to help lock in this moisture," she adds. "My top tip is initially applying a hydrating mist before the moisturiser to help improve absorption."
So, where to start when you're looking for the best moisturisers for sensitive skin? Right here. Scroll down to discover our roundup of the 13 most soothing, calming face creams.
Kiehl's famous Ultra Facial Cream is a tried-and-tested favourite of mine when I notice my skin starting to feel a little sensitive. Formulated with glycerin and squalane, it helps to restore the skin's barrier and boost moisture levels without feeling overly heavy or rich.
Packed with calming ingredients like ginger root and ceramides, Kate Somerville's DeliKate collection is all about calming stressed complexions.This cream is thick and dense in texture, so it provides instant nourishment—an excellent choice for skin that's feeling dry as well as tight and sensitised.
If you prefer a light, gel textured formula, but still want to pack in the hydrating ingredients, this cooling moisturiser successfully manages to do both. The fresh, water-based formula absorbs quickly and is packed with hyaluronic acid, which works for up to 48 hours after application to draw moisture into the skin.
Another cooling gel-cream textured moisturiser—this one is boosted with cica, an ingredient renowned for its ability to reduce inflammation and redness. It's especially good for inflammatory skin conditions like acne and rosacea, so if your skin is feeling hot and sore, expect this soothing gel to offer instant (and lasting) relief. 
Ideal for when you really don't want to put anything on your face (but know you have to), this weightless watery gel will soothe signs of sensitivity, reducing any uncomfortable itching or stinging sensations. It contains aloe vera (known for its calming properties) as well as hydrating glycerin and hyaluronic acid.
With just nine ingredients to its formula, this basic (in a good way) moisturiser focuses solely on the essentials. Hyaluronic acid, glycerin, and coconut oil help to draw moisture into the skin and prevent it from escaping while sodium hydroxide balances the pH of the formula to make it as similar as possible to the pH of the skin.
If you're a fan of using retinoids, you're probably well aware of their side effects—increased sensitivity and dryness. Once you notice this occurring, it's important to ramp things up on the moisture front. This moisturiser makes the perfect counterpart, reducing chance of irritation with its deeply moisturising blend of ceramides, hyaluronic acid, and pro vitamin B5.
If your sensitivity is also accompanied by extreme dryness, don't worry—this is super common, and indicates that the cause is a damaged skin barrier. Although this may sound alarming, it's a fairly simple fix which this rich ceramide-packed cream will be just the ticket for.
This moisturiser is my go-to during the winter months, which is the one time of year when sensitivity and dryness flares up in my (usually) oily and breakout-prone skin. Although the texture is thick and dense, this creamy moisturiser never causes issues in terms of breakouts or clogged pores. Instead, it soothes, calms, and restores my skin to its healthy, balanced self.
As its name suggests, this moisturiser is specifically formulated to calm sensitive skin and reduce redness. It relies upon prebiotics, a buzzy ingredient with an impressive ability to balance and protect the skin barrier.
Oat-derived ingredients are also famously good for sensitive skin, and this rich cream combines two; oat lipids (to absorb moisture into skin) and colloidal oatmeal, which binds to skin to lock in the moisture. According to reviews, it has impressive benefits for sensitive skin conditions like rosacea and eczema.
e.l.f.'s Holy Hydration range is a bit of an unsung hero: the formulas are minimal and focus on soothing and hydrating skin with powerful ingredients like squalane, hyaluronic acid, and niacinamide. This fragrance-free cream is particularly good for super sensitive skin that can't tolerate fragrance, and although it feels incredibly luxe, it won't make a dent in your bank balance. Win, win.
If you've left it too late and your skin is really suffering with irritation, you're probably noticing symptoms like a scaly texture, constant redness, and maybe even inflammatory papules. Gentle and soothing, this thick, nourishing cream works hard and fast to both repair and soften skin.
Next Up: Trust Me—These Are the Best Cleansers for Sensitive Skin