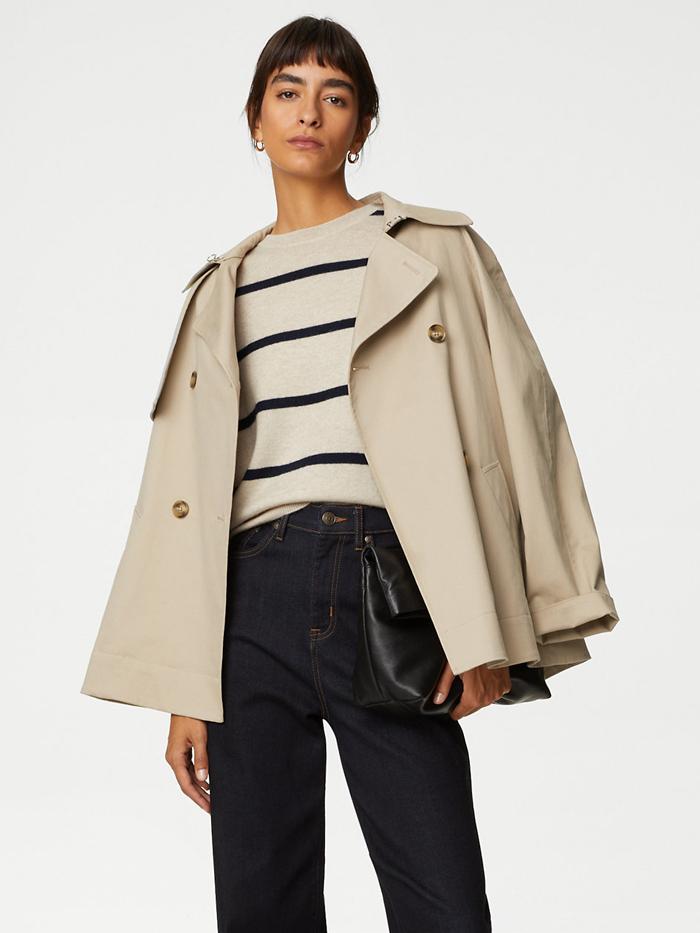 I'm going to let you in on a little secret: As vast as our wardrobes can be, most fashion editors wear the same items on repeat. Like anyone, we settle into a uniform that makes us feel comfortable but also polished. For the office, the first thing I reach for is my favourite jeans—the ones with the ultimate straight-cut leg that hit just below the ankle, my hemline sweet spot—which I'll then pair with a white shirt, oversize blazer, and either chunky loafers or block-heel boots, depending on the forecast. When I'm working from home, it's all about leggings, gold jewellery (for Google Meet calls, naturally) and knitwear. Striped knitwear, to be precise. 
While I don't spend frivolously (my pickiness precedes me and is well-documented in my bi-weekly column), the one item I find hard to resist is striped jumpers. An aspect of their appeal lies in their French roots—Breton stripes aren't as cliché as you might think (in Paris, they're favoured by many impeccable dressers). They're also incredibly versatile and can be thrown on with just about piece and print. Stick to monochrome palettes, and they practically come with a lifetime style guarantee, one that you can match with any other colour.
This brings me to my point: Marks and Spencer, which is tempting me with its edit of excellent striped jumpers right now. Scrolling its new arrivals category this morning, the sheer volume of striped jumpers on offer was staggering. Clearly, they're a hit for the brand this season, and I can see why. Aside from the factors I've laid out above, striped jumpers are having a particular moment right now, as so many influencers are keeping toasty in them, too.
Assuming you're as obsessed with striped jumpers as I am, I've assembled the very best from Marks and Spencer below. Come see.
I love this shape. 
So cosy! 
This looks so much more expensive than it is. 
This bouclé-style texture feels particularly on trend. 
Layer this over a blue shirt for a cute pile-up. 
A more fitted option (with some seriously cool sleeves!). 
M&S has some of the best cashmere on the high street. 
See what I mean? 
The buttons add to the preppy feel of this knit. 
I'm always here for a polo neckline. 
Next Up: The 9 Most Expensive-Looking Pieces on the High Street This Week