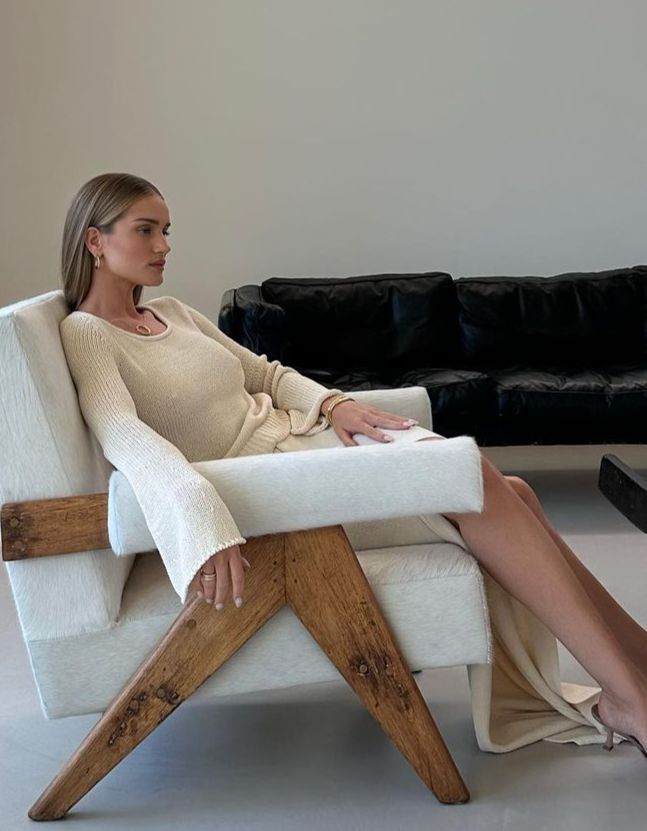 Let's start with the obvious—most celebrity outfits look expensive because, well, they are. After all, the worlds of celebrity and fashion are so closely intertwined that our favourite A-listers are acting as models for designers on a daily basis, whether they're on the red carpet on Instagramming their at-home looks.
That being said, there's a been a swing of the fashion pendulum over the past year or so away from ostentatious labels and flash-in-the-pan trends and towards a clean, sleek minimalism that is rooted in classic pieces. That's great news for those of us who aren't doing our regular shopping in the designer section, as high street favourites like Mango and COS are pros at emulating this refined, paired-back look at a fraction of the cost. But it also means that if you are prepared to invest in something high end, you can rest assured that your money is truly best spent on timeless pieces that will instantly elevate so many looks—now, and for years to come. That's some seriously good cost-per-wear Girl Math.
Whatever your budget, I've honed in on what I believe is the fashion formulas that you can use to create A-list worthy, expensive-looking outfits. From elevated tailoring to floor-sweeping coats, these are the pieces you need to create an impressively refined wardrobe. 
Style Notes: Nothing is more elevated than an all-neutrals look. It exudes a specific kind of confidence that says, "I'm so pulled together, I know I won't get a single stain on this." Follow Rosie's lead and opt for refined cream knits paired with suede beige shoes to get the look. 
The dropped back on this makes it a great option for evening wear.
Such an elevated take on the tall boot trend.
The Cos Atelier line has some of the most beautifully tailored pieces on the high street, and this skirt is no exception. I'd love the mix of neutral tones you'd get by pairing this with the chalk jumper. 
This chalky beige is such a luscious colour.
Such a versatile neutral trainer. 
I think this asymmetric jumper would get Gwyneth Paltrow's seal of approval. 
Trust Mango to nail the quiet luxury aesthetic on a budget. 
These are the A-list-approved heels that have walked down many a red carpet.
Style Notes: Adwoa Aboah proves that classic tailoring in gorgeous fabrics is all you need to create an impressive look, for day or night.
A classic white shirt is a wardrobe must-have, and this ticks every box. You can even use their monogramming service to give it an extra elevated touch. 
I'd highly recommend getting the matching Cos Atelier blazer to recreate this sleek tailored look. 
A beautifully draped, well-cut silk shirt can elevate so many outfits.
Perfect for those who prefer a looser fit.
Some of the best on the high street.
Trust Massimo Dutti to create a great pair of tailored trousers at a reasonable price.
I love the colour and draping of these tailored trousers.
For something a touch bolder, consider this oversized shirt from the brand's collaboration with Collagerie, the style platform co-founded by former British Vogue editor Lucinda Chambers. 
Style Notes: Loafers, ballet pumps, tall boots—the A-list agree that when it comes to shoes, the classics are key to creating an effortlessly elevated look. 
A timeless take on the penny loafer.
They look like they could be designer.
The subtle gold embossing on these is just *chef's kiss.*
These would look great with dresses and skirts, day to night.
These classic knee-high boots also come in chocolate brown and tan.
Mary Janes just keeping coming back in style. 
Nude is just as classic as black.
The timeless flat the exudes Parisian style. 
Style Notes: Yes, there is a time and place for bold, statement jewellery, but it seems that when celebs are after that uber-polished look, they opt for simple, understated pieces.
You'd be forgiven for thinking these were designer.
A gold chain can act as the base for so many layered jewellery looks. 
Everyone needs a pair of gold hoops.
Just gorgeous.
Lovely with a plain jumper or shirt.
A cuff is chic alternative to a chain bracelet. 
Style Notes: There's something about long coats that just makes every A-list outfit look that bit more refined. These versatile coats can work for every occasion, adding a polished finish to a simple jeans and jumper combo or perfectly complementing an evening outfit. 
Jigsaw's City Coat is a bestseller for a reason.
Such a rich camel tone. 
This is so beautifully tailored, especially for a high street coat.
A contemporary, cool coat for day, and a refined silhouette for night.
An affordable take on the Raey style. 
This contemporary take on the camel coat has been all over my Instagram feed.
A double-breasted wool coat is such a classic that it's well worth investing in. 
The oversized fit means you'll have plenty of room for your chunky knitwear.
Next up: The Outfit-Elevating Basics That Are Well Worth Investing In This Winter