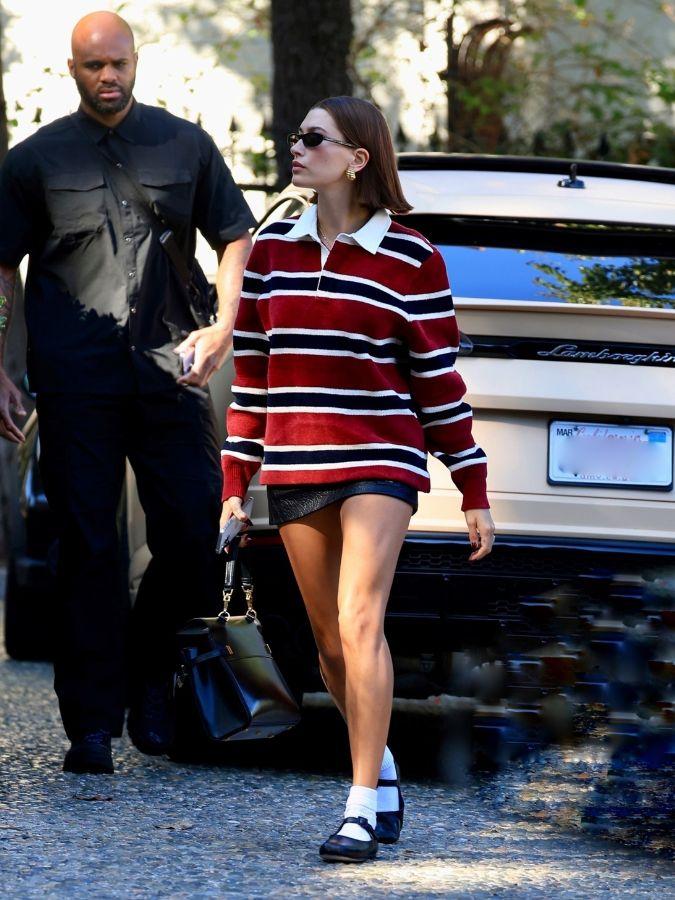 Caught up in the maelstrom of Rugby World Cup excitement, it seems we're not the only only whipping out our rugby shirts in preparation for tonight's Rugby World Cup.
Like clockwork, two of our favourite celebrities, Hailey Bieber and Taylor Swift emerged in L.A. and New York respectively on Thursday repping the in-demand oversized shirt style as they went about their day. 
Though their personal taste are rather different from each other, both styled their shirts in a surprisingly similar way. Combining with a black mini skirt, Bieber left her oversized jumper un-tucked for a relaxed silhouette that complimented the casual nature of the shirt. Styling with another major seasonal trend, Bieber wore her mini skirt and rugby shirt with black ballet flats, white socks and dark shades.
For an ultra-preppy autumn-ready look, Swift wore her oversized runway Stella McCartney shirt with leather boots and a tan leather shoulder bag from Tod's. With a penchant for polished style, Swift's latest outfit tapped into another autumn/winter trend that people in Paris and London have been styling all season, brown knee-high boots. Brown is the fresh colour trend that's on the rise this season for it's earthy, natural, and universally-flattering tone.
The rugby shirt is never far away from fashion designers' minds and the runways. Over the years we've seen fantastic iterations from the likes of Prada, Louis Vuitton and Burberry to name but a few. Most recently Stella McCartney sent two different outsized versions down the runway for autumn/winter 2023, while A.P.C continued to perfect its casual aesthetic with a layered and striped style.  For its undeniably preppy-yet-casual quality, rugby shirts style well with all kinds of denim. Style with low-slung baggy jeans, or a dark-wash high-rise for a weekend-ready outfit you'll be calling upon all season. To shop the new shirting trend (which also comes in knitwear form), read on to discover my edit of the best styles to buy now.
&Daughter does great knitwear, and I'm so eager to cosy into this jumper this winter.
Style with dark wash denim a black mini skirt.
Striped jumpers are always in style, and this rugby-inspired shape is no excepetion.
Red knitwear remains a growing trend this season.
This playful shade will add a pop of colour into your winter wardrobe.
Whilst the weather remains mild, style with an oversized scarf and straight-leg jeans.
I'll be swapping my crew-necks for this polo style this season.
Layer up with a turtleneck and wool coat as the weather continues to cool.
Up Next: I've Searched Through Thousands of Wool Jumpers—These 16 Are the Very Best