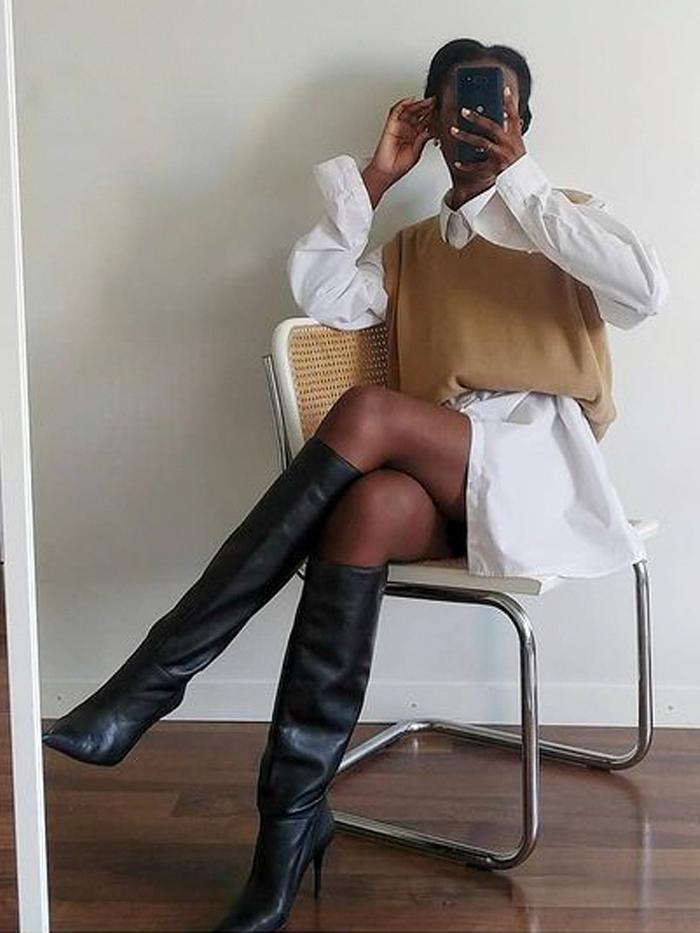 For the longest time, I only had eyes for block-heel ankle boots; no other boot style got a look in. However, a few years ago, I invested in the first knee-high boots I'd had since my teens, and they were a game changer. Aside from jeans, I very rarely wear trousers. Nine times out of 10, you'll catch me wearing a midi dress. And after years of enduring chilly calves and not-quite-right hemlines and boot heights, knee boots swooped in and made every outfit (read: dress) I wore so much chicer and more put-together.
Now, I currently own four pairs of knee-high boots: an on-trend chunky pair from M&S, which I bought as soon as I saw them on a colleague; a beige suede option from Sézane, which I invested in hoping it would make my clothes feel a little more French; a basic black pair that I pull on whenever I'm in a rush; and a burgundy set, which I snapped up last year in an attempt to bestow my winter wares with a bit of colour. They've all enjoyed a handful of wears already this year, and I know they'll make me feel at my most stylish, even in the depths of winter.
As for outfits with knee-high boots, there's no shortage of inspiration out there. Like me, influencers seem to be wearing little else on their feet right now, so I've rounded up all of my favourite looks in one place for you to peruse (and shop) at your leisure. From the skirts to denim, scroll on to see nine outfits with knee-high boots I rate.
Style Notes: Knitted co-ords, even skirt iterations, can err on feeling casual, but adding a pair of knee boots instantly elevates them for more glossy occasions. Finish with a shoulder bag and you've got the ultimate, autumn going-out ensemble. 
This looks seriously cosy. 
Midi skirts and knee high boots are such a good pairing. 
Black boots are the perfect contrast to the cream co-ord. 
Style Notes: I first bookmarked this chic outfit from Monikh Dale last year, but it still holds up for 2023. While slip skirts might feel summery, there's no need to pack them away when you have a pair of knee boots and some suede outerwear at your disposal. 
This timeless jacket will work with jeans, dresses and of course, a slip skirt. 
This fluid midi skirt will work hard in your wardrobe. 
This deep red pair is the ultimate finishing touch to this 70's inspired fit.
Style Notes: I'm petite, and one of my favourite tricks for making me look that little bit taller is wearing heeled knee-high boots with a shorter hem to make legs look longer. 
Grab this in a size up for that oversized fit. 
You can also wear this mini with a cream cable knit, patterned tights and chunky boots. 
A pair to love for a lifetime. 
Style Notes: I've just invested in a knitted vest top, and I'm so glad I did. In tandem with my black leather knee boots, it's helping me extend the lifespan of so many items, including my shorter dresses. 
There's nothing cosier than cashmere. 
Make the most of your mini lengths all year round by swapping in luxe layers and your boots of choice.
These could easily pass for designer. 
Style Notes: Tucking your jeans into boots is one thing, but a pair of suit trousers? This member of the street style set has convinced me to give this suited look a whirl. 
Grey is definitely the colour of the season and this suit is an easy way to give it a go.
Wear with a classic shirt, or layer knitwear on top for a more relaxed take on tailoring. 
I've been dreaming about these boots for a long, long time.
Style Notes: Nothing feels more seasonally appropriate than knitwear and leather. Being a skirt and dress sort of person, I plan on re-creating this outfit ASAP. That burgundy-and-black combination is just sublime. 
This burgundy hue looks great on everyone. 
The ribbed details offer a contrasting texture that adds to the luxe feel of this look. 
These are such a chic shape.
Style Notes: Chiara has convinced me that I need a denim dress to pair with my tan knee-high boots. I love how she's added a cosy cream knit on top to make this look cold-weather appropriate. Delightful!
A denim dress is so versatile to wear across all seasons with a switch of an accessory.
COS' knitwear offering keeps getting better and better. This cashmere style looks so cosy.
Tan boots are a great option for autumn and beyond. Add them to all your floral dresses for an easy, stylish look.
Style Notes: You can't beat a cable knit jumper. Fact. And I love how Frann has layered hers over a casual check shirt and midi skirt. This look is also proof brown is the new black this season. 
Fresh from the Sienna Miller x M&S edit. 
Hello, dream maxi. 
These are such a sleek shape. 
Style Notes: Classic vintage-wash denim and edgy black leather is my favourite outfit combination. Throw in a pair of knee-high boots in an expensive-looking mock-croc finish, and this is a look I'd gladly wear on repeat during winter. Thanks for the inspo, Linda Tol. 
This leather looks as soft as butter. 
H&M's denim shouldn't be overlooked when it has all the key styles to invest in. 
This pair could easily pass for designer. 
Next Up: Autumn/Winter 2023 Fashion Trends That Really Matter
This story was originally published at an earlier date and has since been updated.