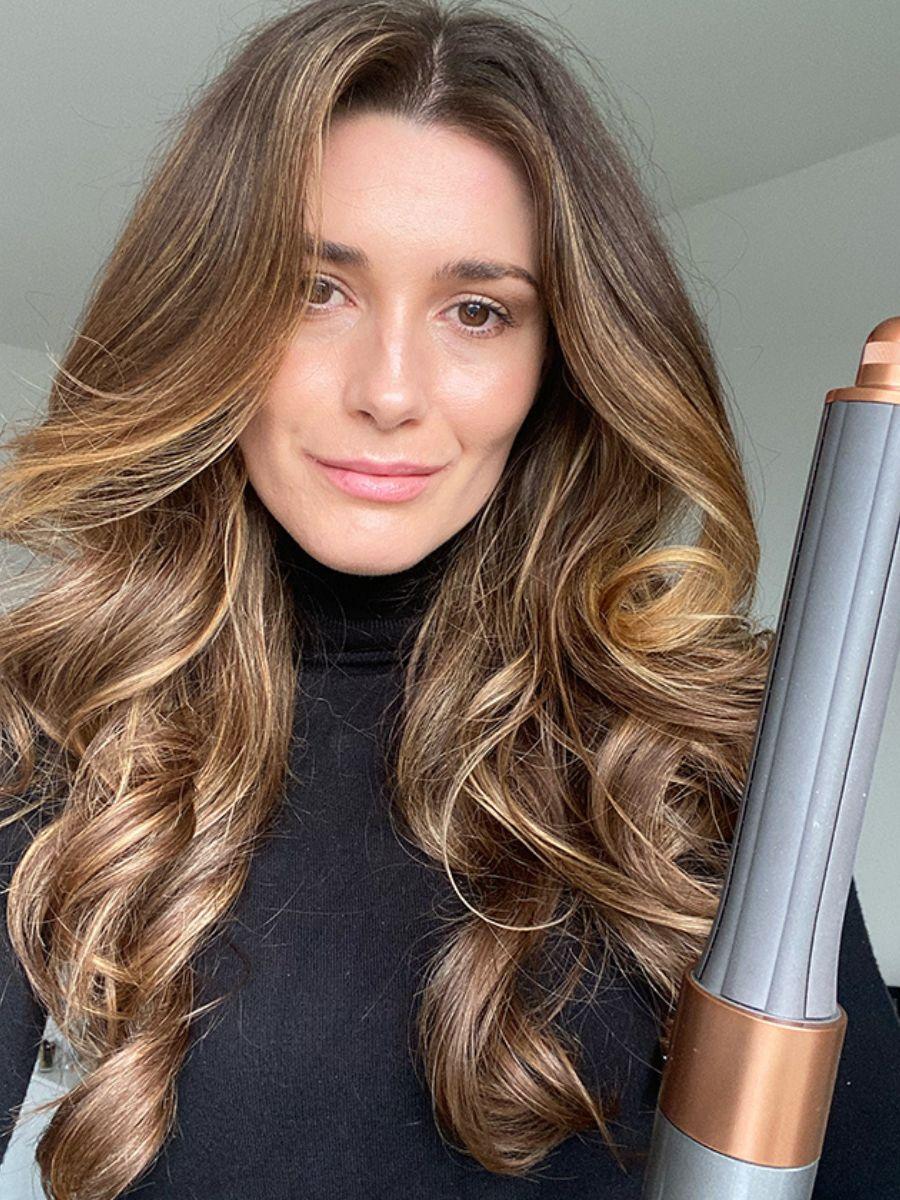 There's no doubt that the Dyson Airwrap has become one of the—if not the—most popular hairstyling tools around right now. During TikTok scrolls, you have probably been inundated with Dyson Airwrap reviews on your For You page, with reviewers detailing their experience with the multi-hairstyler. The general consensus seems to be that it either works for you and your hair type, or it doesn't. And when you're thinking of parting with nearly £500 for a hair tool, it can be risky business to know if it's going to work for your individual hair type.
I've now owned my Dyson Airwrap for over a year, so not only have I put it through its paces, but I have a lot of thoughts about it. While I agree that the price point is eye-watering, I do believe that it's a really versatile tool to have in your hair kit if you do want to invest in a premium hair tool. I don't think anyone needs it, but it's certainly one that I reach for a lot when I want to create body and bounce. Practise makes perfect when it comes to this tool, and there are some key tips and tricks that ensure that your bouncy blowout doesn't fall flat after five minutes.
Ahead, I'm sharing my honest review of the Dyson Airwrap on my long and thick hair type—as well as the tips and tricks I've learned along the way to make curls last throughout the day—and answering the questions that I'm asked most about it. 
As there's only so much first-hand experience one person can have with different hair stylers, I turned to celebrity hairstylist Tom Smith to answer this question. After all, as a professional in the hair industry, he has tried pretty much all of the stylers on the market. His take? It's the temperature settings that set the Dyson Airwrap apart from other hair stylers.
"The Airwrap measures the temperature 40 times per second to ensure that the heat stays below 150°," explains Tom. "One of the biggest causes of hair damage I've noticed is my clients using old tools or being overzealous with their use of traditional hairdryers, which can very easily overheat the hair and cause extreme damage. This temperature measuring is unique to Dyson and means that you can enjoy a high standard of hairstyles at home, between appointments, without the excessive damage which typically accompanies home styling."
The Dyson Airwrap costs £480 and includes the Airwrap itself alongside 6 attachments; the Coanda smoothing dryer, a 30mm Airwrap barrel and a 40mm Airwrap barrel, a firm smoothing brush and a soft smoothing brush, as well as a round volumising brush. There's also a filter cleaning brush and a presentation box to store your Airwrap and attachments.
My Dyson Airwrap has the Complete Long attachments, featuring barrels that are longer and can have longer sections of hair wrapped around them. You can also buy the Complete set, which has shorter attachments that are better suited if your hair is shorter than chest length. Additionally, you can also buy more attachments, such as narrower smoothing brushes and a hair pick comb attachment, which is perfect for coily hair.
"Thanks to the large selection of well designed attachments, there's now something for everyone with the Airwrap," says Smith. However, he does point out that if your hair type doesn't tend to hold a style for a long time then you might need to work a little bit harder with the tool. "Those with fine or very straight hair will benefit from using the cool shot button, which helps to set styles in place." 
"For styling textured hair, the comb attachment does a brilliant job at stretching out natural coils while being gentle enough to protect this fragile hair type," explains Smith. "However, to achieve perfectly straight and glossy results on textured hair, the use of a straightening iron would still be required."
As my hair goes, it's thick and long, which makes holding a style challenging as my hair is quite heavy. My hair isn't poker straight, rather wavier and more wiry in texture around my crown, so I'm also prone to frizz after washing my hair. Below is how I like to prep my hair to get the most out of my Dyson Airwrap.
The most common grumbles I hear about the Dyson Airwrap is that while curls look blowout worthy in the first instance, they can quickly drop out. In my experience, it all comes down to three things: 1) Prep, 2) letting the hair cool and 3) your hair type. I'd highly recommend trying the Airwrap in-store before making a purchase decision so you can see exactly how it works with your hair type.
Prep means everything from what you're washing and conditioning your hair with to what styling products you are putting on your lengths. I personally like to use a clarifying shampoo (one that removes buildup from the scalp and cleanses away product that can sometimes build up on my lengths) and a conditioner that isn't too heavy so it doesn't weigh down my lengths. I want my hair to feel as bouncy as possible.
Then, I apply a hair mousse or foam all over the hair while it's still about 80% to 90% dry. I've seen many people get long-lasting hold by using a sea salt spray for prep. However, I personally find this makes my hair feel too crunchy to get a smooth finish, but this might work for you if you have finer or very smooth hair that needs a little more grip.
I like use the hair dryer/smoothing attachment to dry my hair to around 90% dry.
While I do love that this styler also comes with a two-in-one hair dryer and smoothing attachment, I don't think it will replace my trusty Dyson Supersonic hair dryer completely. The airflow is good, but not quite as powerful to get my hair dry quickly, particularly at the roots. But I do like it for a quick blast through the lengths, and being able to easily switch it into a smoothing tool is a bonus for when you want to quickly tame any flyaways.
Once my hair is about 80% to 90% dry, I then like to use the smoothing brush attachment to comb through my hair. The bristles are firming enough to comb through the hair and smooth as it goes, while the firmer brush attachment is better if you want a totally straight finish. It's probably the one attachment I use the least, as I prefer a bit of movement in my hair, but it's ideal for creating a sleek finish.
The round brush attachment might be my favourite of the lot, as I reach for it constantly. As someone who loves a bouncy blowout but doesn't have the co-ordination or upper-body strength to hold and hair dryer and twirl a round brush through my hair (hello, tangles), this makes it so much easier. The bristles are flexible, so they grip the hair well and create enough tension to create a bend in the hair, but they're soft enough so that the brush doesn't get tangled. I find the bristles polish my hair to leave it with a smooth and shiny finish.
I've also seen people on TikTok unclip the round brush once it is rolled up in the hair as a makeshift roller, which is useful if you have a longer fringe or layers at the front that you want to give extra hold as the hair cools down—that's the key to make your style last longer. I sometimes use the round brush on my front layers and leave it to set in a roller while I do the rest of my hair.
Out of the two curling barrels, I usually choose the narrower one, as this delivers a tighter curl that lasts better on my hair when I want a voluminous blowout. If it's a soft, gentle curl that you're after, then you'll like the larger barrel attachment. However, be warned that you curls may not last for quite as long. 
I love that this hairstyler also allows you to tailor the heat and power, so you can adjust it for your hair type. As my hair is quite stubborn with blow-dries, I like to use the highest power and heat when styling my hair.
When you're using the curling barrels, it's important that you let the hair heat up (around 10 to 15 seconds) before immediately switching it to the cooling setting until the hair has completely cooled down. There's no use skipping this, as your curls will fall out. Think of a candle; when it's warm, the wax melts and is moveable, but once the candle cools, the wax solidifies. It's the same with your hair, and cooling down the hair will boost the longevity of your style.
I recommend keeping it on the cooling setting until you can no longer feel any heat from your hair, and then holding the curl for a moment as you remove it from the styler. It might look a bit like 2002 prom hair in the first instance, but they will drop out and soften into a beautiful shape.
Rather than brushing out curls, I prefer to take a tiny bit of hair oil into my palms and brushing through with my fingers to keep the shape and loosen the curls while smoothing down any flyaways. Then, I'll finish with a small amount of hair spray to set the curls in place. I really want to love the smoothing hair dryer attachment after curling, but I do find this knocks out the shape of my curls a bit, so I prefer to use this product to smooth my hair down instead.
From start to finish, this probably took around half an hour to do on my hair type. If you have shorter on finer hair, this will no doubt be a shorter process. The key is to let the hair cool down once you have styled it to ensure your curls last for as long as they can. If I'm being honest, the Airwrap gives me a wonderful blowout look, but if you're after curls that will last for days on end, then a hair wand or tong may be better suited to you, which will provide a more structured style. My hair still looked bouncy the day after, but not to the same extent as day one. But if it's a bouncy blowout that you're after, and you don't mind topping up your hair on the second day, then this is most certainly the tool for the job.
– No extreme heat for healthier hair
– Versatile attachments to create different styles
– Different airflow speeds and temperature settings
– Ion technology reduces hair static
 The new Coanda smoothing attachment could replace your hairdryer
– It's very expensive 
– No diffuser attachment for curly hair
– Can take a while to get to grips with
Yes, it is expensive, but if you are thinking of investing and will make use of all of the different attachments, you're essentially getting multiple hairstyles in one. Out of the various hair multi-stylers I've tried lately, the Dyson Airwrap comes out on top in my opinion for both ease of use and the results.
This clarifying shampoo removes buildup from the roots and lengths to leave hair extra bouncy as you use your Airwrap.
This hair foam provides a lightweight volume boost to the hair while extending the hold of your style.
I love to use this hair spray to set my look in place, as it doesn't leave hair crispy and brushes out well.
This lightweight oil adds a great sheen to the hair without weighing it down.
Up Next, I Have Thin, Flat Hair, But This Old-School Product Gives Me '90s Volume