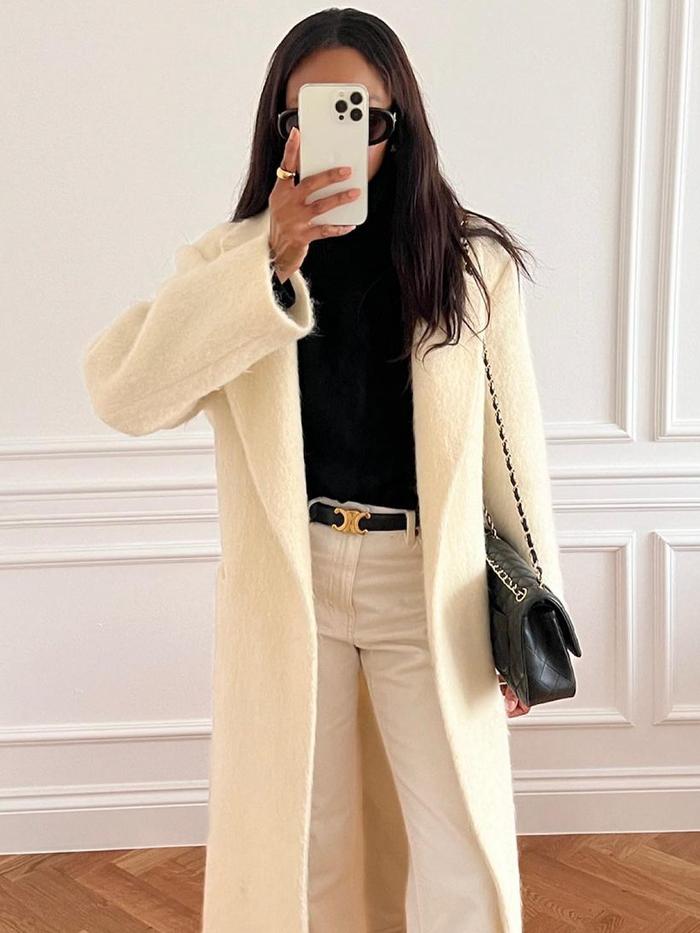 Once the colder weather approaches, there are a few key things we can always expect. Firstly, on weekdays at least, we'll be rising earlier than the sun. Secondly, we'll begin daydreaming about open fireplaces. And thirdly, we're about to start seeing a whole lot more beige, brown, and orange tones on the rails and in new-in sections. Whether it is because those colours mimic the hues of the changing leaves or simply play contrast to the bright colours we typically wear earlier in the year, there is something about this season that has everyone dressing in warm, cosy tones and timeless neutrals.
It's a tried-and-trusted colour palette that we know we turn to year after year, as each shade looks good individually but also seamlessly complements the other. We've noticed members of the style set also getting on board with the colour combinations, as many of our fashion friends have been posting idyllic images dressed in shades of beige, cream, grey, navy and brown. For those wanting to add a little more colour, orange and a deep shade of burgundy have also been on high rotation.
While black is also on the list for this season and never fails to look slick, we're choosing to prioritise lighter colours. Not only do we know they will see us through the cold months, but they'll also look just as good once the spring sun starts to show. Scroll below to shop key pieces from our favourite winter colour palette.
The clue is in the name—rich, chocolatey hues never fail to look expensive, especially when worn top to toe. 
This jacket feels deliciously '90s. 
Perfect for autumn weddings.
Wear these with straight-leg denim and a chunky knit.
A silky shirt is an essential compnant of every wardrobe.
A designer-looking bag at a great price. 
Versatile and elevated, beige is far from a boring colour choice. 
Use the scoop neck to show off your favourite gold chains.
An obligatory Loewe mention. 
Probably the most versatile coat colour you'll ever own.
Such a great cut. 
If it isn't oversized, we're not interested. 
Although black will always be an integral colour in the winter palette, take the softer approach in navy hues. 
Several of our editors have been eyeing up this suit. 
A thrown-on dress that looks anything but. 
I'm crossing all my fingers that this will be mine before the year is out. 
Joseph is ticking off the wide-leg-trouser trend nicely with this relaxed pair. 
I'm into this styling.
It might seem unexpected, but bright tangerine hues always come into their own in the cooler months. Wear with shades of ecru and cream for extra luxe appeal. 
This looks so premium on. 
The perfect way to update your moody winter colour palette. 
Stripes are always a good idea.
This skirt from Ghost repeatedly sells out—don't miss it again. 
Such a beautiful dress. 
Like a fine wine, there's something decadent and impossible to resist about deep burgundy hues. 
Whistles is known for its exquisite leather pieces. 
Naturally, we want the whole set.
Just gorgeous. 
An investment piece that you'll treasure forever. 
Woven bags always look luxe.
Embrace the lighter side of autumnal styling with a full cream look made up of different textures. 
This will be the coat you reach for when it comes to nights out and weddings. 
We're smitten with this V-neck jumper.
A unique fabrication. 
This is a classic pair of trousers you'll rely on for years. 
Just think how chic this will look with a black mini skirt and leather boots. 
Far from dismal, grey tones look particularly premium worn with leather accessories in black or brown. 
This is too good not to be worn at least once a week.
If you buy one thing, make it a timeless grey coat. 
Another knitwear hit from H&M. 
Finish every autumn look with a complementary handbag. 
Such a sweet silhouette.
This post was originally published at an earlier time and has since been updated. 
Next Up: Autumn's Biggest Print Trends Will Tempt You to Ditch Your Plain Outfits