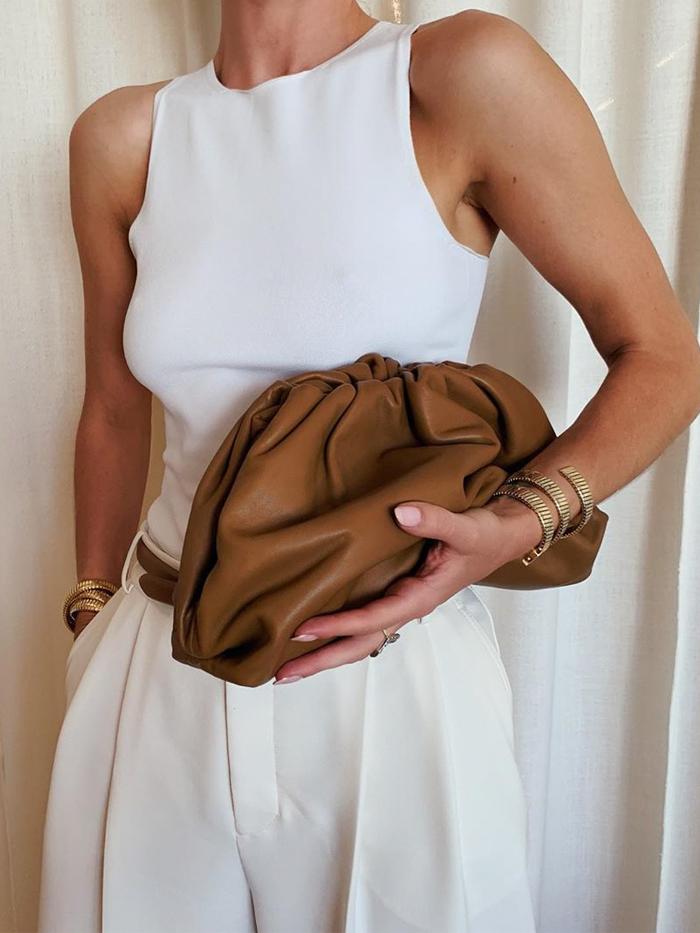 If there's one brand that's dominated the fashion world (and our saved folders) more than any over the past few years, it would have to be Bottega Veneta. Once considered a heritage label, the Italian fashion house found itself a hot topic once again upon its appointment of Daniel Lee as creative director in 2018. It's fair to say interest in the brand hasn't waned since—even after Lee was succeeded by his right hand man, Matthieu Blazy, in 2021. 
While very much minimal, Bottega's modern approach to pared-back style was previously undefinable. Where other brands have opted for ultra-simplicity, with borderline "boring" colour palettes and oversized silhouettes, Lee and Blazy have instead made Bottega Veneta's minimalistic designs look incredibly luxe, with details such as gold metal hardware set against premium, buttery soft leathers. 
And while shoes and coats have proven to be some of the brand's most in-demand pieces, the hardest item to get your hands on in recent years has to be one of Bottega Veneta's bags. The brand recently launched its commitment to expert craftsmanship and luxurious materials with an announcement of a new lifetime warranty on its bags. The Certificate of Craft program offers unlimited complimentary refreshes and repairs on their bags, ultimately encouraging less waste. Bottega bags for life you say? Er, yes please. 
Celebrities, industry insiders and the public have found themselves falling head over heels for Bottega Veneta's arm-candy offering, leaving wait lists in their wake. The frenzy first started with The Pouch; a buttery-soft, for the lack of a better word, clutch, with wide-framed jaws that clasp together to create a gathered leather effect. Rosie Huntington-Whiteley (above) was one of the first to tote Bottega Veneta's The Pouch, and in the time since, it's come to define the fashion zeitgeist.  
Even after five years, The Pouch is still top of fashion's most-wanted list (proving just how smart an investment Bottega bags are). That said, some of Bottega Veneta's other bags are nipping at its heels. Take The Jodie, for instance— no stylish wardrobe is truly complete without this woven sidekick these days. And, like the Pouch, it's now gone way beyond cult It bag into the realms of a luxury classic. As such, we decided it was time to bring you a definitive edit of the best Bottega Veneta bags for your consideration— should you be in lucky position to have a few thousand to spare!
From The Pouch to the Cassette, with a foray into the new Sardine along the way, keep scrolling to see and shop the best Bottega Veneta bags that have not only stood the test of time, but are still the most covetable accessories money can buy. 
Bottega Veneta's The Pouch has practically become fashion-girl uniform and continues to repeatedly sell out across luxury shopping sites every time a new iteration is released. The fact we found some in-stock to share with you in this feature came as a shock. 
If it's good enough for Rosie…
This Kermit-green pouch lives in my mind rent free.
Perfect for weddings, parties, date nights, summer holidays… Need I go on?
Boasting the brand's trademark intrecciato lattice work, The Jodie expertly channels Bottega Veneta's heritage charm, in a very of-the-moment silhouette. 
Black is a fail-safe.
Imagine this with a cream co-ord.
For a fun pop of colour that will never date.
A mini icon in the making. 
While you might be tempted to keep her for best, The Arco is one of Bottega Veneta's more practical bag styles, with enough room in the medium version to tote all of your daily essentials and then some. 
This will hold everything from your book and laptop to make-up bag and spare shoes.
The finish and structure of this bag are really something special. 
A gorgeous chocolate brown hue that will go with everything.
A smaller version in the classic camel hue that's perfectly sized to fit the essentials. 
After the reception The Pouch received, you'd have thought Bottega couldn't reach higher heights. But it did with the Cassette, which now comes in classic, padded and chain versions. 
I still think about this bag daily.
Is this the perfect evening bag? I think so.
A classic with a modern twist.
Obsessed with the matte finish on this. 
A relative newcomer to the Bottega Veneta bag roster, we're predicting big things from the Loop, which is the brand's practical yet extremely classic crossbody. 
Wear this with pretty white dresses in summer and dark hues in winter.
I'm sure you'll reach for this timeless cross body bag every day.
Mini bags are big for 2023.
An even smaller version for the mini-bag fanatics out there (us included). 
The Andiamo is new this year and it has already got fashion people talking. Big enough to hold all your essentials but still undeniably chic, this is an understated accessory that says "I'm in the know". 
Be still my beating heart.
A dark-hued handbag with an all-beige look is so chic.
Stylish and practical. What's not to love?
A much larger, yet still chic option for travel and jam-packed office days. 
New for autumn last year and true to Bottega's style, the Sardine is expertly crafted using the label's signature weaving technique. We are sold on the sculptural gold-tone handle. 
A statement bag if ever I saw one.
Pair with a sequin mini dress or a slouchy suit.
The mini version is so cute!
We think this larger option will work well for daytimes and evenings in the city as well as on holiday. 
The Brick bag is part of the much adored and renowned Casette range and showcases the same intrecciato weave as the rest of its relatives, except with a magnified version you're sure to adore. 
The '90s vibes make this bag even more irresistible. 
It's so easy to see yourself toting this around on a daily basis. 
So good it is almost a work of art. 
Glittering in gold, this bag will make choosing your jewellery easy as pie. 
Next Up: Flat Shoes, Basket Bags, Pretty Dresses: What Luxury Will Look Like This Summer
This story was originally posted at an earlier date and has since been updated.