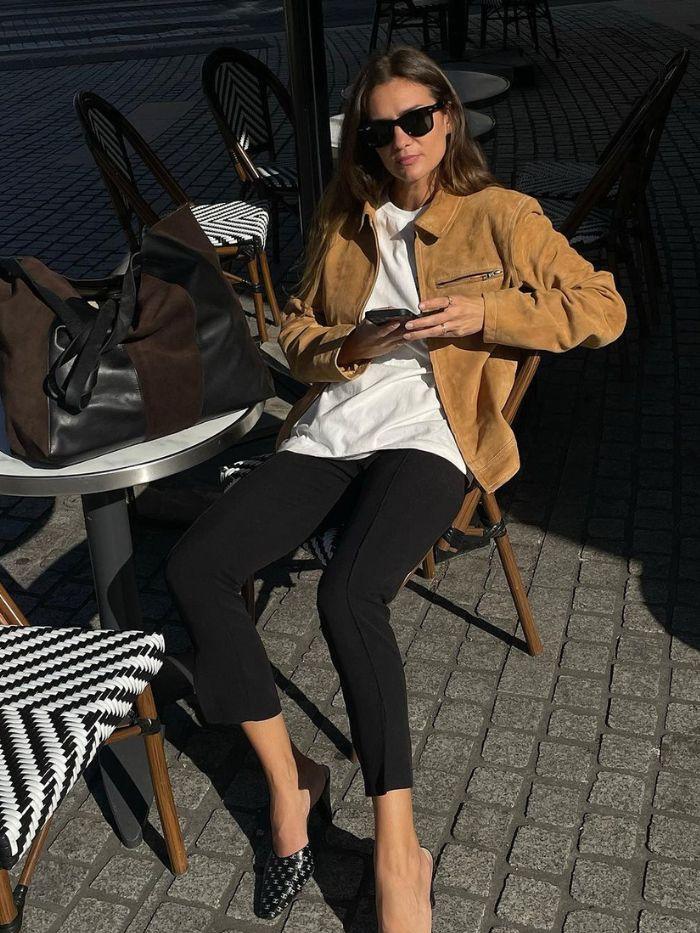 It seems like autumn crept up on us almost overnight, and as quickly as we were ready to strip off at the moment's notice of a heatwave, we're now digging out our knitwear and jeans.  But as unpredictable as British weather is, the one thing that remains a constant is the need for a sensible outer layer, and no matter how quickly trends have come and gone this year, the only thing taking up space in my brain right now is coats. Actually, scratch that, it's jackets. 
I'm very into outerwear, so much so that my wardrobe is bulging with everything from puffer coats to vinyl trenches, but if there's anything that your wardrobe needs for autumn, it's a transitional jacket. On the days that it's too mild for a sizeable winter coat, a light but warm jacket is the key to comfort and is the kind of versatile piece to invest in and wear year after year. So, with so many to play around with and so many different textures, shapes and styles you may be wondering which jacket is the do-it-all wonder worth buying, and I have the answer. 
After scouring the catwalk collections and keeping tabs on street style trends, I can confirm that the once "dated" suede jacket is firmly back on the agenda. From western fringing to boxy blazers, sleek suede is enjoying a revival, and it just so happens to be the ideal fabric for the sudden drop in temperatures. It makes sense after all, the suede jacket is like autumn personified. The rusty colour palettes, the cosy, windproof layer, the ultra-luxe and strokeably soft feel. There's a lot to love about this expensive-looking buy, and everyone from designer sites to high-street stores are currently full of chic options. 
When someone says "suede" you may immediately think of the Seventies throwbacks gathering dust at the back of the vintage store, but I assure you, there's a reason this unassuming trend has been quietly gaining traction over the last few years, and the key lies in its styling (it's not just leather and faux fur that deserve their props for making outfits look rich).
Looking for something fresh and new for A/W 23? It's this retro jacket, so keep scrolling for some suede jacket styling tips from Instagram's best dressed, and to shopping my pieces of the very best jackets around. Your wardrobe will thank you. 
Style Notes: Echoing all of the natural colours of autumn, Monikh's clever layering of camel, khaki, tan and olive is a masterclass in seasonal colour blocking,
Style Notes: Keep western fringing from looking too costumey by pairing it with elegant dresses and luxe accessories a la Emma Rose. 
Style Notes: This nod to retro styling feels effortlessly cool. The flared jeans are the perfect accompaniment to a longline jacket, but the white tank top keeps the look fresh and modern. 
Style Notes: Take it from the French and keep it simple. A white tee and black cigarette trousers are understated enough to make the jacket the star of the show. 
I already own this jacket and wear it non-stop. 
Such a gorgeous golden shade. 
The right length to wear with high-waisted jeans. 
Now that's how to do fringing.
Something a little cosier for when winter rolls around.
Sézane are experts in french-girl styling.
When vegan suede looks and feels this good, there's no need to buy real.
The belted waist is so elegant. 
A certified Who What Wear favourite. 
Sleek, simple, sophisticated. 
Dare I say, suede looks just as good in black?
This looks so expensive.
The perfect shade of chocolate brown to mix with cream, navy, bottle green, orange, black…
Just add blue denim and an ankle boot. 
A cool twist on the classic. 
A chic safari-inspired utility jacket crafted in soft 100% suede. 
The green, the crop and the military references tick every box. 
Up Next, It's Going to Be a Flat-Shoe Autumn—These Pairs Are the Best of the Best