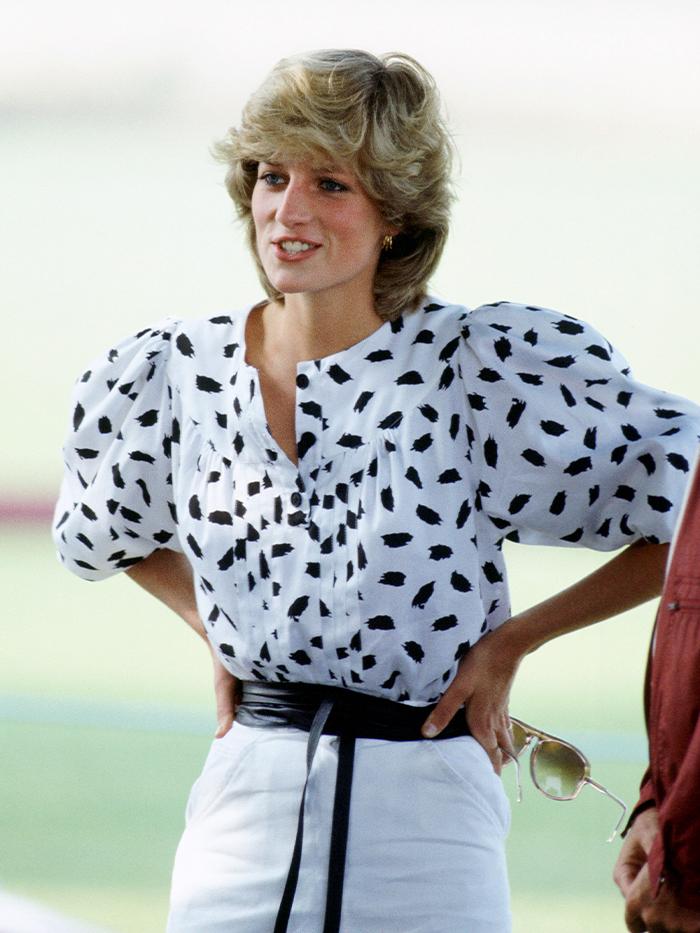 When it comes to '80s fashion, we have a (surprising) amount to be thankful for. While the decade previously hadn't influenced our wardrobes for a long time, in recent years, we've come to the realisation that all the most current trends today are courtesy of the '80s. Now, if you're not too familiar with the nuances of this era, there are a few standout looks we're sure you'll recognise: big shoulders, white jeans, underwear as outerwear and oversized jewellery. It was the decade of the power dresser but also of punks. It gave us Madonna, Sade, Tina Turner and Cher, plus numerous other superstars whose sense of style influences many right now.
Don't believe us? From the fact that Princess Diana's archive is inspiring some of the world's most influential designers to the more basic resurgence in women wearing blazers with jeans again, we've found 36 A-list images that prove these '80s fashion looks are as current now as they were then. Keep scrolling to click through our gallery of iconic '80s outfits.
Style Notes: This is classic '80s Madonna, but the underwear/bodysuit look is bang on the money for now. You can forgo the pearls—just wear yours with some high-waisted jeans for a night out.
A shaping bodysuit will smooth and sculpt your figure. 
Style Notes: As if we needed any more proof that Cher is the ultimate style queen, here was the star doing the naked dress before everyone was doing it at the Met Gala (and every other awards show going).
Ease into this daring trend with a midi dress.
Style Notes: Brooke Shields was America's number one sweetheart back in the '80s, and here, she proves exactly why.
You'll rely on this when cooler autumn days come around. 
Style Notes: The Jenner/Kardashian clan already has this look down. But the originator of this style? Another Kim—Kim Basinger.
Wear with a bralette and trousers.
Style Notes: Okay, so the term "structured shoulders" is just another way for us to say "shoulder pads" and attempt to not freak you out, but we've seen a real trend toward this look. Shout-out to Courteney Cox for wearing this on the red carpet pre–Monica Gellar days.
A subtle way to try the look.
Style Notes: While Kim Kardashian West has been a major factor as to why waist belts have gotten popular again, we can't deny that Cyndi Lauper may have started the trend. Also: those zebra shoes.
Highlight your figure with a waist-defining belt. 
Style Notes: Joan Collins is so incredible in this snap. Is there anything we don't love about it? Answer: No. The jacket, the simple black top, the red lippie… However, it's the gobstopper necklace our magpie eyes focus on. Joan knows the power incredible jewellery has in pulling together an outfit.
Just as elegant with a white shirt and jeans as an evening dress. 
Style Notes: There were so many incredible outfits from Princess Diana we could have included, but we settled on this "country-casual" one. The heritage check on her jacket and matching skirt are classic attire. Not only has this Harrington-style jacket made a comeback in hipster circles, but we're also seeing plaid coats everywhere. Coincidence? We think not.
Trust Cefinn to make checks feel modern. 
Style Notes: Want to know the real way to update your outfit for 2023? Just add socks à la Meg Ryan. Yes, really.
There's nothing more luxe than cashmere socks. 
Style Notes: Grace Jones will never be anything less than fierce, but this incredible look has been seared into our minds. Who wouldn't want to look so focused in a razor-sharp piece of tailoring? (Purple makeup optional, of course.)
This relaxed fit brings the 80s suit into 2023. 
Style Notes: Kylie Minogue wore a lot of high-shine minis like this. Get inspired by investing in 2023's version with bright, bold details. (They're selling out everywhere right now.)
What a look!
Style Notes: We have some serious love for high-waisted jeans. Tina Turner pulls this look off with aplomb, and we have to agree: Bauble earrings and a white vest are great accessories.
I love the vintage wash. 
Style Notes: Well, how else do you expect to show off your socks? Thanks to Demi Moore for inspiring us all those years ago. 
With an oversized shirt and trainers, this relaxed silhouette will feel just as modern today. 
Style Notes: Debbie Harry has brought us many a trend. But during the '80s, we got to see her in chic little black dresses, which she accessorised with a flash of low denier at most times. And in case you didn't know, that kind of hosiery is news again.
Go bold with ultra sheer fifteen denier. 
Style Notes: We've seen this trend start to appear on trousers, from old-school joggers to jeans with shiny gold buttons, as well as on the classic Balmain blazers that remain forever popular. Jerry Hall's gold buttons down her nautical blazer and gold bracelets made for the ultimate '80s power look. 
Few do classic style as well as Ralph Lauren. 
Style Notes: True, Goldie Hawn didn't invent the off-the-shoulder style, but she knew how to do it right. 
So pretty.
Style Notes: Joan Jett will never be anything less than cool. Her punk-inspired ensembles often involved oversized jackets and skintight trousers. While leggings have definitely come on a bit since then, take inspo from this look and pair your leggings (or black skinny jeans) with a leather jacket this weekend.
Those leggings you lived in during lockdown just need a tee and leather jacket. 
Style Notes: Things tended to be pretty oversized during the '80s, and no other item was as exaggerated as the blazer.
Structured blazers are a wardrobe staple that will look just as good over a dress as paired with jeans and basic white vest. 
Style Notes: When aren't sequins a great idea? As seen on Diana Ross, this look is making us wish the festive season were already here. 
We're finding any excuse to wear this sequin dream. 
Style Notes: Yes, the '70s might have been the era for bodysuits, but with the '80s came extra bits like tassels. 
Fringe is a big trend for the upcoming season, as are cowboy boots (still), so why not merge 2 in 1!
Style Notes: The vinyl-coat trend has been everywhere for the past few years, and we see it sticking around for many more. But it was in the '80s when one of the original supermodels, Cindy Crawford, made it look iconic. 
There's no time like the present to invest in your next coat.  
Style Notes: Model Pat Cleveland knew how to make a graphic tee look chic. It's still one of our favourite outfits for the weekend.
Add a blazer, jeans and mules, and you're ready to go. 
Style Notes: Susan Sarandon is just one of the reasons we love Alessandro Michele's oversized Gucci sunglasses.
The bigger, the better. 
Style Notes: Before Sex and the City, SJP was already pushing the fashion boundaries. 
We love this full denim look. 
Style Notes: Geek-chic glasses might be commonplace now, but it was during the '80s that they really took off. Acetate frames, as seen here on Jane Fonda, have definitely made a comeback. 
Make the most of your specs with an oversized, statement-making style. 
Style Notes: Daryl Hannah's got all the accessories a decent '80s look should have, but you'll notice time and again that gloves (especially with layered jewellery) are key for this decade.
Stylish people everywhere are getting back into gloves for dressy occasions, and we plan to go all-out with this feather pair. 
Style Notes: Sarah Ferguson and Diana, Princess of Wales, were both particularly keen on skirt suits for their more formal events in the '80s. The look translated quickly into offices and parties, especially in this ultra-matchy form. 
Style as a set or as separates.
Style Notes: Jane Fonda started it in the 1970s, but by the time the 1980s arrived, spandex leggings, leotards and legwarmers were commonplace, and everyone was a fitness fanatic (for a time, at least).
For a more 2023 feel, style with jeans. 
Style Notes: Call them MC Hammer pants or harem pants, but never forget that drop-crotch trousers (the more draped, the better) were a key look in the '80s. Here's Donna Summer doing them justice.
Yes to the shirt and loafer styling. 
Style Notes: Polka dots are back again, but one of the most current-looking ways they were worn in the '80s was thanks to singer Sade and this cool shirt.
This dress can be dressed up or down with sandals or heels for evening. 
Style Notes: Princess Diana's balloon-sleeved monochromatic blouse is too good to leave out and feels so current.
Make it modern with a cropped style. 
Style Notes: Beige really took off in the summer of 2018 (and continues still), but you need only look to Debbie Harry, who wore the trend three decades ago. 
Minimalists everywhere know how impactful beige can be. 
Style Notes: The oversized look was everywhere in the '80s and wasn't just limited to jackets—jewellery, too, was statement. In 2023, this is a trend that is going strong. 
Stack 'em up. 
Style Notes: A trend that has made a surprising comeback, Laura Ashley–inspired dresses are everywhere right now. Yes, that's Gwyneth Paltrow!
The perfect throw-on dress. 
Style Notes: The most timeless of jackets. Even in the '80s, it looked incredible. 
A utility-style jacket looks so good in this olive green. 
Style Notes: Green was very popular during the '80s, but no one wore it better than HRH.
Just stunning.
This story was published at an earlier time and has since been updated. 
Next Up: Experts Agree: These Autumn/Winter 2023 Fashion Trends Really Count
Opening Image: Getty