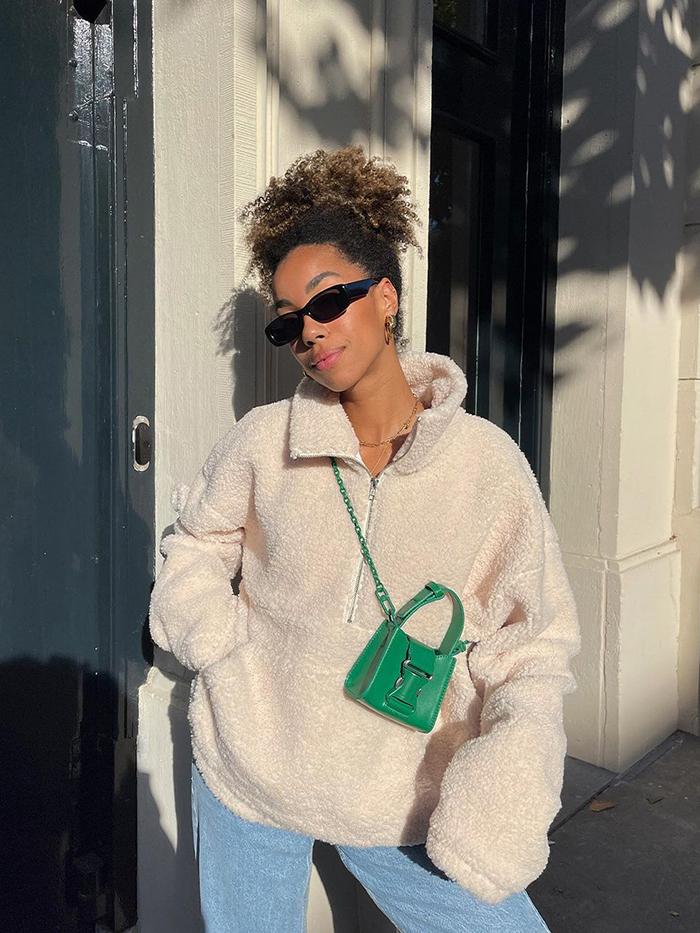 Last Monday (I remember it clearly), I stepped through my front door, into the outside world, and felt my whole face tighten. I'd executed my daily skincare routine as normal, but on that day, a light kiss of cold air on my face resulted in my skin having a meltdown. For the rest of the day, my face felt tight, looked red and was tragically dry. It was time. 
Every autumn, this day comes. It is, in my opinion as a beauty editor, the first day of winter. You see, while I know that the official start of winter is a couple of months away yet, I tend to define the seasons by my skincare. Four times a year, I encounter a day in which I find my daily skincare routine stops working—and last Monday was one of them. The level of hydration I had been feeding my skin was suddenly no longer enough, and the cold, dry, bitter weather got the better of it. I knew it was time to reassess my moisture levels.
If you also find your skin starts playing up as the temperature drops, know there's very good reason for it. "Rapid fluctuations in temperature can take a toll on our skin. As it gets colder, and the humidity levels drop—loss of hydration kicks in," says Sonia Khorana, a GP with special interest in dermatology. "This can affect the skin barrier and lead to dryness, itching, irritation and lowered skin defences against environmental stressors. To help with these issues, I would advise incorporating thicker moisturisers. Look for ingredients like ceramides, glycerin and hyaluronic acid."
Yep, moisturiser is the secret to healthy skin come winter. And this is something I don't love to admit. You see, as someone with particularly oily skin, for most of the year, I steer clear of moisturiser almost entirely, instead choosing to get my hydration from lightweight serums and hydrating SPF creams. In fact, the general obsession with moisturiser has been known to irritate me as a beauty editor. Everyone is always asking me about what moisturiser might be best for the them, and my answer is always the same: Stop focussing on moisturiser and instead focus on hydration. You can get hydration from your cleanser, serum, essence, toner and even SPF. However, come winter, I fervently believe that we all need some sort of moisturiser to restore as much hydration as we possibly can. The secret to making it work for you is in knowing which formula to go for. "You can tailor the texture and thickness to suit your skin type as the seasons change," adds Khorana. So without further ado, keep scrolling for the best moisturisers for winter, whatever your skin type.
Thick and putty-like, this face cream delivers next-level hydration. Jam-packed with ceramides to help repair distressed skin barriers, it restores hydration, and moisture and delivers maximum skin comfort. Not only does it help with the immediate symptoms of dryness and discomfort, but it also helps restore the moisture barrier to help fend off future bouts of dryness-related irritation.
I don't know a single person with dry skin who hasn't fallen in love with this moisturiser on first use. It's thick but fast-absorbing and isn't in the least bit greasy. It keeps skin feeling moisturised and content all day. The best bit? It's been specially formulated to look after skin in cold temperatures, making it the perfect pal for winter.
In all honesty, I don't think I've ever used a moisturiser quite as nice as this one. Again, championing ceramides to help restore the skin's natural hydration barrier (this won't just boost glow but will also keep your skin functioning healthily for longer), it's a thirst-quenching treat. It's not as thick as the previous two moisturisers, but it works just as hard.
If your skin is already naturally oily, you probably don't want to be using moisturisers with high oil content that risk leaving skin feeling greasy. This water cream is lightweight and fresh to the touch, making it ideal for those prone to oiliness and congestion. With some clever technology, it delivers plumping hyaluronic acid and soothing moisture without overloading the skin.
Another lightweight option, this moisturiser is a long-term favourite of mine as an oily girl. It is beautifully light so as not to contribute to any excess oil but really champions hyaluronic acid to help out the skin barrier, top up hydration levels and plump the skin while it's at it for glowing result. The formula also contains ginseng root extract to further boost plumpness and help minimise the appearance of fine lines.
This gel-based moisturiser couldn't be better suited for oily skin. Not only does the gel texture keep it feeling lightweight and non-clogging on the skin, but the hero ingredient, squalane, actually mimics the skin's natural oils to help aid hydration, as opposed to other oils that risk just sitting on the surface, contributing to greasiness.
Widely considered by skin experts and dermatologists to be one of the best moisturisers for those with inflammatory skin concerns such as rosacea, psoriasis or eczema, La Roche-Posay Toleriane is (quite literally) the crème de la crème. It works to treat dryness, tightness and itchiness (all of which are issues that arise in sensitive skin types when it's cold outside) with a host of probiotics, which aid the skin's natural moisture levels and barrier function.
Almost every beauty editor I know who struggles with skin irritation and sensitivity simply adores this face cream. It is formulated with a plethora or omegas (otherwise known as fatty acids) to help nourish the skin barrier, while soothing oils work to reduce inflammation in the moment. If your skin is red, irritated or tight, this face cream will calm issues down right away.
If your skin isn't in a constant state of irritation but is prone to outbursts, you might not want to splurge on an expensive cream for daily use. If that's the case, this affordable cream is a great option. With soothing and calming prebiotic oat, it will take down any irritation quickly and without any fuss while ensuring your skin has all of the necessary hydration it needs. For £12, it's a winner.
It's expensive, it's cult, and it really is very good. If you're looking for a daily moisturiser fit for winter months that will also help fend off environmental damage that contributes to premature ageing, Augustinus Bader The Rich Cream is a truly exceptional product. With the brand's iconic TFC8 complex, it delivers glow-boosting, plumping hydration alongside a bunch of antioxidants to help fend off potentially ageing damage. It's a real all-rounder. The price, however, is eye-watering. If you don't casually have £215 lying around, don't buy this. No moisturiser will totally reverse ageing. However, if you don't have to put The Rich Cream on a credit card, it's a fantastic product.
As another expensive buy (I'm sorry), I would love to say that Triple Lipid Restore was overpriced, but it's actually really good. It's so good, in fact, that it regularly sells out and becomes quite difficult to get your hands on. With ceramides, fatty acids and cholesterol, it puts a healthy skin barrier first. Beyond that, it soothes irritation, smooths out the appearance of fine lines and pores, boosts radiance, and most importantly, keeps skin optimally hydrated. If you are a seasoned retinol user, SkinCeuticals highly recommends this cream to be used alongside your chosen retinol product to minimise any dryness or irritation. 
Containing a concoction of nourishing oils and ceramides, this luxurious cream is a sumptuous slurp of hydration for dry winter skin. The whipped texture is rich and nourishing, making it a total joy to use. Besides the fact it basically delivers healthy, hydrated skin, it also contains fermented green tea to deliver antioxidant protection to help fend off future signs of premature skin ageing.
Next Up: Dermatologists Say These Eye Creams Are the Only Ones That Really Work.
This story was originally published at an earlier date and has since been updated.