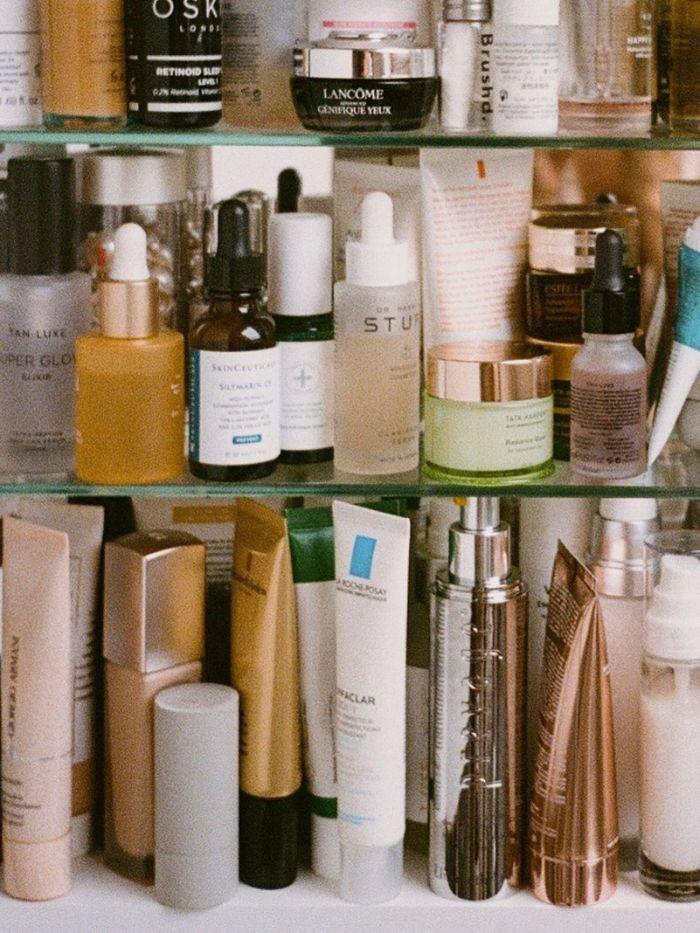 There are many things that I admire about my mum, one of those being her skin. Don't get me wrong—her big heart and her drive and passion for life definitely take the top spots, but she really does have a wonderful complexion. For context, my mum turned 60 this year, and her skin is as plump and glowy as ever. So, what's her secret? When it comes to skincare, my mum definitely has a "less is more" approach, and keeps things simple with an effective cleanser, moisturiser and SPF. However, over the last couple of years, she has started to introduce a serum into her routine, and it's made a huge difference to the way her skin both looks and feels.
My mum used to complain about dry, irritated skin, but since applying a serum before her moisturiser, she says that her face has never felt softer. Not only that, but thanks to the hydrating benefits of a serum, my mum's complexion looks a whole lot plumper. Although I don't believe in the term "anti-ageing", I do believe in using products to combat skin concerns. Of course, no amount of skincare products can ever fully get rid of fine lines, but certain ingredients can help to plump the skin and give the kind of glow people comment on.
After finding out about my mum's new favourite product, it got me wondering what other supposed "anti-ageing" serums are actually best for the skin's changing needs as we get older. So, I decided to ask team Who What Wear UK about the serums their mums swear by for keeping their complexions happy and healthy. Keep scrolling for their top picks…
My mum's go-to serum is this one from Avène. She loves most of the products from the French pharmacy brand as they're great for dry and sensitive skin, and this serum is intensely hydrating thanks to ingredients such as hyaluronic acid and niacinamide. For under £30, you really can't go wrong.
Eleanor Vousden, Who What Wear UK beauty editor, says: "I've got both my mum and my grandma on to Dior's Capture Totale Le Sérum, and they're never looking back. They've both remarked how much this serum has brightened their sun damage, firmed their skin and plumped fine lines. Every time I see them I notice a visible difference in how radiant their skin looks."
Our managing editor Poppy Nash says that her mum is also a big fan of serums. "My mum is my skincare idol (she is 56 and her skin is better than mine!), so I take her product recommendations very seriously. There are three serums she loves and that she tells me she will repeat-buy for the rest of her life. The first is Charlotte Tilbury Magic Serum, which is new to her roster. I've stolen it and I can attest to the fact that it feels gorgeous on the skin and leaves you with a beautiful glow. I've also noticed her skin looks a lot firmer and plumper after using this."
"Another of her favourites is the No7 Future Renew serum, which is a fab, more affordable choice," says Poppy. "A little goes a long way, so just pop a bit of this on after cleansing each evening. My mum uses this in the winter as it's a bit thicker than other serums she's tried."
"Lastly, for a real treat, she rates Dr. Barbara Sturm's Super Serum," reveals Poppy. "This is expensive but it's really hydrating and helps smooth and tone skin, as well as protect the complexion from daily pollutants."
Deputy editor Maxine Eggenberger says that her mum loves Advanced Night Repair Serum by Estée Lauder. This clever product is designed to work overnight and moisturise your skin whilst you sleep, so you wake up with a radiant complexion. Easy, right?
Who What Wear UK's editor-in-chief Hannah Almassi asked her mum what her favourite serum is. The answer? Revitalixir Recovery Serum from Murad. "I feel it really suits my skin and has made a positive difference. I only use it at night, but it is light to wear and never feels uncomfortable or too heavy on my face," says Hannah's mum. 
This serum from Lancôme is infused with prebiotics and probiotics to help protect the skin barrier. Copy editor Georgia Seago says that her mum can't get enough—it noticeably smooths her skin texture and helps even its tone, with vitamin C and hyaluronic acid to plump and give a natural glow.
Price shown is members' price. Not only is this serum from Beauty Pie super affordable, but thanks to the powerhouse of ingredients, it will help to plump and hydrate the skin.
On the much more luxury side of things, Sisley have just released a brand new serum that contains the brand's fundamental regeneration complex, to help promote cellular regeneration. Clever, right?
I'm yet to try a Caudalie serum that my skin hasn't loved, so I'm very eager to give this one a go. If you want smooth, plump skin, then the blend of Resveratrol complex, vegan collagen booster and hyaluronic acid will do just that.
If you're looking for a serum that also contains retinol, then La Roche-Posay have got you covered. With 0.3% of retinol in the formulation, this serum works to deliver a radiant glow, and can even be used on sensitive skin.
Another great luxury option comes from none other than La Mer. This serum contains the brand's Miracle Broth™ with renewing Algae, to plump the skin and smooth fine lines.
This story was published at an earlier time and has since been updated.

Next Up: The Classic Makeup Products That Over-50 French Women Swear By