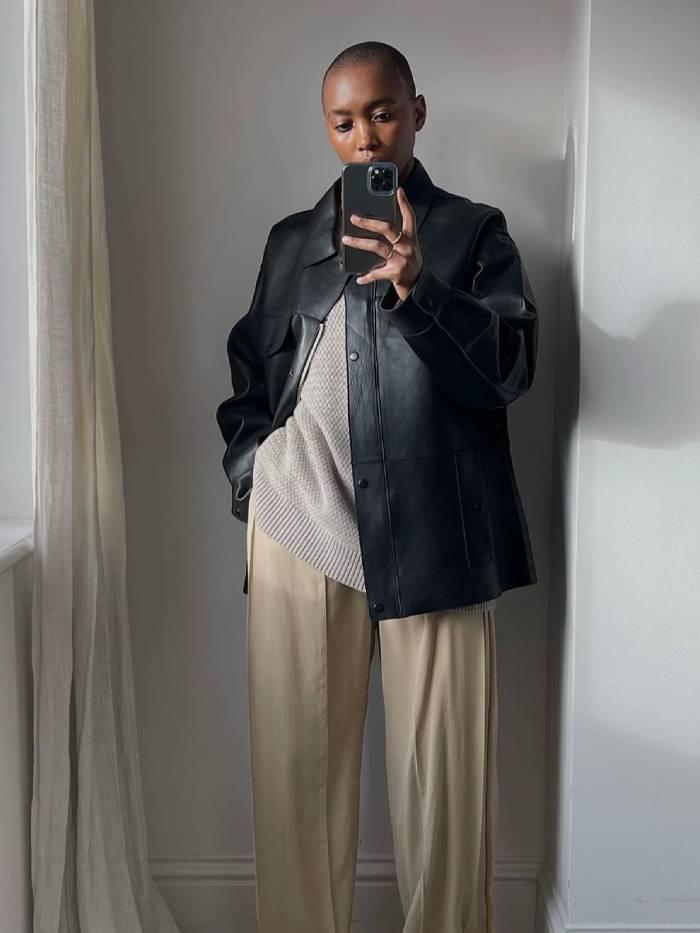 If there's one thing I always reach for as soon as temperatures drop—aside from my hot water bottle—it's leather. I'm a firm believer that if you add leather items to your outfit, it'll instantly elevate your look to become effortlessly polished. It's all about finding those key items that look expensive, though, and I believe the high street never fails when it comes to these five leather items: Outerwear, trousers, shirts, skirts and dresses. 
While real leather will set you back more than faux and vegan iterations, that doesn't mean you have to sacrifice quality. Over the years, these variations have become so good, some have even fooled me into believing they're the real deal. 
Marisa Martins wearing Whistles sell-out leather shirt. 
When it comes to brands, Whistles sell-out leather shirts is a seasonal winner (their cult style is back in stock), All Saints will forever be a go-to for biker jackets and Mango has leather trousers (real and faux) that I've rated for years.
Keep scrolling to see my edit of the best leather pieces on the high street right now. 
This melted chocolate buttery soft coat has won my heart. 
I already have this classic biker, and no doubt I'll love it for years to come. 
Gigi Hadid has already worn it, so now we all want to wear it. 
I'm a big fan of this biker/bomber hybrid. 
I would size up in this to make room for extra chunky knits. 
The line above the knee makes it look more authentic. 
I didn't jump on the silver trouser trend last year, but I'm not missing out this time round. 
These look so premium. 
Just add loafers and a cable knit. 
I love the slight kick flare on these.
These come in short, regular and long lengths so you're guaranteed to find the right fit. 
That Whistles jacket is back in stock in black and tan—go, go, go!
I would wear this over a roll neck top with baggy jeans and boots. 
Yes, I want the matching trousers to go with. 
Butter yellow is key this season, and this shirt is a chic way to give it a whirl. 
Try it out with flared jeans and a shearling jacket. 
No doubt you'll want to add this to your work wardrobe. 
Copy the model and style with a cream jumper and glossy knee-high boots. 
A look I want to copy ASAP!
One of my favourite autumn outfits is a mini skirt with a jumper and tall boots. 
Love this with a grey coat + loafers + white socks. 
H&M has so many brilliant faux leather iterations. 
Say hello to your new office dress. 
Bandeau dresses are everywhere for party season.
I've seen this IRL and it looks (and feels) so expensive. 
Swap your denim midi for a leather version. 
You could easily layer this over a white shirt with tights and boots.
Next Up, 7 Anti-Trend Outfits I'm Seeing Everywhere Right Now