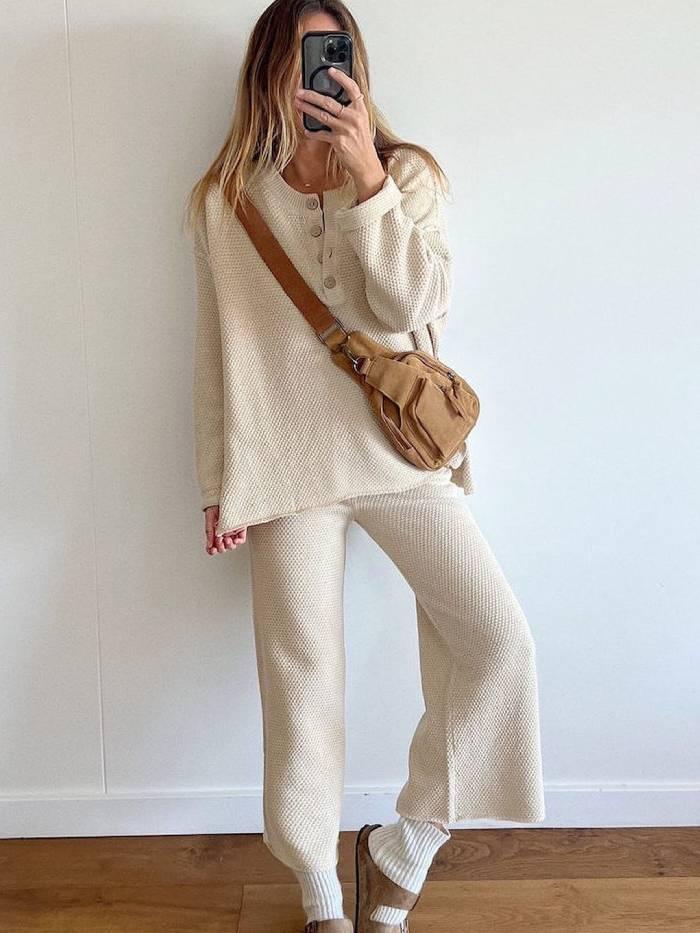 Cosy season is upon us! The clocks are about to go back, the temperature has dropped significantly in the last week, and rather than getting miserable about another summer passing as quick as a flash (seriously, where does it go?), this year I'm embracing it. I recently tried my first pumpkin spiced latte, I ordered a par of UGG boots and I'm stocking up on wintery-smelling candles. I'm also rediscovering one of my favourite things about this time of year—Free People's knitted sets. Hibernation mode: activated. 
You might initially think of Free People as being a beachy, summer-ready destination full of boho dresses and soft layers, but I'd really advise you to take a look through not only the brand's knitwear but the jackets and boots too. If you've never tried them for yourself, Free People's knitted sets in particular are the stuff of cosy dreams. And while they work for throwing over swimwear on chillier summer evenings, they really come into their own in autumn paired with chunky socks and puffer coats.
Not only are Free People's co-ords my top choice for working from home days and lazy weekends curled up on the sofa, they're also always what I turn to on busy mornings when I need to look that little bit pulled-together. Whether it's doing the school run, meeting a friend for a coffee or meeting, or popping to the local farmers market, there's just something about a matching set that suddenly makes your whole outfit feel a bit polished (while still being able to enjoy ridiculous levels of comfort). And rest assured, these knitted sets are much chicer than a classic tracksuit. 
It's not just me that loves Free People knitted sets either, a whole host of influencers have been spotted wearing them over the years (believe me when I say they're an untold industry secret). Keep scrolling to see how fashion people have been styling theirs for some inspiration. There's so many options to choose from on the brand's site to suit your style, not to mention the different colours they all come in—the incredibly popular Hailee set which sells out every year comes in no less than forty colours—so I've rounded up my personal favourite below to get you started. Enjoy!
Up Next: The 9 Most Expensive-Looking Pieces on the High Street This Week