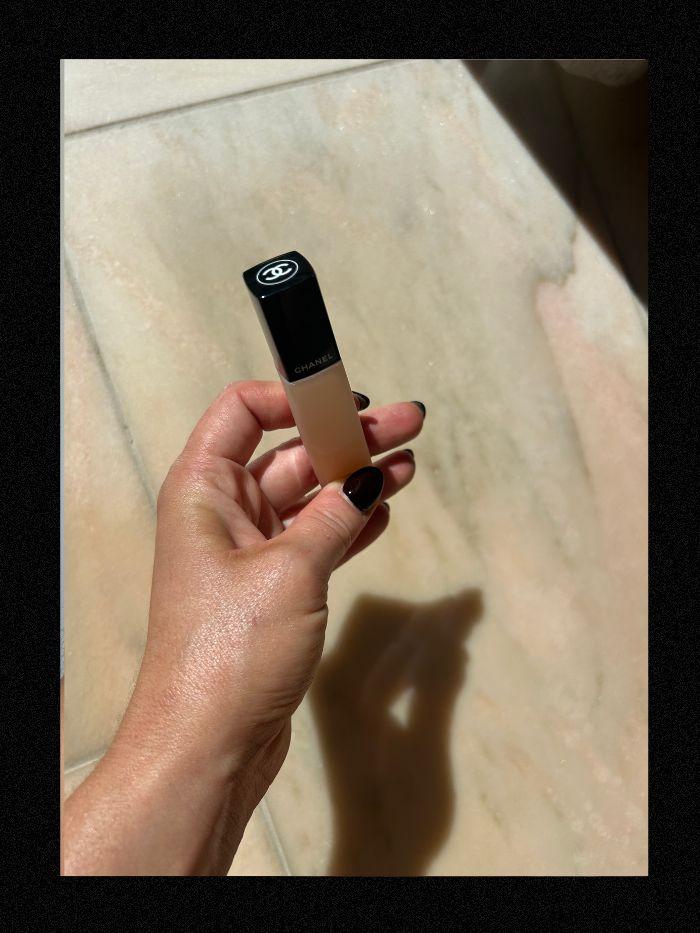 Welcome to Who What Wear UK's inaugural Next in Beauty Awards 2023. Here, we are crowning and celebrating the very best in beauty. From the game-changing newcomers that are industry innovators, to the tried-and-tested classics that remain a worthy mainstay in our skincare cabinets and makeup bags alike. To help us find the very best in beauty, we called upon our esteemed panel of industry experts, hard-to-please editors and in-the-know influencers, who put each and every single product to the test. We enlisted our judges to document and share their testing for every product they tried, so you can see all the winners in action—as well as those very important before-and-after results. After much testing, swatching and reviewing, the results are in. Join us in celebrating the best in our Next-Level Nails category.
Both form and function are qualities we appreciate in our nail care, and there perhaps is nothing chicer than pulling out Chanel's L'Huile Camélia Hydrating & Fortifying Nail Oil from our handbag. Just a pretty tube it is not, however. The camelia oil-enriched gel smooths over dry nails and cuticles, leaving a noticeable difference in nail health over time. The clever bevelled applicator also serves to push back cuticles, leaving fingertips looking salon-fresh on the go. It's now a staple in every Who What Wear UK editor's bag. Bravo, Chanel.
"Chanel's L'Huile Camélia Hydrating & Fortifying Nail Oil is a game-changer," says Who What Wear UK branded content editor, Rebecca Rhys-Evans. "It's a luxurious treat for my nails, keeping them hydrated and strong. A must-have for healthy, beautiful nails."
We hold nail polishes to a high standard. Our judges were looking for the best long-wearing formulas, a great range of shades and a beautiful finish. You could say we're fussy, but we want a nail polish that works as hard as our hands do. Kure Bazaar's Nail Polish received high acclaim from our panel, thanks to its chip-free finish that lasts for days, an all-encompassing shade range featuring both classic and trend-led hues and innovative formulas that care for your nails as you wear them.
Celebrity session manicurist, Sabrina Gayle, loved Kure Bazaar's range of nail polishes. "The application brush is the perfect size. The bottle is a handy and nifty size to pop in your hand bag and also looks nice on your dresser. It also dries quickly which is what you want with a normal polish and I love that it is a vegan product."
Who What Wear UK beauty editor, Eleanor Vousden, rates the spectrum of colours and their long-wearing formulas. "Kure Bazaar's nail polishes not only come in a whole range of classic and trend-led colours, but they are also formulated from bio-sourced ingredients that benefit the nails too. I was drawn to Kale, a deep, emerald green that received many compliments, and stayed chip-free for almost a whole week, which I think is really impressive for polish," she says. "The Aime collaboration in the shade 'Soft Pink' gives a healthy pink wash of colour to nails. From deep noir red to milky white, there is a shade to suit every taste."
Flaking, breaking or splitting nails can be a real buzz-kill in achieving healthy nails. However, Leighton Denny's Renovate Treatment Shield & Base Coat gave transformative results to our judges' nails, helping them to grow long and strong, imparting a smoothing, shiny lacquer while improving the longevity of nail polish on top. A must-try if you want healthier nails.
"I would absolutely recommend this product if you have weak nails like me," says Who What Wear UK junior beauty editor, Grace Lindsay. "It helped with both breakage and ridges, and I loved the fact that you could use it on its own or under nail polish. In fact, I often wore it on its own as it gave my nails a lovely shine."
OPI's Repair Mode is one of our favourite nail innovations, delivering truly transformative effects to the nails. Its patented bon-building technology is delivered to nails in a no-fuss serum formula that you simply swipe onto nails each day. After just a week, our judges saw a huge difference in flaking and breaking nails.
"My nail health has been through a lot of turmoil this year, and they're very prone to splitting and breakage," says Vousden. "I really noticed a difference in my nails when using this nail serum, and it comes highly acclaimed from nail techs that I trust. I like that the serum consistency is low-commitment; you can apply and it dries quickly into nails. Over the course of a week, I could start to see my nails growing stronger and longer without snapping, and they are now feeling and looking much stronger and smoother," she says. "The fact that this repairs bonds within the nails is very innovative, and something we've only really seen in hair products so I think this product is quite unique in that respect."
Up Next, Next in Beauty Awards 2023: The Winning Hair Products