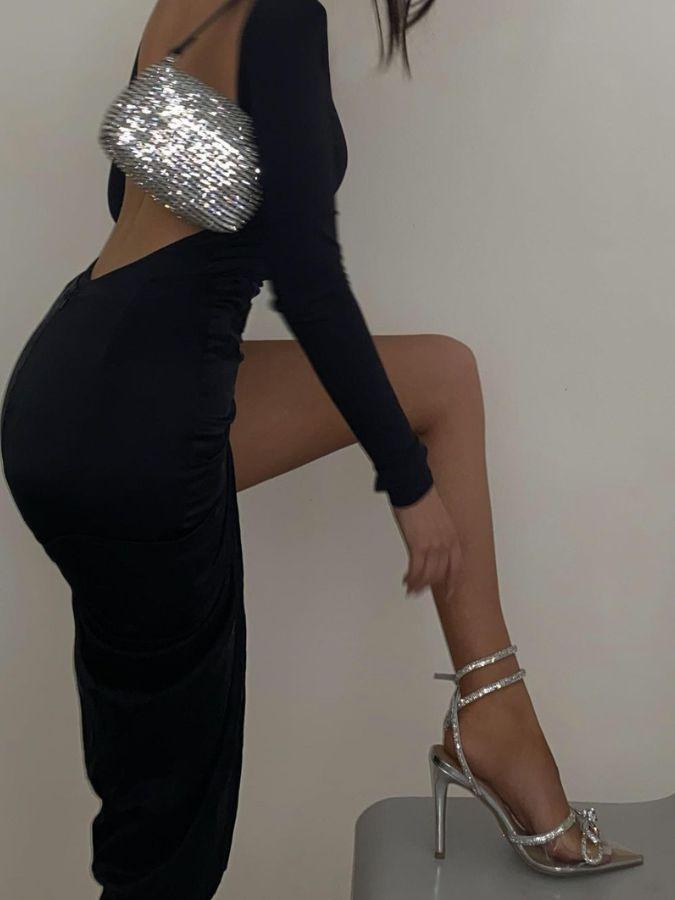 There's no need to feel ashamed if the only reason you're looking forward to party season is for fashion-related reasons. Throughout the rest of the calendar year we are afforded so few excuses to get the sparkle out, that when November turns into December, you know I'll be rummaging through my wardrobe in search for all things that glisten.
Though I can keep myself in check for most of the year, when winter rolls around my magpie-like habits come to surface, and I am drawn only to items that shimmer. When securing the sparkles is your aim there are some items that are simply more fun to look for than others. The most fun of them all for this party season? The search for perfect silver sparkly heel.
The most joyful addition to any evening outfit—and the perfect antidote to the serious loafers and chunky boots we're used to styling all winter, a silver sparkly heel has the unique ability to get your jeans and blouse outfit looking dance floor ready in no time. Whilst they can dress up any casual 'fit with ease, the silver sparkly heel comes into its own when styled with a black dress and equally iridescent accessories.
This year you ought to get in quick. Silver shoes have been trending since the summer, so its sparkly sisters are destined to sell out quickly this season. Celebrities have been adopting silver tones in the place of gold, with some—such as Anne Hathaway here—going in for a double portion of silver sparkles with a bag and heels to dress up an already pretty "wow" sequinned bandeau.
The impact of sparkly silver shoes was also felt last month during the fashion show schedule in New York, Milan, Londond and Paris. Although the dress code is altogether more casual for editors, influencer, stylists and other industry attendees, we did notice multiple looks being given a little pizzazz via the medium of silver heels. They are a solid partner to denim, any time of the year. And suddenly, as if the retail gods had heard my cry, a slew of silvery shoes has arrived well ahead of party season. From Aquazzura's shimmering style to Zara's perfect silver mule, read on to shop my edit of the best silver sparkly heels available to buy now.
Dip your toe into the party vibes with Zara's mid-heel mule.
Dress up your favourite jeans or style with a LDB.
Dance the night away in this sleek silver mules.
With party season around these corner, I'll be banking these now as wearing them all winter long.
A sassy-looking choice.
There's no better time to go all out. Style sky-high silver sandals to your next winter-do.
Kitten heels have been trending for months. Shop the perfect silver style here.
The rope detailing adds a luxurious feel to this silver sling-back.
Crystals and Jimmy Choo? The two can't exist without each other! These are the ultimate in sparkly silver heels.
Looking for silver glitter served straight-up? Call off the search.
Strap in to the chicest style out there.
The barely-there strap is right on trend this season.
Up Next: Katie Holmes Wore the Shoe Trend Thats All Over My For You Page