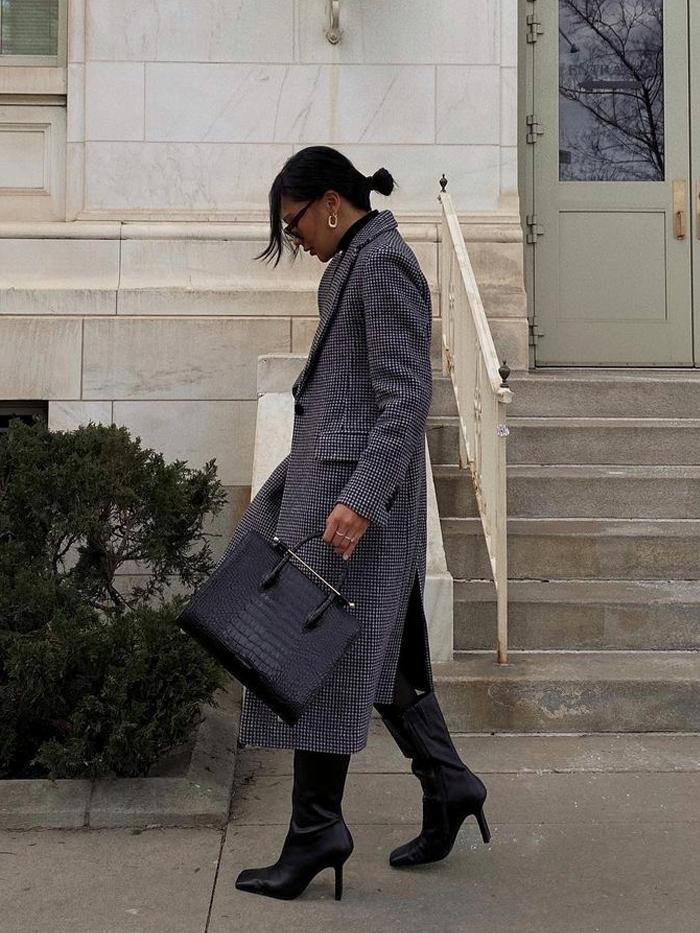 "You work in fashion? How many shoes do you own?" It might surprise you just how regularly I'm asked this question. Thanks to Carrie Bradshaw, everyone assumes I have cupboards lined with Manolos, and I keep sweaters in my oven. Neither is true. In reality, I own fewer pairs of shoes than most of my friends, and my mum has at least double the amount that I do. That's not to say, however, that I don't love shoes—I do! However, I rarely buy new ones, and when I do, it's often to replace a well-worn pair I already own. A classicist at heart, my shoe collection is the most honed aspect of my wardrobe. It might sound boring, but most of my shoes are black and have been chosen with the sole purpose of going with as many outfits as possible. This makes me happy; I never have to worry about matching my shoes to what I'm wearing; they just go. And right now, I'm starting to think about new season and whats in my wardrobe, I know the styles I'm getting the most use out of are my black boots. 
I currently have five pairs of black boots in my rotation; a knee-high pair, three ankle boots with varying heel heights, and some hiker-style lace-ups that have were incredibly useful during the January cold snap. Typically, boots cost more than other shoe styles as they require considerably more fabric than, say, a pair of slingbacks or loafers, so I always view them as an investment. However, it's one with no real risk—versatile and incredibly sleek, black boots are the cornerstone of every good outfit I see on Instagram right now. From knee-high to ankle, flat to heeled, it seems fashion people are forgoing the more statement boot trends of the season for failsafe black, just as I have always done. The big question is, with so many pairs out there, which black boots are the best black boots? I've assembled a handful for every style below.
Knee boots are my go-to for when I'm wearing skirts and dresses; if only I could look half as sleek as Sylvie. 
These are selling fast, run don't walk.
A chunkier heel feels so fresh right now.
I'm a big fan of the pull on nature of these knee highs. 
The knee high boot of dreams.
Whether you opt for heels or flats, nothing beats the combination of black ankle boots and jeans. 
Be still my beating heart.
I have these and can confirm they are so comfortable. 
Its the square toe detail for me. 
If someone told me these were designer I would believe them. 
I don't wear high-heeled shoes as much as I used to, but boots? Nothing looks sleeker in my opinion. 
The ideal heel height, don't you agree?
Expensive yes, but do they go with everything in my wardrobe, also yes. 
Cowboy style boots are everywhere for 2023.
An investment, but these will work hard in your wardrobe all year round.
Flat, riding-style boots might be a key trend this season, but rest assured they'll never look dated. Prefer ankle-heights? You can't go wrong with Chelsea boots. 
Enter the classic, everyday riding-inspired boot. We are smitten.
With a secret elasticated stretch panel, this version is comfy and stylish. 
A leather chelsea boot for under £90 on the high street, sold.
If you're a fan of a square toe, this elegant iteration should be on your radar.
Arguably the sexiest boot out there, over-the-knee boots were all over the spring/summer 2023 runways, and there are plenty of black styles on the market, too. 
Stretchy material and an inside zip make these easy-to-wear and pull on.
The discreet stretch panel allows for a snug fit and perfect if you have a wider calf.
A timeless investment.
When only a high heel version will work, enter these beauties.
Chunky boots started trending a few seasons ago but the look is still going strong by way of The Row and H&M. 
Arket always have a great selection of boots, these are a highlight.
These will work with everything from dresses to leggings. 
I've had my eye on these for a while.
These look so much more premium IRL.
Next Up: I've Done the Research—5 Major New-Season Shoe Trends You Can Shop Now at Zara
This story was originally published at an earlier date and has since been updated.