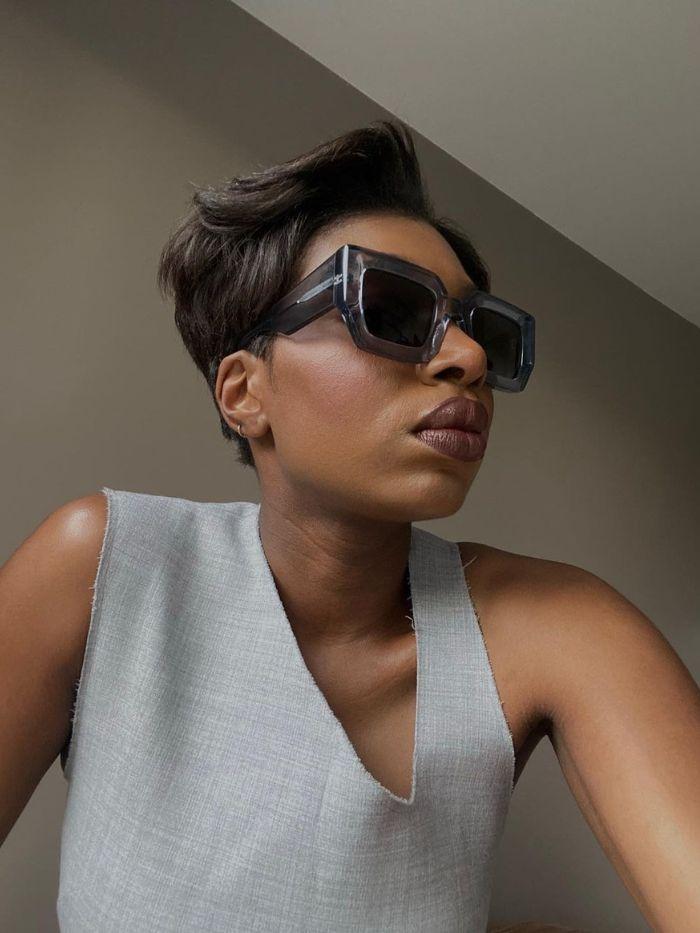 It's no secret that styling thinner, finer hair can be tricky. We've all been through plenty of bottles of volumising mousse and dry shampoo trying to get the perfect finish, but sometimes it can feel like no matter what you do, your hair always ends up falling flat. But fear not, as I reached out to Samantha Cusick, founder of Samantha Cusick London and Stā Studios, to find out what the best hairstyles are for thin hair this autumn and winter. 
"Having fine hair doesn't mean you're limited when it comes to hairstyles," explains Cusick. "I have selected the short hairstyles below as not only do they offer a variety of options for those with thin and short hair, but they also showcase that with the right cuts and styling techniques, you can achieve stylish and voluminous looks, regardless of your hair's thickness."
Intrigued? There really is something for everyone, whether you are looking for a new, edgy 'do this season, or want a different take on the classic bob hairstyle, we've got you covered. So, without further ado, keep on scrolling to browse some of the best short hairstyles for thin hair, and don't forget to check out all of our best product recommendations. You are welcome.
"Michelle Williams' side-parted pixie is an excellent choice for fine hair," says Cusick. "The soft, side-swept layers add dimension and movement, making the hair appear fuller while still keeping the style short and chic."
This really is such a chic haircut, and I can see this being in style for years to come.
In order to get a sharp side part, use a comb like this one to move your hair into place.
Then, add some styling cream to finish everything off and help your look last all day.
We've seen so many celebs opt for this 'boxy' bob style, from Laura Harrier to Hailey Bieber.  "With its blunt cut and no layers, this hairstyle is an ideal choice for finer hair," says Cusick. "The precision of this cut gives the illusion of thicker hair while maintaining a modern and sophisticated look."
This is such an easy hairstyle to pair with your chunky knits and coats this season for a polished look.
To get a sleek, smooth finish, use a blow dry brush after washing your hair. This babyliss one comes with so many different attachments depending on your desired style.
Don't forget a hair oil to add that glossy shine.
"Kristen Stewart's 'mixie' haircut is a fusion of a mullet and pixie, and is perfect for those with thinner hair," explains Cusick. "The shorter hair with longer pieces create a playful, edgy look while maintaining volume at the crown."
If you don't feel quite ready for a full-on 'mixie' this winter, why not take a more subtle approach and go for a statement pixie cut like this one?
A pomade is a great way to keep your pixie style in place, and this Charlotte Mensah one contains lots of nourishing ingredients. 
If you want a bit more volume at the roots, you can't go wrong with a mousse.
"Peek-a-boo bangs are a great option for those with finer hair who want to experiment with a fringe," says Cusick. "These wispy, face-framing bangs add a touch of style and frame the face without overwhelming thin hair."
I think this is easily one of my favourite hair trends of the whole year.
These clever clips will give your bangs lots of volume without using any heat.
This cream from Bumble and Bumble will also help to add volume. Simply work into your towel-dried hair and let it dry naturally.
"The likes of Alexa Chung and Kate Moss are famous for their 'cool girl' hair," says Cusick. "The tousled, wavy look is iconic and proves that you can embrace your hair's natural texture and still exude style."
As Cusick explains, "the loose, beachy waves add volume and texture, making the hair look fuller and effortlessly chic."
If you're not blessed with naturally wavy hair, fake it until you make it with this Beauty Works waver.
Add a generous helping of hairspray to help keep your waves in place.
"Gwyneth Paltrow's straight, Californian-blonde hair with a centre parting is another style that complements finer hair textures," says Cusick. "The sleekness and the centre part create a polished, elegant look that works well for those with thinner hair."
The centre part looks great on shorter hairstyles, especially a blunt bob.
This handy kit is ideal for keeping flyaways at bay, especially when you are rocking a middle parting.
To keep your roots looking fresh, I couldn't recommend this detox shampoo enough. Trust me when I say that it removes any traces of build-up.
Next Up: Experts Agree: These Are the Short Hair Trends Taking Over In 2023