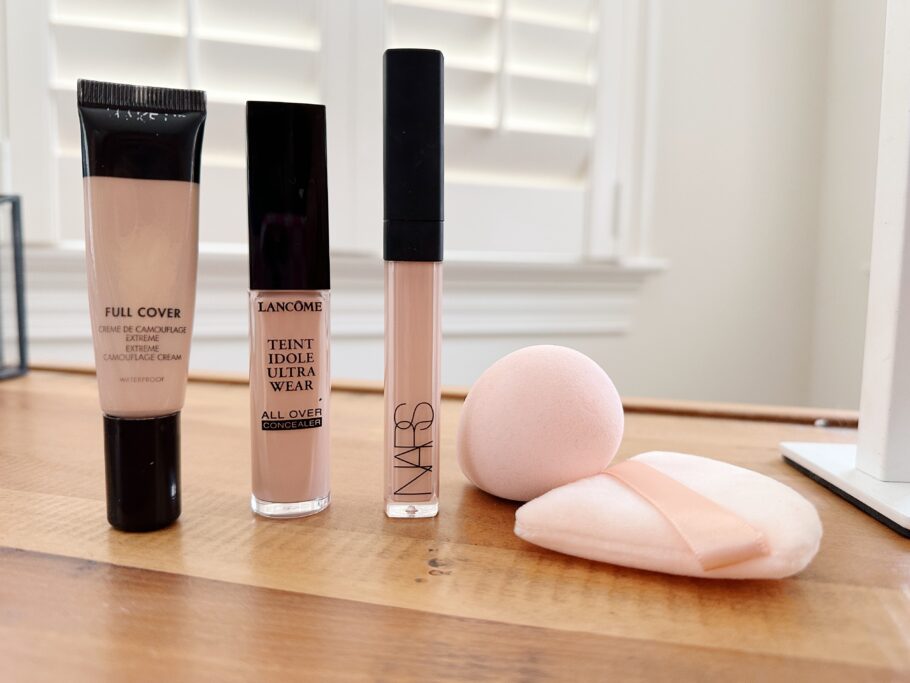 For Under My Eyes:
Nars Radiant Creamy Concealer – I've been using this concealer for so many years. It's the one I always lean on for perfect performance and coverage. I carry a travel size of it around in my bag! ( I wear Vanilla or Creme Brulee )
Lancome Teint Idole Ultra Wear All Over Full Coverage Concealer – this is the concealer I've been wearing lately for a lighter feel that still has great coverage. It blends in so well when you dab the product across your under-eye area with a damp beauty blender. ( I wear 215 )
Huda Beauty #FauxFilter Luminous Matte Buildable Coverage Crease Proof Concealer – absolutely love the coverage, finish, and wearability of this concealer but HATE that it oozes out of the packaging. ( I wore 3.1 Vanilla Swirl )
For Blemishes/Dark Spots:
Make Up For Ever Full Cover Concealer – this concealer has been my top choice whenever I need to conceal a blemish. I used it under my eyes a long, long time ago, but eventually decided it was too thick/heavy for that. It works great at covering dark spots or blemishes! ( I wear shade 4 )
Tools:
My two most used tools for applying any concealer are my fingertips or a damp beauty blender. I've gone through periods of using a brush and just find that I prefer the finish and natural look of blending it in with my warm fingertip or the damp beauty blender. Since that area tends to show every single crease, speck, etc, the more blended in the product, the better!
Finishing:
No matter what concealer I use, I always set it with Laura Mercier Secret Brightening Powder for Under Eyes. This is the kind of product that if the brand ever discontinues it, I'll be VERY upset. It takes away the stickiness that can sometimes be left from concealer application, and also brightens that area as well! I've applied it with a brush, and also have used a triangle velour puff – both give me great results.
3 tips for flawless application:
One. Don't apply concealer on top of eye cream that you've just swiped on. If you apply eye cream before applying makeup, let it set into the skin a bit. The more time you give it, the better. Once the "slip" is gone from the eye cream, your concealer will stick and stay put.
Two. Less is more. You can always add more product, but it's really hard to take away too much concealer. Take a look at your eye area and see which part needs concealing. It's so easy to follow a guide online but that guide may not apply to your specific under-eye needs. If you only need a touch of concealer in the inner corner, great! You don't need to apply a full triangle of product then!
Three. A warm fingertip can help buff out creases. If you like to use a brush to apply your concealer, you could still go in after the fact and press your clean fingertip to your under-eye in any of the places where the concealer is settling.
The post Concealers I Love (and where I use them) first appeared on The Small Things Blog.