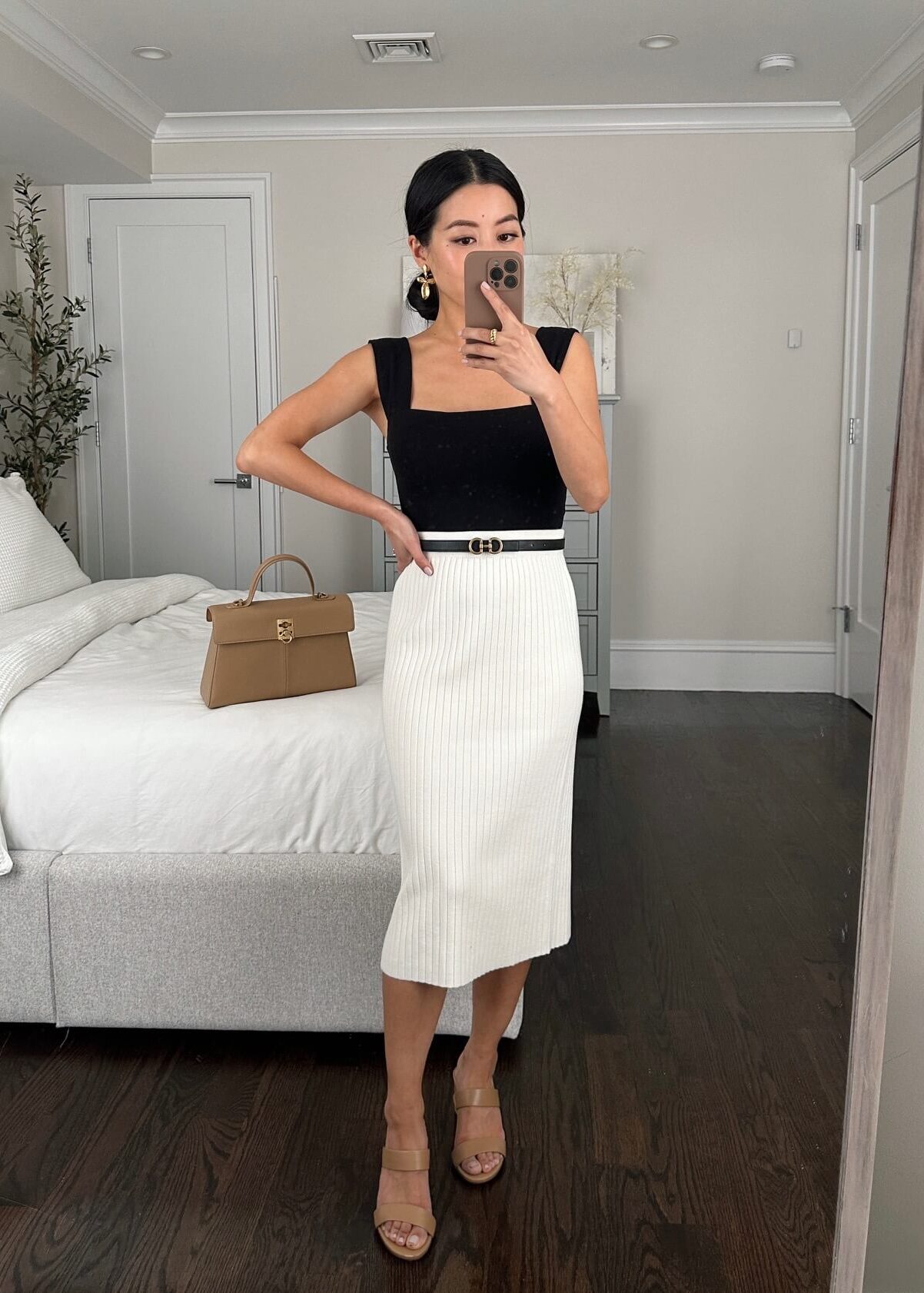 Blouse: Sézane Bianca lace blouse sz 0 / 32 (my review).
Skirt: Kate Kasin sz xs (loose fit on me)
Sandals: Reformation sz 5
Earrings: Sézane c/o
Handbag: J.Crew c/o
Trench: A+F, old. Similar at Mango, Ted Baker
I shared this petite-friendly lace blouse in my Sézane review last month and have been enjoying it so much, I wanted to show more ways to style it! I wear mine just with a skin-toned bra underneath, but here are some neutral under tank options: Old Navy, H&M. I love that this blouse can elevate a simple casual outfit with denim, and also looks so elegant dressed up with a midi skirt or trousers (see all of these outfits below!).
1. Midi Skirt + Black Tank
Knit skirt xs (loose fit on me), Reformation tank xs (worn with nippies), J.Crew sandals 5.5, Sézane earrings, Edited Pieces mini belt xxs, Cafune bag
Quick note on this ribbed midi skirt – the quality is nice with a sturdy weight and sturdy elastic waistband, and I especially like that it's more of a straighter cut (rather than bodycon style, like most knit skirts are) so it doesn't cling to my belly and bum. I wish they made XXS though since the XS is loose on me, but it does feel true to size for a standard XS.
2. Lace Top + Trousers
Sézane Bianca blouse sz 0 / 32, A+F trousers 25 S, Sézane earrings, Songmont bag
3. Lace Top + Denim + Loafers
Bianca lace blouse sz 0 / 32, loafers sz 5.5 (no-show socks), Madewell jeans (similar), $15 sunglasses, EP belt xxs, handbag.
4. Lace Top + Midi Skirt
Bianca lace blouse sz 0 / 32, knit skirt xs (loose fit on me), Sézane earrings, AT pumps 5