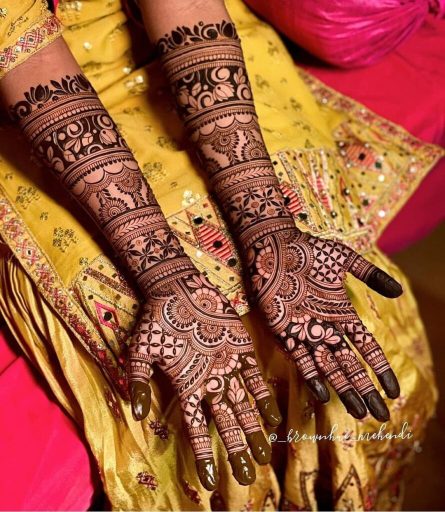 Wedding season has come, and I believe that you must be searching for the latest bridal mehndi design for yourself or for your bride. To ease your quest, I have curated here some of the most amazing and latest bridal mehndi designs that will make you do in awe. So, scroll down and you will find some of the most beautiful mehndi designs for your bride-to-be.
Disclaimer: email us to add credit or remove the image. Thank You
So without any delay, let's begin!!
1. Motifs horizontal pattern mehndi design
The design is adorned with the latest motifs pattern and is further embellished with flower and leaves patterns at the end.
2. Lotus Pattern Bridal Mehndi Design
Draw this spacious lotus pattern mehndi design to adorn the bride's hands.
3. Backhand Engagement Ring Mehndi Design
Tell your engagement story with this beautiful henna design that depicts the two engagement rings on one of the hands. Also, leaves and flowers are drawn to make it look even more pretty.
Also Read: 50+ Easy Mehndi Design for Fingers Only
Geometric Pattern With Roses
The latest addition in the bridal henna design is the geometric pattern. Decorate this geometric pattern with roses and leaves.
Dense bridal Mehndi Design
This design is for those who love dense bridal henna design. There are some gaps in between in which you can add the initials of bride and groom.
Also Read: 100+ Simple Mehndi Design for Beginners
Dark bridal Henna Design With Roses
Another design requires henna to be filled on the hands. The result of such designs is the dark color mehndi that lasts for days.
The one which depicts whole marriage
If you are someone who is artistic, you will surely love this design. This design shows each and every ritual of marriage ranging from baarat arrival to Bidai.
Also See: 15+ Bridal Mehndi Design With Name
Classic Art Mehndi Design
This one is a pure classic art design. Anyone who wears this design will surely be going to get many compliments.
Also See: 25 Most Beautiful And Easy Arabic Mehndi Design
Motifs Traditional Bridal Henna Design
Whatever be the trend, the traditional motifs will always have their unique place.
Also, See: 20 Simple Mehndi Designs for Engagement and Wedding
Mehndi Design With Names and Date
The design not only includes bride and groom's names and wedding dates but also has Kalash which added an auspicious touch to the overall bridal mehndi design.
Swan and Lotus Motifs Design
Swan is a symbol of love as is the lotus. This design shows both of them in a beautiful pattern.
Back Hand Bridal Mehndi Design
Mehndi design with bride
Depicts yourself for your special day in this mehndi design. I bet no one would take his/her eyes away with this design.
Neha Kakkar's Bridal Mehndi
Everyone was going gaga over Neha Kakkar's wedding. She herself has made everyone enjoys her marriage. So, if you are also a die-hard fan of Neha Kakkar, then here is the mehndi design of her's wedding.
Traditional mesh pattern backhand mehndi design
The one with parents
Take your parents with you on your wedding day. This design beautifully illustrates the love of your mom and dad.
Bridal Mehndi Design with the Images Of Bride and Groom
The pictorial representation of bride and groom on mehndi design has been in vogue these days. Try it for yourself.
A Piece of Art