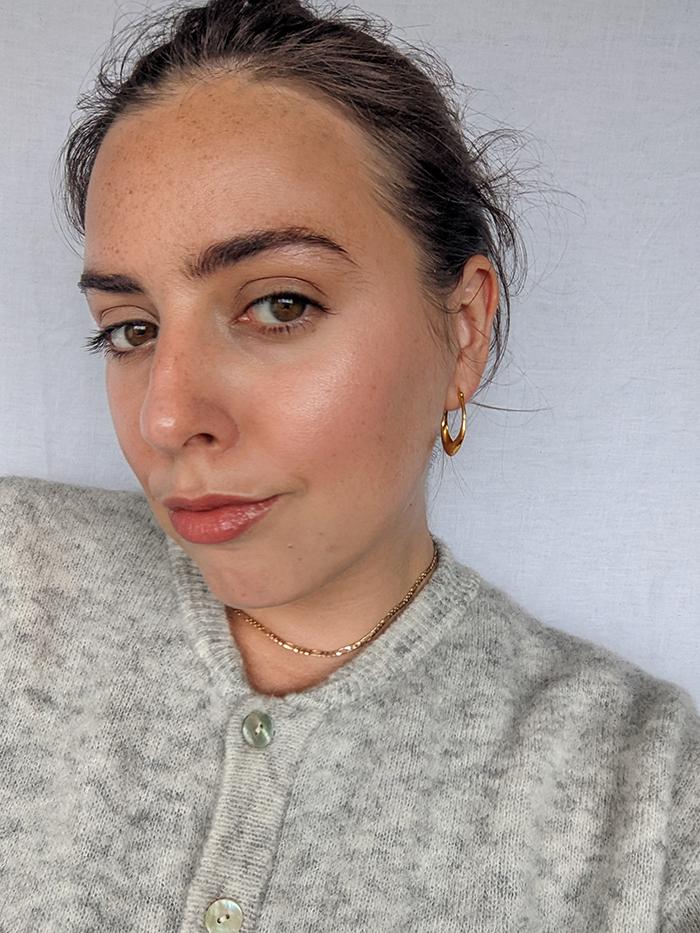 If my makeup takes any longer than 10 minutes to apply, I'm going to be mad about it. As somebody who spends a lot of time sampling and testing makeup products (it's a tough life being a beauty editor, what can I say?), I want to keep my daily makeup routine as easy and simple as possible. In my opinion, the best makeup products are ones that have the power to make you look awake, fresh-faced and pulled together in just a few minutes. I want to scribble them on, blend with my fingers and be good to go. And that, my beauty-loving friends, is why Merit Beauty is my go-to makeup brand.
And right now, Who What Wear UK has an exclusive 20% off discount for Black Friday with code WWW20 on Merit's website. In fact, if I were to move to a desert island and was only permitted one makeup brand to take with me, it would be Merit Beauty, so I'm stocking up on some of my favourite Merit products and kits.
Previously only available to shop in North America, Merit Beauty finally landed on UK shores this year.After years of hearing my U.S. beauty pals wax lyrical about Merit Beauty's no-fuss, foolproof products, it's finally available to us Brits. And trust me when I say this is something to celebrate.
Shannon Lawlor wearing a full face of Merit Beauty.
You see, I've been testing and trialling Merit Beauty for a couple of months now, and I truly believe it is one of the best makeup brands I have ever used. With a carefully curated selection of easy-to-use, time-saving makeup products, Merit Beauty caters to those (like me) who want their beauty routine to feel luxurious and indulgent, without eating into too much of their time. 
The best bit? The results are effortlessly natural-looking. With super-creamy formulas housed in speedy sticks, the base products melt in, leaving behind a glowing, skin-like finish. The lip products, on the other hand, deliver a plumping hydration that doesn't feel sticky or even a little bit uncomfortable. The products create a look that makes your face look instantly more alive whilst ensuring skin still looks like skin. There's not a hint of greasiness or tackiness to any of the formulas, either—just hydrated comfort. Basically, Merit Beauty is my happy place.
If any of what I've said rings true, keep scrolling for a run down of the best Merit Beauty products out there—you won't regret a single purchase. 
Black Friday sale price, £32. Merit has introduced a serum as a pre-cursor to it's complexion products, but it looks great worn alone too. "I've been testing out the serum alongside The Minimalist stick (below) and I love that it primes my skin with a dewy glow," says Who What Wear UK Beauty Editor Eleanor Vousden. "It contains skin-brightening niacinamide and four types of hyaluronic acid, leaving skin looking radiant and feeling hydrated. I feel like I can get away with wearing less makeup when I use this," she says.
Black Friday sale price, £32. As someone who doesn't particularly like foundation, I consider this product to be a game-changer. You see, there's a few things I don't like about foundation; mainly the way it takes away the skin's natural "flaws" and leaves my face feeling tacky and greasy. Because of this, I try to avoid foundation altogether, instead opting to apply concealer just where I need it. This product, however, is the best of both.  With the coverage of a concealer but the creaminess of a foundation, it's a hybrid product that you scribble onto skin only where you need it. Blend it out with fingers, and you'll be pleasantly surprised at how much it livens up your complexion. With nourishing fatty acids, it delivers ample hydration to the skin, meaning you never have to worry about your base looking cakey. Since getting my hands on this, I haven't used concealer or foundation once. 
Black Friday sale price, £26. There are plenty of bronzing sticks out there, but none quite like this one. It is so creamy and blendable that you'll never have to worry about applying too much. The shades are skin-like, so don't have to fret about your bronzer looking muddy, either. Whether you want to use it as contour or a sun-striping bronze, it provides the perfect "no-makeup makeup" glow.
Black Friday sale price, £36. There are few cream blushers out there that I don't like, but it wasn't until I tried this one that I realised the common gripes I have with a huge number of my existing favourites. For starters, you don't have to worry about getting your fingers mucky in a compact—just dab the product onto the apples of your cheeks right from the pot and blend out with a fluffy brush. The other thing that sets it apart is it's highly blendable, outstandingly creamy formula. Whereas most of the other stick blushers I've tried require a fair amounf of patting and rubbing to blend, this stuff disperses into a glowing, watercolour-esque flush in seconds.
Black Friday sale price, £27. Let me caveat here that I'm not much of a highlighter person—something about shimmering highlights make me feel as though my makeup doesn't look natural. Don't get me wrong; I love shimmering cheekbones on a night out, but for day-to-day life? I can't help but feel as though a striking highlight gives the natural-makeup game away. This stuff, however, is a little different. It's jam-packed with nourishing oils, meaning it glides on with unparalleled ease, leaving behind a skin-like sheen. The pearlescent pigment is somewhat diluted by these hydrating oils, meaning the intensity can be built up to whatever level your heart desires.
Black Friday sale price, £21. I'm a total snob when it comes to brow gels. My brows are thick, coarse and very dark, so whenever I'm presented with a teeny-tiny spoolie on the end of my brow wand, I feel like giving up. This one, however, has a brush thick enough to get to the root of unruly brow hairs, but small enough to work for finer brows, too. It also sets hairs in place without turning them crispy and crunchy—another winning point.
Black Friday sale price, £22. If you're after an everyday mascara that doesn't deliver too much impact but just makes lashes look a little bit longer and more defined, this one is for you. It adds subtle but noticeable length without causing lashes to turn clumpy, and the best bit is that it uses tubing technology, meaning if you struggle with under-eye smudging, you needn't worry. By coating every lash with a "tube" of mascara formula, it won't smudge or run until it comes to taking it off at the end of the day. You're not going to get drastic before-and-after results, but that makes it kind of perfect for everyday wear.
Black Friday sale price, £21. Merit's latest launch is Solo Shadow, a cream-to-powder eye shadow that comes in four wearable, neutral shades and four on-trend statement colours, from plum to hunter green. "These fuss-free eyeshadows blend beautifully with your fingertips for a wash of all-over colour," says Eleanor. "I've been wearing the shade Studio, a brown taupe, all over my lids when I want to make a statement with my eyes without the faff of blending multiple colours."
Black Friday sale price, £22. Come autumn, my lips turn particularly dry, making lipstick almost impossible to wear. This formula, however, is the exception. With squalane and sunflower seed oil, it delivers ample hydration that leaves lips looking plump and moisturised, whilst papain enzyme also helps to tackle any dryness. The result is a nude lip that looks beautifully natural, making it the ultimate way to pull your final makeup look together.
Black Friday sale price, £21. When I first caught wind of the fact Merit Beauty would be launching in the UK, this was the product I was most excited to try. It is, after all, the product that U.S. beauty editors and influencers rave about the most. Richly pigmented, it delivers a wash of juicy colour to lips whilst hydrating and moisturising with rosehip oil, fatty acids and shea butter to leave them enviably soft. It gives gloss-like results without any of the stickiness, and there are eight pigmented shades and four sheerer tints to choose from. 
Black Friday sale price, £27. The beauty of Merit's products is that you can apply most of the complexion products with your fingertips. However, if you're a makeup-brush purist, then this do-it-all number is a great all-rounder to have in your makeup bag to blend concealer, bronzer and blush.
Black Friday sale price, £18. The perfect pairing for Solo Shadow eye shadows, this dual-ended brush has a fluffy end for blending and a fine end for defining.
Black Friday sale price, £257. Sold on everything? This set contains every single products and allows you to choose the exact shades you want, with a huge saving.
Black Friday sale price, £150. A concise edit of Merit's favourites that allow you to streamline your morning makeup routine—think a full face in five minutes flat. This set comes with a saving of £32.
Black Friday sale price, £162. From the office to Zoom calls, this set has everything you need to feel polished, with a very generous saving.
Black Friday sale price, £153. Housing Merit's complexion favourites, this set is ideal if you want to try the brand's serum, complexion stick, bronzer, blush and highlighter, and it also comes with the versatile blending brush, too.
Next Up: Whitney Peak Just Told Us All About Being Chanel's New Muse