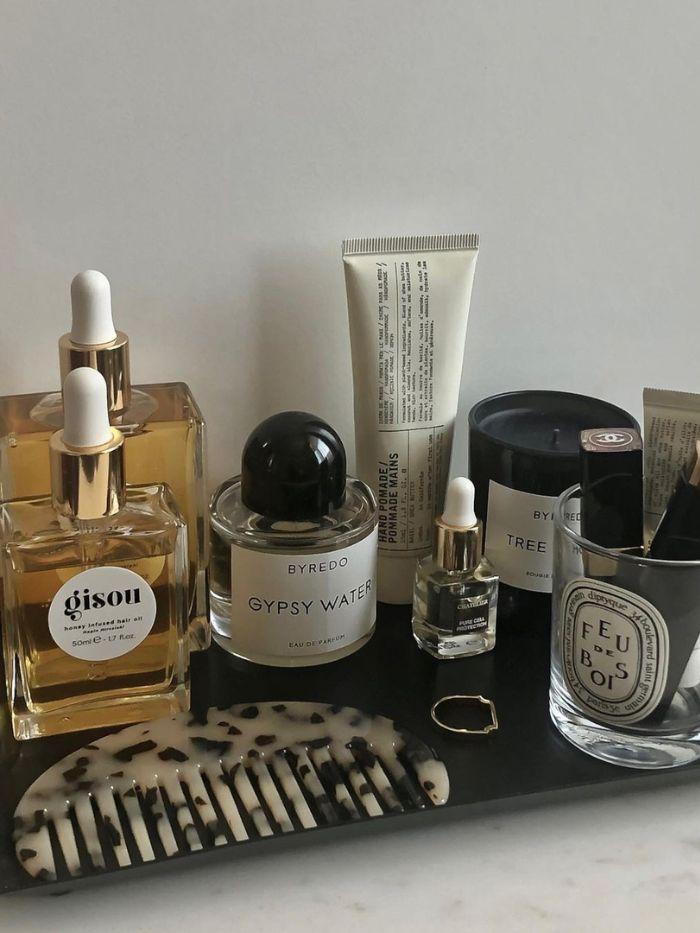 Does anyone else save up their Christmas money to treat themselves to a new perfume once the festivities are over? Over the years, this has become somewhat of a tradition for me, as I love starting the new year with an uplifting scent to put a spring in my step. Last year I treated myself to Le Labo's Santal 33, and the year before that I went for You by Glossier, as it's the perfect fresh fragrance for those frosty January mornings. However, this year, I'm not too sure what to go for. On one hand, I could invest in a classic, luxury fragrance that I know I will use for years to come, or I could treat myself to an exciting new launch that everyone will be talking about.
To help make my decision a little easier, I decided to roundup all of the perfumes that I think will be popular in 2024, and do a deep dive into each one. I've included some of the latest launches that I can't wait to get my hands on, spent hours on TikTok and Instagram researching current fragrance trends, and I've even reached out to some of my favourite retailers such as Cult Beauty and Space NK to find out which perfumes everyone is currently buying. So, if you're a fragrance lover like me, keep on scrolling to see which scents to add to basket for 2024…
Key notes: Lavender, bergamot, neroli and tonka. Le Labo perfumes are so popular right now, so I have no doubt that they will be everywhere next year. However, forget the classic scents such as Santal 33 and Another 13, as the brand's new fragrance might just be my personal favourite. Warm notes of lavender combine with fresh bergamot and citrusy neroli for an intoxicating finish.
Key notes: Black cherry, leather and tobacco leaves. Victoria Beckham's fragrance collection was easily one of the most exciting perfume launches of the year. The scents haven't been out for long, but everyone is already talking about them. I've got my eyes on Suite 302 for the new year, with an alluring mix of black cherry, leather, peppercorn and musk.
Key notes: Angelica root, juniper berry, apple, fennel, peppermint, cedarwood, patchouli and oakwood. A trend I have seen a lot recently is the fusing of fragrance and wellness, and I'm sure that this will be a big focus for 2024. One brand that has really caught my attention when it comes to this trend is Vyrao. Founded in 2021, it's already causing a stir in the beauty industry by combining energetic healing with perfumery. There are currently seven scents on offer, and The Sixth is meant to uplift and bring a sense calm thanks to the carefully chosen notes.
Key notes: Candied citrus, orange blossom and vanilla. New from Dolce & Gabbana, Devotion is definitely going to be one of next year's hottest scents for summer. Think fresh, citrusy notes combined with warm, sensual vanilla.
Key notes: Lime peel, orris, balsamic and fresh musk. Everyone is talking about pheromone perfumes, and Molecule 01 by Escentric Molecules is definitely the most well-known example. The clever scent contains the molecule Iso E Super, that drifts close to the skin and works with your natural pheromones, essentially creating a scent that is unique to you. Pretty cool, right?
Key notes: Orange blossom absolute, honeysuckle, rose, marshmallow sugar accord, amber and neroli. I have been desperate to smell this perfume ever since hearing that it's a Cult Beauty bestseller. Gourmand fragrances have always been popular and are definitely growing, and this one sounds particularly delicious thanks to notes of marshmallow. Inspired by that feeling of first love, I have no doubt that this perfume will keep you coming back for more.
Key notes: Orange blossom, jasmine grandiflorum and centifolia rose absolute. Dior's newest fragrance has been created by none other than Francis Kurkdjian (yes, the same person that created Baccarat Rouge 540). An updated version of the original J'adore perfume, you can expect a warm and sensual scent with fresh hints of orange blossom throughout.
Key notes: Pine needle, sandalwood, lemon, vanilla and bergamot. I couldn't do this roundup without including Byredo's Gypsy Water. This has become a cult classic over the years, and according to Space NK, it's one of their bestselling fragrances, so I have no doubt we will be seeing this a lot in 2024. Not only is the bottle ultra chic, but the warm, earthy scent is perfect for all year round.
Key notes: Turkish rose, patchouli, sandalwood, frankincense, blackcurrant, clove and raspberry. Frédéric Malle is the brand on everyone's lips, and whenever I ask which fragrance to go for, I'm always told about Portrait of a Lady. This is one of Cult Beauty's bestsellers, and thanks to the unique, statement scent, I suspect this will only continue to rise in popularity.
Key notes: Tobacco, cedar, tonka bean and jasmine. Another one of Space NK's bestsellers is Orphéon by Diptyque. In the last few years we have seen people gravitate to warmer, richer scents, so I have a feeling this particular perfume will be in high demand next year thanks to notes of earthy cedar and sensual jasmine.
Next Up: I'm a Beauty Editor, and These Are the 8 Zara Perfumes I Recommend for Winter