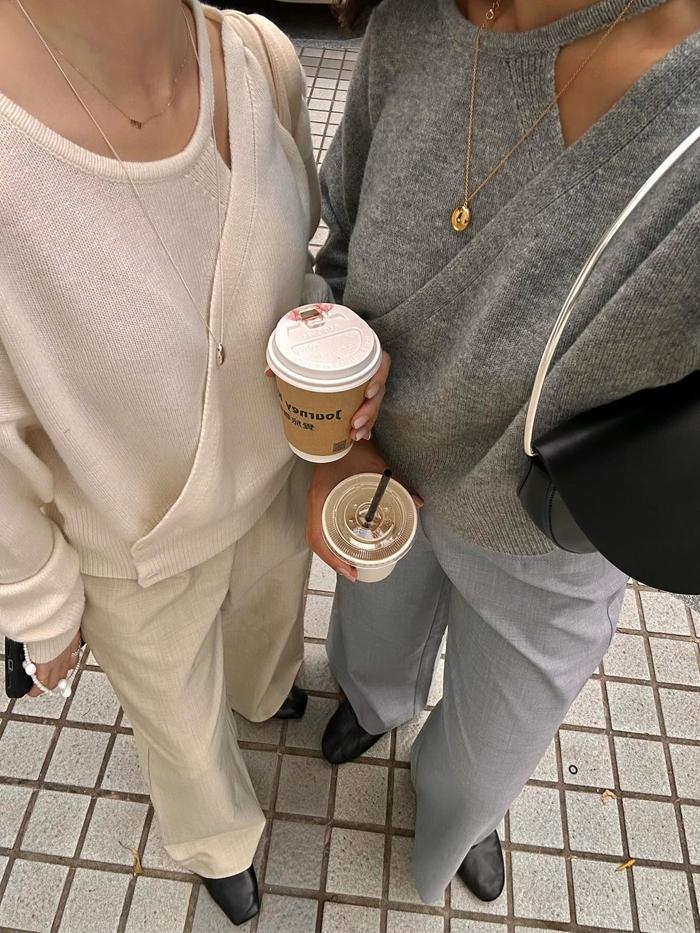 Sorry to the dresses in my wardrobe but now that temperatures are dipping (I don't appreciate the cold), I'm turning my attention, and my outfits, to trousers. Although a capsule wardrobe staple, suffice it to say trousers haven't always been at the fore of fashion as they are right now. However, for the past couple of years, trousers have been at the centre of so many chic outfits from across the ether, with countless new trends being spotlit along the way. From cargos to carrot-leg, we've been treated to so many trouser iterations this year already but, for winter, I've noticed that the trouser trends have begun to pare back a little. 
Although there's still fun to be had—embellished jeans are set to dominate this party season—winter's top trouser trends are refined and elevated across the board. In fact, there are nine such styles that I keep seeing on my daily (okay, hourly) Instagram scrolls. On the agenda is a classic colour that's just as versatile as black but that will make your outfits feel entirely different. For the coldest of days there are a slew of fabrics to consider—everything from edgy leather to French-style corduroy to premium wool-blend, each one guaranteed to seal in the heat. Then, of course, there are jeans which have also been given a seasonal spin.
Keep scrolling to see and shop the key winter trouser trends to try now and wear well into 2024. 
Style Notes: White trousers might be commonplace in the warmer months but they look just as sleek in the winter months, especially for eveningwear. In place of loose linen silhouettes, look for tailored styles that add structure and polish. 
Style Notes: Leather trousers always make a comeback in winter owing to their thick, element-fighting fabric. Instead of spray-on pairs, the fashion set are currently sporting looser-fit trousers in both real and faux leather. 
Style Notes: Jeans are a year-round staple but you can update the to fit the new seasons and breathe new life into your looks. Right now, I'm seeing more and more deep indigo tones on the market and, by consequence, more and more outfits that feature them front and centre. 
Style Notes: Onceconsidered "dated", corduroy trousers have found their fashion footing once more in a host of new shapes. From wide-leg to flare, take your pick! I still, however, recommend investing in a camel or rust pair for maximum versatility and a timeless quality. 
Style Notes: Just as things got cold across the country, searches for wool trousers spiked. Cosy and chic, it's easy to track their sudden appeal. A black or charcoal pair will always serve you well. Navy, although classic, will give you a softer finish. 
Style Notes: If you find the idea of spending the entire day in your pyjamas appealing, this is the winter trouser trend for you. Knitted trousers are already cosy as it is but a palazzo pair? That's next-level comfort. The wide-leg cut feels more elevated than the jogger shape we usually associate with this fabric, too. 
Style Notes: If you ask me, a well-rounded winter wardrobe isn't complete without a pair of black leggings. I appreciate they're far from groundbreaking but when it comes to keeping warm and looking sleek, the first thing I reach for is a trusty pair of knee-high boots which I wear atop of my leggings. 
Style Notes: Grey is one of the biggest trends of the season with fashion people sporting all-grey outfits on the daily. Still, if I had to choose one way to channel it, I'd do so by way of trousers. With a dash of '90s nostalgia, look for simple tailored pairs that work with just about any shoe and top you could dream of wearing them with. 
Next Up: The Winter 2023/2024 Fashion Trends That Really Matter