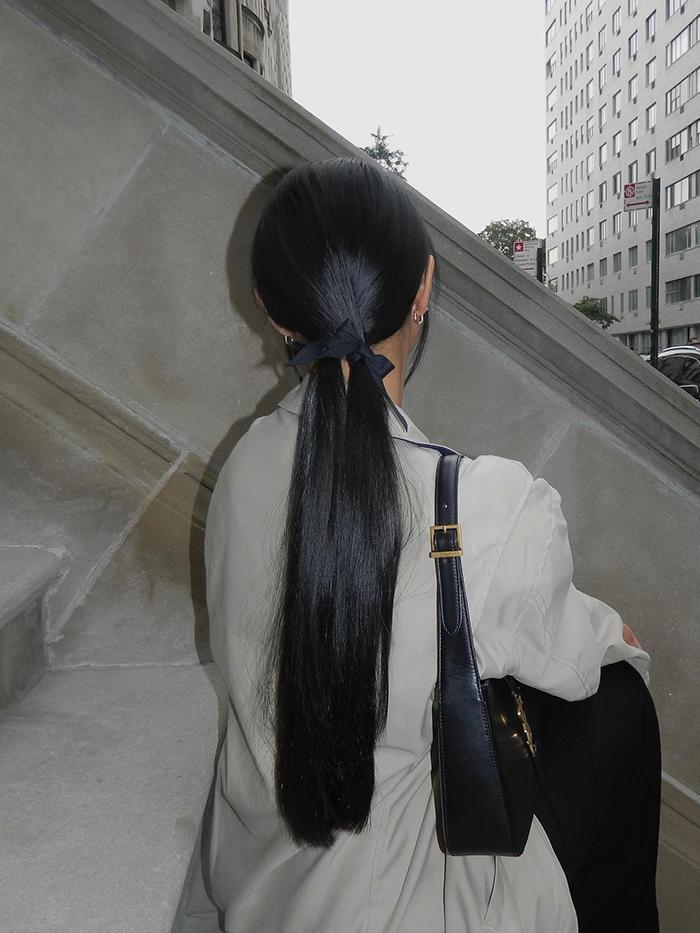 While there is still some time before next year arrives, as a beauty editor I'm already curious about which hair trends 2024 will bring. It will come as now surprise that this year paved the way for short haircut trends, with many of us (read: the entire Who What Wear UK team) flocking to the hairdressers to chop our lengths into every iteration of a bob haircut going, from blunt bobs to the Italian bob and inverted bobs. And there is no doubt about it, a quick scroll of Instagram confirms that short hairstyles are here to stay well into next year. From a hair colour perspective, salons were inundated with requests for red hair, from cowboy copper to cherry cola red as one of the years biggest hair colour trends of the year. 
So, what hair trends lay in store for 2024? To find out the haircuts, hair colours and hairstyles that will dominate, I asked Jason Crozier, art director at Neville Hair & Beauty, for all the insights on the hair trends we'll be wearing in 2024.
Just when we thought we'd seen all the types of bob haircut surface, another bob haircut has entered the chat. The 'baroque bob' is set to be a big hair trend in 2024, according to Crozier, which lends well to those with natural curls, or those with longer bob haircuts that have grown out.
"Baroque-inspired curls bring an air of opulence, with Versace's runway as a prominent example," he says. "In 2024, the trend will evolve with a contemporary twist. Celebrities like Zendaya continue to embrace voluminous curls, but now with a hint of avant-garde geometric shapes, offering a combination of timeless beauty and modern artistry"
If you're not blessed with natural curls, curling wands are your go-to for creating volume and body to your bob.
Hersheson's new Wavemaker creates the bounciest waves and curls.
If you're already blessed with curls, then this conditioner will provide them with shine and definition.
The OG for creating salon blowouts and smooth and sleek styles instantly.
With our love of all things old money showing no signs of stopping in 2024, you can expect to see more classic updo hairstyles dominating in 2024. Except these sculptural hairstyles will have an undone element that makes them all the more wearable.
"In 2023, we saw elaborate updos taking centre-stage on runways, inspired by designers like Valentino," says Crozier. "Now, in 2024, the trend will evolve with a touch of nature, reflecting a desire for understated elegance  and sophistication," Think updos with tendrils and natural texture shining through.
This styling spray gives hair just enough grip to keep updos in place all day and night.
From taming flyaways to creating sleek buns, this pomade creates a smooth finish.
You can never have too many hair pins, right?
Healthy, shiny hair resembles luxurious fabrics like velvet and silk, which have a lustrous shine and movement. In essence, treating your hair as a luxury fabric can elevate your look, whether it be through good at-home hair care, glossing treatments and in-salon hair colour that leave a multi-dimensional shine.
"The appeal of velvety hair with glossy finishes is on the rise, influenced by high-end fashion," notes Crozier. "In 2024, the trend will evolve to include otherwordly iridescent pigments. Designers like Gucci continue to champion this trend, and celebrities ike Zendaya have embraced the magic of iridescent tresses," he says.
If you want shiny, swishable lengths, this hair gloss delivers.
Designed to counter brassy tones, this hair mask revives dull hair colour, lending it a new lease of life.
This clear conditioning gloss adds serious lustre to lengths.
Volume is something that a lot of us want to achieve in our hair, and its a key characteristic we'll see in general across 2024's hair trends. "In 2023, volume was already a key player in high-end fashion. In 2024, the trend will evolve to embrace the 'bigger is better' philosophy," predicts Crozier. "Designers like Schiaparelli have featured voluminous hair on the runway, with Kendall Jenner who showcased the art of mega volume," he says. "Achieve mega volume by using volumising products, teasing techniques, and high-quality extensions to create dramatic, voluminous hair."
A blowdry brush like this viral one from Revlon is key to unlocking bouncy volume.
This texturising foam creates lift, volume and texture.
Lends definition to curls while hydrating leaving hair bouncy.
Our current penchant for shorter lengths means many more of us will be getting braver in the salon chair, opting for cuts like the 'mini bob', which can fall anywhere between the cheekbones to the jaw. "Enhance precision in short bob cuts by combining soft and bold elements, allowing for versatile styling options," says Crozier, who recommends experimenting with blunt cuts that can also be softened with waves and curls, or worn super sleek. "Mini bobs can switch between bold and soft looks, highlighting their adaptability for various occasions," he says.
From smoothing to curling, you can't beat GHD's original hairstyler for styling your bob haircut.
This lightweight serum won't weight down lengths, and imparts a healthy shine.
Short hair can be prone to becoming greasy quickly. A good clarifying shampoo will leave hair feeling light and swishable.
While we're not seeing short hairstyles going anywhere, longer lengths are making a comeback again, with Crozier predicting that extensions will be popular in 2024. "Custom-made extensions are gaining popularity, allowing clients to enjoy perfectly matched hair," he says. "In 2024, the trend will evolve to embrace individual textures and personalised styling catering to the desire for a unique, luxurious look."
Brands such as Ruka cater to textured hair, allowing seamless matches for all curl types, and salons such as Neville Hair & Beauty offer professional bespoke extensions services that allow you to experiment with different lengths and colours to update your look. And if you're looking to grow your hair out long, there have never been more targeted treatments to help encourage healthy hair growth.
Ruka's hair extensions cater to a wide range of curl patterns and textures.
Everyone I know swears by these hair gummies for hair growth—they really work.
Price shown is member price.  This kit has everything you need to grow long, strong and thicker hair, addressing hair growth from the inside and out.
Everywhere we look, hair ribbons and bows are tied into ponytails, secured in buns and adorning hair accessories right now. And the data backs it up. According to data from Clearpay, searches for bows hair ties, and hair ribbons are up over 100%. Not only do they look chic, but adding these to your hair is the easiest way to elevate your hairstyle without having to put a tonne of effort in. Opt for plush velvet bows that pin into the hair, or buy a reel of grosgrain ribbon to tie into a ponytail—it couldn't be easier. Look for luxe textures such a velvet, satin and ribbon for a luxe finish. 
Instantly makes your hair look expensive.
Perfect for tying into ponytails.
A timeless hair accessory that will see you through season to season.
Up Next, According to an Expert, These Short Hair Trends Will Be Everywhere in 2024