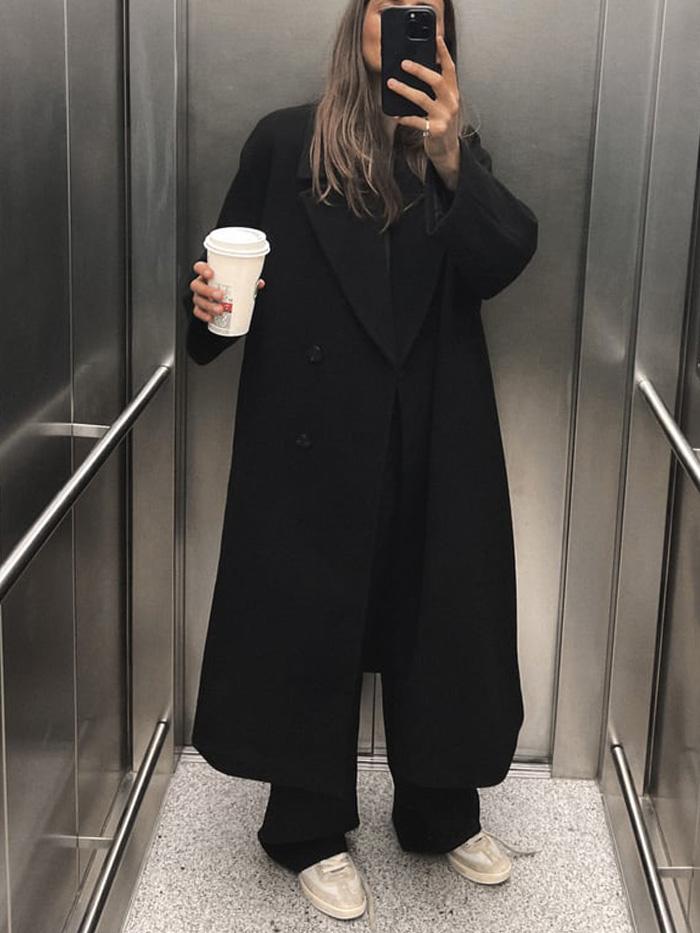 If I'm being honest, I check Zara's new-in section often (read: every day). I tell myself that it's an integral part of my job and that it's easier to keep on top of the new happenings at Zara if I take a small amount of time to do so regularly (as opposed to a once-in-a-while deep dive). The truth is I'm a little bit obsessed.
I don't spend frivolously at Zara (or anywhere, for that matter). I give every potential purchase, be it a £26 shirt or an £800 Toteme coat, the same consideration. I ask myself: Is it worth it? Do I need it? Will it work with pieces I already own? And I really need this sort of self-control when I head onto Zara because it is all too tempting to fall into bad shopping habits when everything is so affordable and feels so current. This is why I try to stick to expensive-looking, somewhat timeless pieces from Zara—pieces I know I'll wear often and can justify investing in.
The entire WWW team love this classic coat.
So what do I consider Zara's most expensive-looking items? It differs with each drop. Now, I find myself drawn to its palette of neutrals—beiges, bright whites, earthy hues, and of course, the most expensive-looking shade of them all: black. Fabrications are also a key component in Zara's more premium aesthetic. I think it creates the strongest broderie pieces—an embroidery technique that always looks high-end and a bit French—on the high street.
Scroll on to see my edit of expensive-looking winter Zara items, and hopefully, you'll see something you like.
The cosiest jumper that you'll bring out year after year.
Boots that will go with everything.
This whole look is so chic.
Slightly pricier than usual for Zara, but oh so worth it.
I'm so obsessed with this wool bodysuit. Wear with dark navy jeans or tuck into a wool mini skirt.
Party jeans are where it's at this festive season.
Everyone is tapping into the crossbody bag trend this year.
A great staple.
Add a blazer, cardi or chunky jumper.
Such a lovely chocolate brown top.
The perfect party shoes.
Wear this with blue jeans and trainers for a chic yet casual weekend look.
This short scarf coat look so stylish with knee-high boots.
In case you missed it, longer length denim is really big right now.
A classic capsule wardrobe piece.
Dress it up for dinner or down for the weekend. The choice is yours. And wait until you see the back…
Next Up: The 9 New In Pieces I'm Adding To My Wish List This Week
This story was originally published at an earlier date and has since been updated.