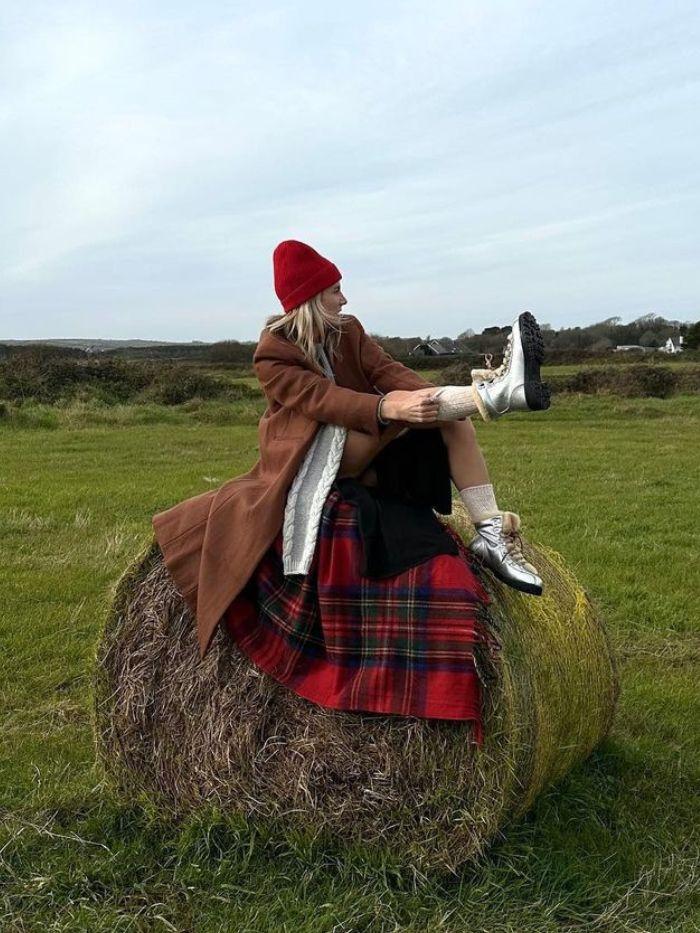 After getting caught in the rain in ballet pumps one too many times last month, I finally caved in and bought a pair of what can be considered "sensible winter shoes." The pair in question (Marks and Spencer's Patent Leather Riding Boots) haven't left my feet since, a good indication that although we can't predict the weather, we can consider a smart seasonal shoe purchase a very wise investment, but it's fair to say that there are some styles that have more longevity than others.  
The mesh ballet pump was a hot topic of conversation in autumn, and mid-heel shoes have been dominating the street style circuit for the last year or so, but when it comes to a shoe that you can wear in snow, storm, and sunshine, fashionable Londoners have been eschewing buzzy trends and turning back to the classics for inspiration. 
After all, what we need from a winter shoe differs from any other season. In spring and summer we tend to look for fashion over function as the last thing we want to think about during a heatwave is putting on more layers, and in autumn we switch between trainers, sandals and boots until the weather makes up its mind. But winter calls for practicality first, and judging by what's happening on the feet of London's best dressed, there are a handful of key styles topping the list for both style and substance, and they're all pairs we're already familiar with (they may already be in your wardrobe). 
So, should you be ready to brave the cold, here's our picks of the 6 most discussed winter shoe trends turning heads in the capital now and well into 2024.
Style Notes: London might not be known for its treacherous terrain, but if you're looking for a comfy shoes that'll stand up to anything winter has to throw at you, the Sherpa boot is a good choice. These shearling-lined, lace-up boots with sturdy soles are just as well suited to trekking around the countryside as they are a chilly weekend in the city, and if the UGG phenomemon taught us anything, it's just how much we love a shoe that prioritises cosy-comfort first (sorry stilettos). 
These are just so cute and snuggly. 
This brand delivers on city-ready styles too. 
Trust Jimmy Choo for a luxe spin on a cosy shoe.
It's impossible to be cold in these.
Beyond adorable. 
Style Notes: Move over leather jackets, the ultimate cool-girl status symbol is no longer the biker jacket, and instead the biker boot. Thick thick soles, distressed leather and plenty of hardware, after spotting moto boots on influencers, editors and the autumn/winter runways, we're convinced that these long-wearing boots will be stomping their way into 2024 too, so consider them a wise investment. 
Just the right amount of heavy duty hardware.
Reformation always get boots right. 
A knee-high boot is perfect for wearing with a mini skirt. 
For those who'd prefer a subtle nod to colour.
Pure boot perfection.
Style Notes: An oldie but a goodie, the knee-high boot has served us well over the years, but 2023 has given it a wearable update by lowering the height of the heel. Yes, when once kitten heels were looked down upon as the least sexy style, we now can't get enough of the micro heel that provides just enough lift for a sophisticated silhouette, but doesn't require a stock pile of gel insoles. 
These come back into stock every year.
Chocolate brown is the new fashion favourite.
Your next evening outfit should be built around these.
These honestly look designer.
You had me at "mock croc".
Style Notes: Maybe less of a trend of more of a styling update, but we've spotted more wool socks and loafer combinations in the last few weeks than any other time. Perhaps it goes hand in hand with jeans and trousers becoming more cropped, but right now the focal point of a simple but stylish outfit is the neutral sock + penny loafer pairing, a look that almost certainly never dates.
Fortela are well worth checking out for bohemian pieces with artisanal appeal.
I stock up on Uniqlo socks every year.
A true cult classic.
ARKET have just about every colour you think of.
These are top of my wishlist.
These are on the pricier side, but this pack of three will last for years to come.
Style Notes: This isn't the cowboy boot's first rodeo, but we're happy to welcome back this ankle and knee-high boot with open arms. Whether you tuck in jeans or wear it with an easy knit dress (thank you, Nicole Ocran), this boot is always always a conversation starter. Most likely "where did you get those?"
These are everywhere on Instagram.
I love the unexpected colour. So chic.
The classic western boot.
A pared back take on the style from Oliver Bonas.
These also come in classic camel. 
Style Notes: Don't like wearing heels to parties? You're not alone, and this year undoubtedly belongs to the flat party shoe, the sensible but still glitzy alternative to the skyscraper heel. There's no need to worry about tripping in these pretty pumps and bedazzled slingbacks, they'll save your feet from the all-nighter ache, and save you some valuable time on the dancefloor. Just add a full skirted mini dress or a slouchy suit and you're good to go. 
Perfect for desk to dinner.
These are the outfit.
I can see these with a cream maxi dress.
You can always find buried treasure on the Anthropologie website.
Up Next, It's My Job to Find Amazing Shopping Picks—These 9 New Buys Are Too Good to Miss