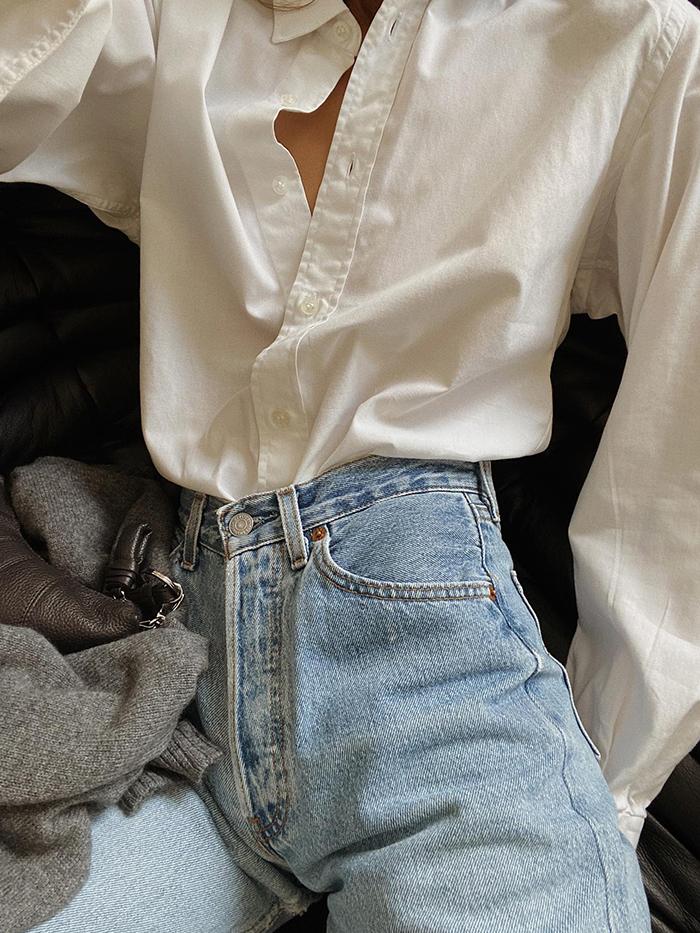 My wardrobe wouldn't be the same without a few trusty pairs of jeans. Those go-to cuts are true wardrobe staples for me because of their versatility. In fact, I basically wear jeans every single day and dress them up or down accordingly. While I have a few outfit formulas I turn to when wearing jeans, there are a few key pieces (tops and shoes specifically) that I'm teaming with them now and will continue to wear over the next six months and beyond. Essentially, way into 2024.
The pieces in question are all modern yet classic and feel particularly relevant (and I think will hold strong for seasons to come). Below you'll find the staples in question, complete with visual inspiration on how others also style the key items. Keep scrolling for more, along with shopping recommendations.
Style Notes: A relaxed button-down shirt teamed with jeans is one of my favorite easy outfit formulas. It's a timeless vibe.
The oversized fit adds a relaxed feel to the whole look. 
We often look to Arket for brilliant basics. 
Trust me, you'll wear this every season. 
With Nothing Underneath are experts in shirting. 
Just look at those bold cuffs. 
A great cut to consider. 
Style Notes: Here I am in one of my uniforms (note the button-down shirt). I also wanted to call out the loafers here. I adore how loafers can bring a polished twist to any look.
A classic.
G. H Bass knows all about forever loafers. 
The gold hardware makes this pair look so expensive. 
This pair comes in so many colours and prints. 
Up the ante this winter with elegant velvet loafers. 
A cropped style adds emphasis to the shoe. 
Style Notes: You can't go wrong with a striped sweater. A looser pick is just dreamy with jeans. I also want to call out the ballet flats here—another chic shoe style to try with jeans.
It's easy to see why this is a cult favourite. 
A luxurious cashmere sweater is always a good idea. 
Navy is just as timeless as black. 
Stripes always look chic. 
Well done, COS. 
Black jeans are a staple piece. 
Style Notes: A sweater tied around your shoulders brings instant chicness to an ensemble. I'm into a blazer with jeans (and trainers) teamed with the knit.
It's no secret that we really rate this Arket blazer. 
A chunky knit will see you through even the coolest days. 
The perfect oversized fit. 
This looks so cosy. 
Add contrast to your looks with a herringbone finish. 
Invest in cashmere now, treasure forever. 
This pair comes in so many different washes. 
Style Notes: Black boots are a foolproof choice to wear with a range of outfits, including a look with jeans. 
The heel is almost architectural. 
These could easily pass for designer. 
A thicker heel allows for all day comfort. 
The square toe adds a polished finish. 
This pair comes in sizes 4 to 34. 
This post was published at an earlier date and has since been updated.
Next, I've Studied it Closely—These Five Colours Pair Beautifully With Brown