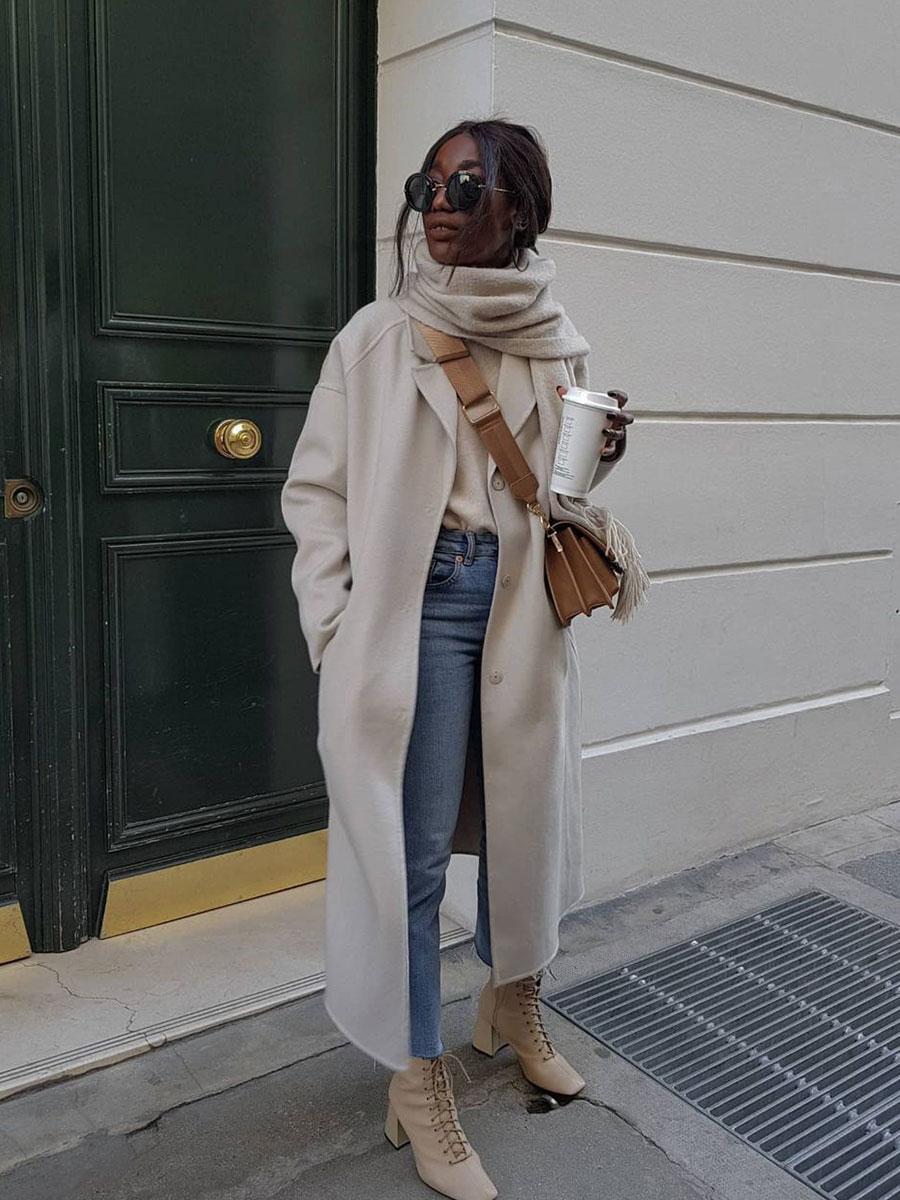 Tailoring is a great choice if you're looking for a polished winter look. Just add a wool coat for extra warmth.
It can be all too easy when temperatures drop to a certain (read: ice cold) level to lean on the same outfits you have for the past few years, huddling up in neutral knitwear and the same black ankle boots. While you can't beat a classic, if you're looking for some new winter combinations, the likes of Grece Ghanem, Lucy Williams and more have been wearing a number of practical yet interesting looks you too will be able to wear on repeat until spring.
Many of these key items you'll already own, such as roll-necks and classic blazers, but you can make your autumn/winter wardrobe more 2023 with cream boots, teddy coats and leather trousers. Just because you have to make sensible choices doesn't mean you have to spend the next three months in boring and unadventurous outfits. 
Keep scrolling to see 10 winter outfit ideas and combinations that you can turn to during the cold snap.
Style Notes: When it comes to cold weather dressing, a puffer coat is always a safe bet. To add an elevated twist, pair with tailored trousers and pointed boots. 
Year after year we sing the praises of Arket's puffer coats. 
A wardrobe staple. 
These are seriously sleek. 
Style Notes: Winter dressing isn't all jeans and jumpers, mini skirts can also work with the handy addition of tights and knee-high boots. Add a chic cable-knit sweater (and a coat if it's really cold) and you're good to go.
Trust Toteme to create a perfect kint.
For a preppy touch.
Good tights are a winter essential.
Functional and fashionable. 
Style Notes: Leather trousers are a wintertime staple. Update yours with a striped jumper and chunky boots for a fresh feel. 
The dropped shoulders add a relaxed feel to this fluffy piece. 
Invest in a great pair of leather trousers now, and you'll rewear them every year. 
The block heel adds comfort for all day wear. 
Style Notes: A classic ensemble, sure. But add a pair of fancy heels, and you've got the ideal going-out winter look. 
A classic coat for all occasions. 
A great pair of leather trousers can be relied upon year after year. 
These look so luxe. 
Style Notes: An oversized cardi is the cosy essential you'll wear all winter. Pair it with jeans and boots for a look that is perfect for going to brunch or working from home. 
The fit of this cardigan is not to be missed. 
Every wardrobe should have a great pair of blue jeans. 
Classic black boots can be paired with denim, tailoring, skirts and dresses. 
Style Notes: This season, ballet flats are making a comeback. Classic bow motifs and even elastic straps synonymous with actual ballet footwear have made their way into the fashion sets wardrobes. Embrace the dainty feel of these shoes by pairing with a soft pastel coat.
If you're stepping out of your colour comfort zone, opt for a timeless shape to ensure you'll wear it forever. 
Keep the soft feel going with a light pink slip dress. 
These are sure the sell out. 
Style Notes: After a more interesting winter outfit? Pair a checked skirt with a long leather jacket.
Your classic trench just got an upgrade. 
So many great outfits call for a turtleneck. 
The midi length is really unexpected. 
Style Notes: If you prefer minimalists looks, then a neutral coat should be part of your wardrobe. To keep it feeling fresh, look for modern designs like this scarf-and-coat hybrid. Finally, the lace up boots are a nice finishing touch. 
Wear loose, or cinch with the belt. 
The merino fabric makes this even more luxurious. 
I love the asymmetric fastening on these jeans. 
These also come in classic black. 
Style Notes: Make your summer dress stretch even further by throwing on a warm blazer and a pair of hiking boots.
Winter months call for wool blazers. 
Make your summer dresses work harder by extending their wear through autumn and winter. 
Combine form and function. 
Style Notes: There's nothing wrong with this tried-and-tested classic outfit. It's forever chic, and you'll always find other pieces in your wardrobe to wear it with. 
Navy is just as timeless as black. 
The lighter wash contrasts the navy coat beautifully. 
Streamlined sock boots are back for autumn/winter 2023. 
This post was originally published at an earlier time and has since been updated. 
Next up, the biggest autumn/winter 2023 fashion trends to know.
Promo: @_LIVMADELINE