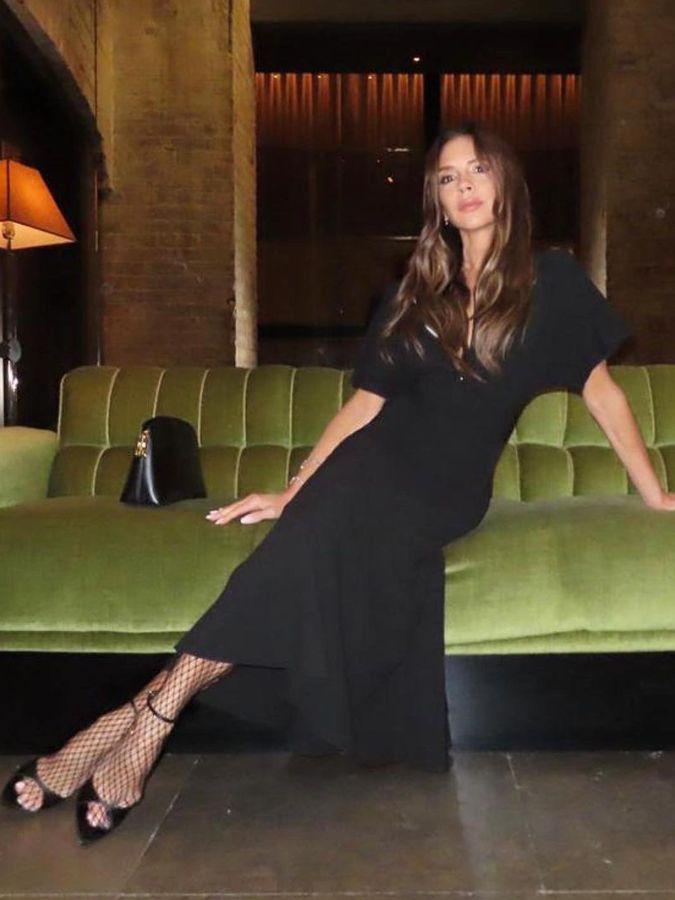 Victoria Beckham's new favourite accessory is an unexpected yet classic item you might already have tucked away at the bottom of a draw. An avid fan of an all-black-ensemble, Beckham has been known to fall back on a black-dress-and-shoes combo time and again, so we weren't surprised to see her wearing a smart evening look in her favourite shade this week. What did catch our eye, however, was her subtle styling of something surprising that you can buy from Marks & Spencer or H&M for only £10.
For an evening out in New York, Beckham dressed up her black, flute-sleeved maxi dress and peep-toe shoes with a pair of fishnet tights. For their associations with old-Hollywood movie stars such as Marilyn Monroe, and an enduring popularity which traces back to the 1920s, fishnet tights are a hosiery staple that never really go out of style, though we never really seem wear them. Their popularity has surged during certain periods, and thanks to VB, right now seems like it's about to be one of those times. Perhaps it's because of the '90s revival that continues to dominate fashion, but we predict fishnet tights will be the latest accessories trend to take off this season.
With their spider-web design, there's no better time to style the classic hosiery item than late October amid the lead-up to halloween. Fishnets aren't just for spooky costumes though—these tights add a dramatic element to any outfit. They'll work perfectly throughout autumn with knee-high boots for a casual look, or wear them dressed up with peep-toe shoes à la Beckham herself. It's official: Classic fishnet tights are ideal for adding an unexpected finishing touch to an evening-ready outfit.  Read on to shop our favourite fishnet tights below.
This dramatic dress pairs perfectly with classic fishnets.
Style throughout winter with knee-high boots and a wool skirt.
These tights feature a shimmering thread for a subtle, sparkling finish.
This midi dress would layer so well with a leather jacket and knee-high boots.
These classic tights go with more than you'd think.
Wear with simple court shoes or peep-toes to add an unexpected element to your evening ensemble.
Style with fishnet tights and black court shoes for a timeless evening outfit you'll want to pull out every weekend.
These subtler fishnets are the perfect pair to ease you in. 
Wear with a longline skirt and classic slingbacks.
The perfect winter-ready party dress.
Lean into the punk feel and wear with biker boots and a mini skirt.
Take a leaf out of Beckham's book and slip these on under a black maxi dress.
Next Up: Victoria Beckham Just Wore the Dress Trend That's All Over H&M and Zara