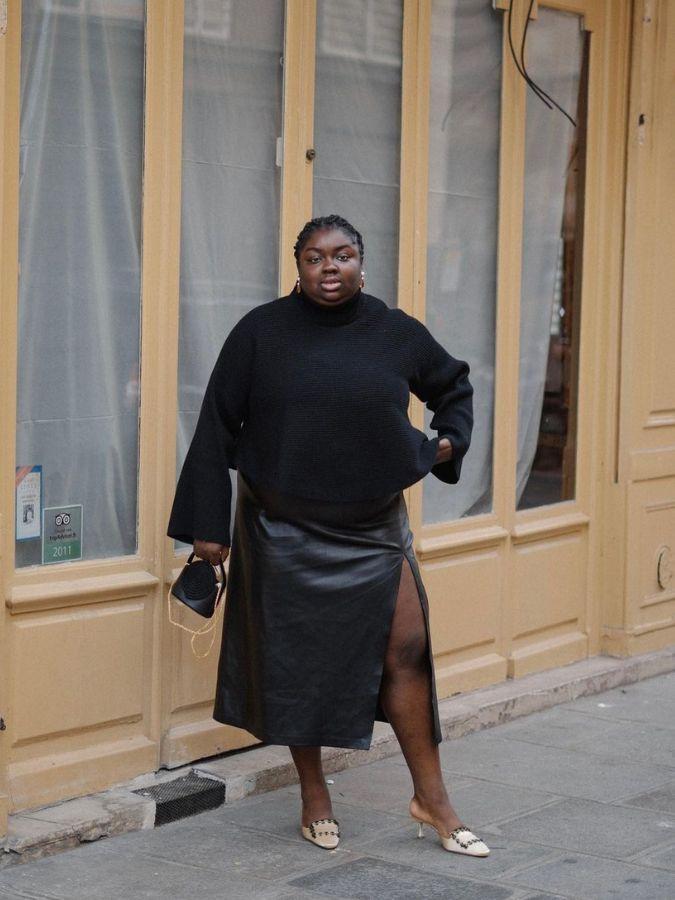 This winter, we're going back through the archive, reintroducing our favourite timeless items that have kept us company for seasons gone. Rather than always rushing to the checkout button to snatch-up the latest trends, we're often found shopping our own wardrobes and restyling those key pieces that have never let us down.
Of the lot, our hero item for autumn/winter has to be a simple, chunky black knit. With styling potential to see you through this season every year, there's no other item more worth investing in for a cold British winter (well, maybe apart from a coat).
Though we've been coming back to this item for more years than we can remember, we always like to shake up our styling patterns to give it a fresh feel each time. To help revitalise your beloved black knits, see below our edit of new ways to style the garment this season. And don't forget your debobbler!
Style Notes: White linen trousers were an enduring trend this summer, and the white trousers trend is set to continue well into the winter months. Opt for a heavier weight fabric such as denim or wool and style your look with mary janes for an easy and elegant ensemble.
Those cosy wool jumper is so easy to style.
A heavy-weight denim that's perfect for the cooler months.
Pointed toe shoes are a growing trend this autumn/winter.
Style Notes: An easy trick of elevating a black knit is to style it up with contrasting fabrics. A structured leather skirt dresses up any slouchy knit for an effortless look that's dripping in style.
This also comes in dark grey.
This breezy silk skirt looks great with knee high boots or pumps.
You can never go wrong with classic black singbacks.
Style Notes: Far from slowing down, the puddle pants trend is gaining traction as the anti-skinny jeans trend to shop this winter. Style in a neutral tone with a complimentary bag and wear with chunky boots or sleek loafers for a comfortable stomp and casual silhouette.
High collard knits are a wardrobe hero for windy days.
This trending trouser is easier to style than you might imagine.
Silver shoes are an enduring trend for autumn.
Style Notes: This season we're cosying up to aviator leather jackets (yet again). A favourite of the street style set, the leather aviator has rocketed in popularity in recent months. Warm up your look by shopping your aviator in a shade of brown.
This lightweight knit is perfect for layering.
The cosy fleece lining will keep you warm all season.
Every wardrobe needs a reliable pair of great jeans, and Agolde always delivers.
Up Next: I Wear This Item Every Single Day—Here's How I Keep It From Going Stale