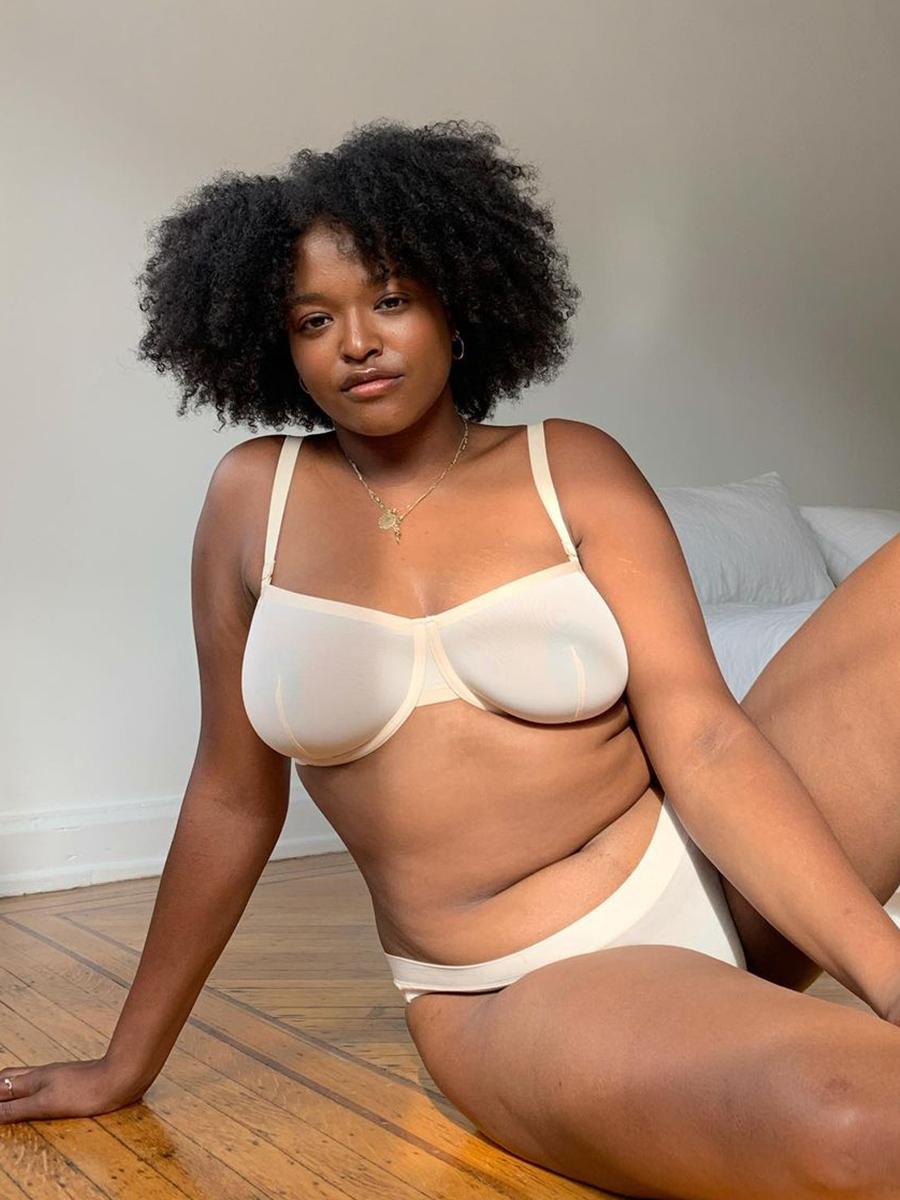 Without the help of our bra-size calculator below, finding out (and updating) your bra size can be a time-consuming and downright annoying thing to have to do. There are loads of great places you can visit to get your bra fitted (and I do venture afield, as you'll see below), but the truth is that it's super important to keep checking. Our bodies change fast (weight can fluctuate and our figures shift all the time), and wearing the wrong size bra can be rather damaging to your breast tissue. So although we would always recommend getting fitted properly, it is a great idea to be able to scope out your own bra size from home until you can fit the time in your schedule to get it done properly. That way, you can be on top of things when you're too busy to visit a lingerie department every six months.
The first thing you'll learn? You've probably been wearing the wrong bra size for a long, long time. But don't worry—you're not alone in that mistake. It's incredibly common for people to assume that they have bigger backs than they actually do (or be scared of having a larger cup size for the fear that it will limit their underwear options). Here's where we step in to help.
To get some expert intel, I headed to both Marks and Spencer and Rigby & Peller. The latter is an old-school underwear shop that works very differently from other stores. Instead of measuring you, the bra fitters work by sight. They just look at your chest and work out which size you are. Both Rigby & Peller and M&S came back with a 34D. Now, while just knowing someone's bra size from looking at their chest does seem like a sort of superpower every breast owner should have, alas, it's not something we can all possess, which is why I got thinking about a bra-size calculator. Although bra-fitting appointments have largely resumed post-lockdown, this bra-size calculator is an easy way for everyone to work out their own bra size without having to step foot in a store should they not wish to or simply not have the time to spare. Keep scrolling for our guide on how to find out your correct bra size, and you can thank me later.
To measure around the band part of your bust, which is directly underneath your breasts, make sure you have a soft tape measure to hand, place it flat against your skin, and draw it around your torso. Keep as close to under your bust as possible. Once you've done that, note down the number in inches.
Once you've done the band, then you want to measure the fullest part of your bust. Gently take the tape measure and measure it in inches as well.
Then comes the slightly tricky bit: To work out what your cup size is, you want to subtract your band size from your bust size. From the difference between the two sizes, you can work out your cup. If the difference is less than 1, then it's AA; 1 means A; 2 means B; 3 means C; 4 means D; 5 means DD; and so on.
You'll still need your band measurement to give you the number preceding the letter. For example, if your band size is 34 but your bust size is 37, then your bra size is 34C (difference of 3, again, means it's a C-cup). Of course, it's worth mentioning that bras can fit differently according to different brands, but now you have the basic tools to work out your correct size.
If you need more guidance, I also spoke to bra-fit expert Julia Mercer from M&S, who gave me some further insights so that if you ever want to know how to find the right size, you'll be in no doubt. First off, Mercer said that as the average bust size of women in the UK is growing (34B to a 36D/36DD in the last decade), "it's become more important than ever to wear a bra for both comfort and support." Mercer also said, reassuringly, that you should "never be alarmed if you have to go up a cup size," as this will not only help you look more in proportion but will also help your posture. And the best way to check if your bra is fitting correctly? "Lift up your arms, twist your body, and the bra will fit perfectly in place," she advises. For more help, keep scrolling for a bra-fitting checklist.
Under-band: This should be parallel to the floor and secure enough that only two fingers can fit under the elastic.
Centre front: Should sit completely flat against the sternum.
Side wire: Make sure this is flat against the rib cage and never digging into the breast tissue.
Cup capacity: Breasts should sit fully into the cup without any spillage.
Straps: These should be adjusted to just fit two fingers on top of each other, which will give the right pressure for your shoulder.
Now that you've got all of the tips on calculating your own bra size, it's time to shop! See my favourite bras to buy now.
This bra adapts like a second skin and the seamless design means it won't show under your tee. 
Neutral colours won't show up under your staple white tee. 
For a full lace look, add the matching underwear. 
With seven colour options, there's a nude shade for everyone. 
If the price doesn't convince you, the 900+ positive reviews will. 
The T-shirt bra will give you full coverage. 
This bra has four sets of hooks, so you can adjust the back for a different fit on different days. 
This style will contour to fit you. 
This comes in six different colours. 
You'll be surprised at how much support this provides. 
Comfortable enough to wear all day and all night. 
For days when padding isn't needed, a lightweight, non-padded bra gives support without restriction. 
The high triangle shape is really supportive. 
Is there anything sexier than sheer black lace?
This is a great style for a larger bust. 
The scalloped lace adds a feminine touch and soft finish. 
This has just enough coverage to support you, and the sheer elements add a flirty touch. 
Made with beautiful Leavers lace. 
Delicate design at a great price. 
All of Else's collections are handmade by expert female artisans. 
Rely on M&S for well-priced staple bras. 
Made to lift and enhance. 
A delicate balcony style. 
This bra top can be worn under clothes or by itself. 
This lace bra is so sweet. 
Comfortable yet chic. 
Beautifully crafted. 
A non padded version. 
We've heard great things about this supportive bandeau bra. 
This easily transforms to a strapless style. 
You'll be surprised by how supportive a strapless bra can be. 
Clearly, functional lingerie can be pretty too. 
With detachable straps, this bra is two styles in one. 
A comfortable strapless bra is a wardrobe staple. 
This one comes in sizes up to 46GG.
A great bra doesn't have to break the bank. 
This has added stretch for a comfortable fit. 
When you need a strapless and plunging-friendly bra. 
Available in an array of colours and sizes up to a H!
The perfect balance of support and style. 
Forget dowdy styles for fuller busts. M&S's silk and lace baloncy bra is anything but basic.
A full-coverage style with intricate lace details. 
This features the brand's signature side-support frame. 
For everyday wear. 
Love the sweet bow detail. 
Not to say other bras aren't pretty, but this select is dedicated to truly beautiful styles. 
So sweet. 
La Perla has become synonymous with exquisitely made lingerie. 
The mix of lace and delicate pleating works perfectly. 
Have you ever seen such beautiful strap details? We think not. 
This dark green is so striking. 
Beautiful lingerie does come at affordable prices. 
This brand is known for their fun, colourful designs. 
This piece was published at an earlier date and has been updated. 
Up Next, Winter 2023 Trends: The Fashion Looks You Need to Know About