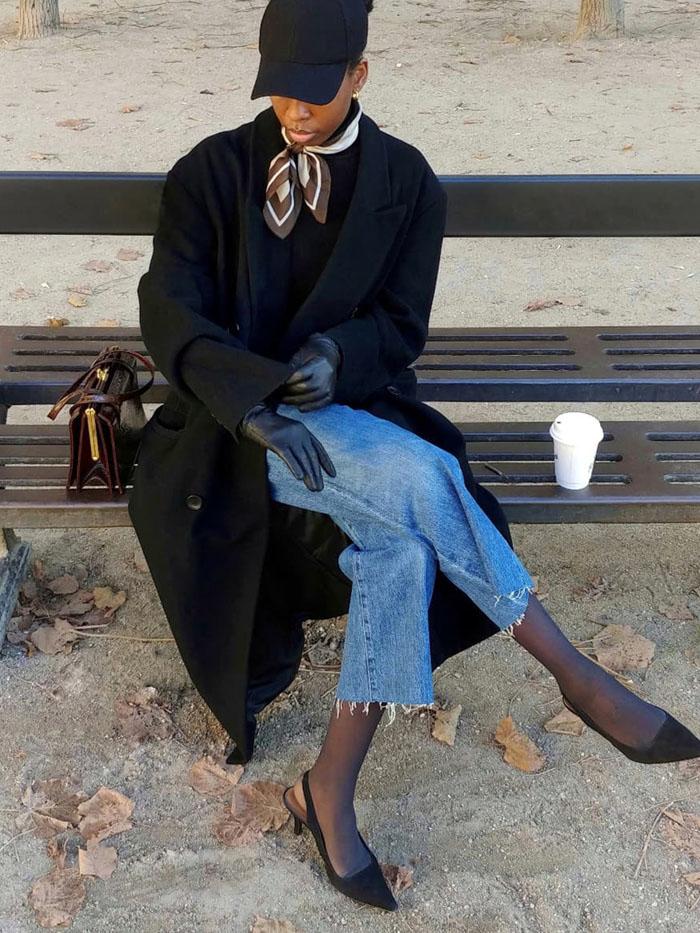 It's not always an easy feat to keep our levels of chicness high when the temps dip low, but who better to inspire our winter outfits than the fashion-forward French, who basically embody the words "effortlessly chic"? In fact, throughout many years of writing about French-girl style, I've kept a close eye on items French women always reach for to look chic and polished through the cold-weather season.
When it comes to French-girl winter outfits, it's all about comfort, convenience, and classic pieces that will elevate an ensemble, and luckily for us, taking a leaf out of their book doesn't require too much effort. Keep scrolling for the eight essential items French girls reach for to stay warm and look chic all season long, from striking long overcoats to cozy cardigans.
Style Notes: If there's one item I see over and over again on stylish French women in winter, it's a long, slightly oversize wool coat—usually in a classic colour such as navy, black, or camel. There is something so chic about the elongated silhouette, and it works with everything from sneaker outfits to knit dresses, jeans, and more. Unquestionably, it's the number one French-girl essential for looking chic in winter.
A style you'll reach for every winter. 
Camel is eternally chic. 
This sleek brown coat comes with a matching scarf. 
The nipped waist and dramatic collar are so elegant.
Style Notes: When it comes to boots, the French crowd skips the Uggs and instead favours leather knee-high boots with a walkable heel or a flat sole, preferably in versatile tan or black hues. They're ideal for styling with tights and a mini or midi skirt.
A great heel height for all day comfort. 
So many of our editors have their sights set on this pair. 
A great option courtesy of the high street. 
The buckles are a nice touch. 
Style Notes: Whether layered under a blazer, button-down, knit, or all three, a classic turtleneck is a staple in every French woman's winter wardrobe. It's classic, smart, and chic. Nobody layers turtlenecks quite like the French.
This one has a subtle rib texture. 
Soft merino wool is perfect for cosy layering. 
This also comes in grey and white. 
Mix up your neutral rotation with this soft mole hue. 
Style Notes: There's no doubt basic sweaters are an integral part of a French winter wardrobe, but to add a stylish finishing touch to a cold-weather look, French women like to tie a chunky knit nonchalantly around their shoulders—over their coat, sweater, or blazer—which provides extra warmth and exudes that effortlessly chic touch they're well and truly known for.
Seriously soft. 
Cable-motif knitwear never goes out of style. 
Go full force French with stripes. 
We've spotted so many fashion people wearing this jumper. 
Style Notes: French women wear cardigans on a daily basis, opting for thicker iterations in the winter months. This is the perfect opportunity to add a little pop of colour to their neutral hues throughout the cold-weather season.
Try out the trending colour of the moment: red. 
This comes in so many great shades. 
The contrasting buttons work so well with the green knit. 
The oversized fit is perfect. 
Style Notes: Whether it's a '70s-inspired suede coat lined with shearling, a striking faux-fur coat, or a fuzzy-collar coat, the French love a textured topper. Opt for one in a vintage-inspired silhouette.
The vintage-style silhouette we were talking about. 
This style is reversible with a quilted shell on the other side. 
You'll pull this out on cold days year after year. 
I'd style this jacket with knee high boots too. 
Style Notes: While we tend to see a lot of dark ensembles in winter, the French like to add an eye-catching element to their look in the form of statement accessories, like a zebra-print purse or a blue beanie.
This is so much fun. 
A beanie is essential for winter. 
This could easily pass for designer. 
Stand out this snowy season. 
Style Notes: Okay, so this may seem pretty basic, but the French really like to make use of their tights in winter. Whether sheer or thick, we see French women styling them with tweed and wool miniskirts and even city shorts and boots throughout the colder months. Stick to black for a chic look.
Take your dresses and skirts into winter with a pair of tights. 
I'm a big fan of sheer-look tights. 
For those that run extra cold. 
With party season ahead, I'm stocking up on satin touch tights. 
Next, All Our Editors Agree: This French Brand Creates the Most Beautiful Knitwear
This post was previously published and has since been updated.