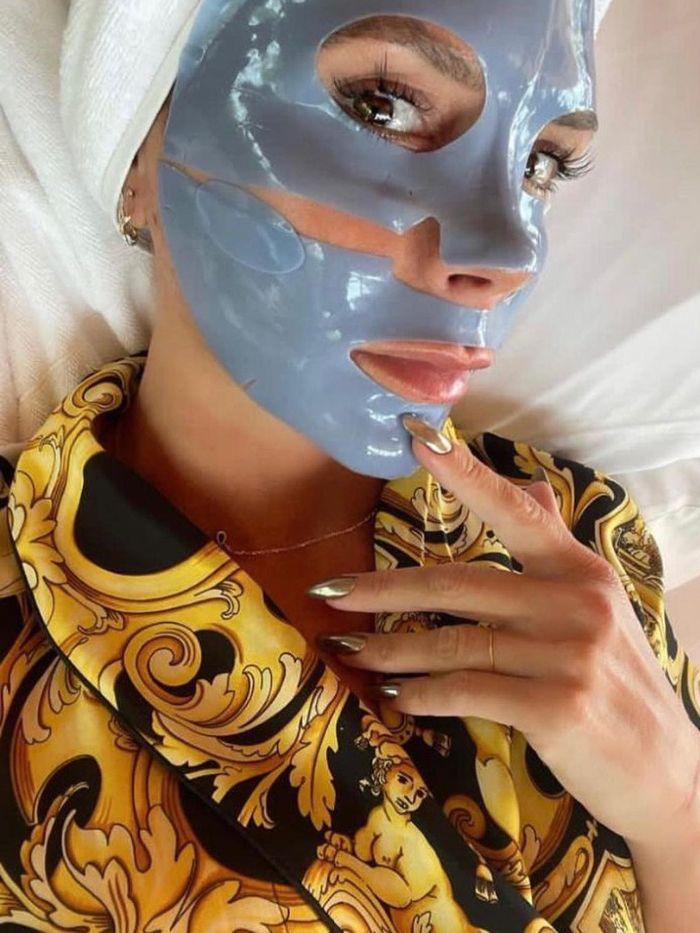 Whenever anyone mentions something that Victoria Beckham uses in her beauty routine, I'm all ears. In fact, I'd probably try anything to recreate the star's healthy glow, including all of the products from her very own beauty range. However, as it turns out, there's one product that VB uses that has been a part of my daily routine for as long as I can remember, and you might even have one in your bedroom, too. That's right, I'm talking about the Slip silk pillowcase.
When it comes to the world of silk pillowcases, Slip is definitely up there with the best of the best, so it's no surprise that this is the brand that Victoria Beckham turns to for some well-earned beauty sleep. As a beauty editor, I am yet to come across a silk pillowcase I like more than this one, and I've tried my fair share of brands over the years. 
Victoria Beckham takes a selfie from her Slip silk pillowcase. 
You might be thinking, how on earth will a pillowcase enhance my beauty routine? Well, that's where I come in. As an avid silk pillowcase user, I'm here to tell you all about how this product can benefit both your hair and your skin, so keep on scrolling for everything you need to know. Let's face it, if it's good enough for VB, then you definitely won't be disappointed…
So, what makes these pillowcases different to your everyday bedding? The secret is all in the material. Sleeping on silk reduces friction, which means that as you toss and turn throughout the night, the silk pillowcase will help to preserve your hairstyle, reduce frizz, stop those pesky pillow creases from appearing and also keep your skin hydrated. You see, not only do other materials like cotton cause friction, but they also absorb more of your precious face cream than silk does, so this could be the reason that you're waking up with a dull complexion despite slaterhing on your skincare products.
The best thing about the Slip silk pillowcases is that they are made from specially-commissioned Slipsilk™. This material is made using the highest grade long fiber mulberry silk which not only enhances all of the beauty benefits, but also means that your pillowcase will last you much longer than others on the market.
Junior beauty editor, Grace Lindsay, sleeps on her Slip silk pillowcase every night.
All of that information aside, it's no secret that a Slip silk pillowcase is more expensive than other options out there. So, is it actually worth it? As a beauty editor, I really couldn't recommend this pillowcase more. The difference I have noticed in both my skin and hair since using one of these has honestly been incredible. I used to blowdry my hair at night and wake up with it all over the place, but now I wake up with smooth, silky strands that look and feel a whole lot healthier. My skin is also reaping the benefits, looking more radiant than ever thanks to the fact that my pillowcase isn't absorbing my evening serum and moisturiser. 
Not only are the beauty benefits great, but the quality of the silk is so impressive, and after washing mine again and again, it still looks as good as new (just make sure you follow the washing instructions!) One thing I will say is that I opted for the classic white shade and this can discolour slightly over time, so if you tend to fake tan or anything like that, it might be best to go for one of the darker shades.
Pros: Feels incredible to sleep on, leaves you with silky smooth hair and radiant skin and the high quality silk will last you the long run
Cons: More of an investment, can only be washed on certain settings and the white shade can discolour over time
All in all, I can see why Victoria Beckham loves this product as much as me, and if you're looking for something to put on your Christmas list this year, then I'd definitely consider one of the pillowcases below…
The Slip silk pillowcase is available in two sizes and lots of different colours. I always opt for the Queen pillowcase in white to make sure it matches the rest of my bedding.
I love this deep navy blue shade for autumn and winter though.
However, when summer rolls back around, I might have to opt for this fun print.
This is the perfect Christmas gift set, as it includes a Slip silk pillowcase alongside two silk scrunchies.
If you like sleeping with an eye mask, this pure silk one from M&S is so luxurious.
Speaking of luxury, I've got my eyes on these silk pyjamas from The White Company.
Price shown is members' price. Silk scrunchies are much more gentle on your hair, and this set comes with six to choose from.
If you really want to protect your hair, try this clever silk turban from Slip.
Next Up: The 31 Best Volumising Hair Products for Thin Hair in 2023