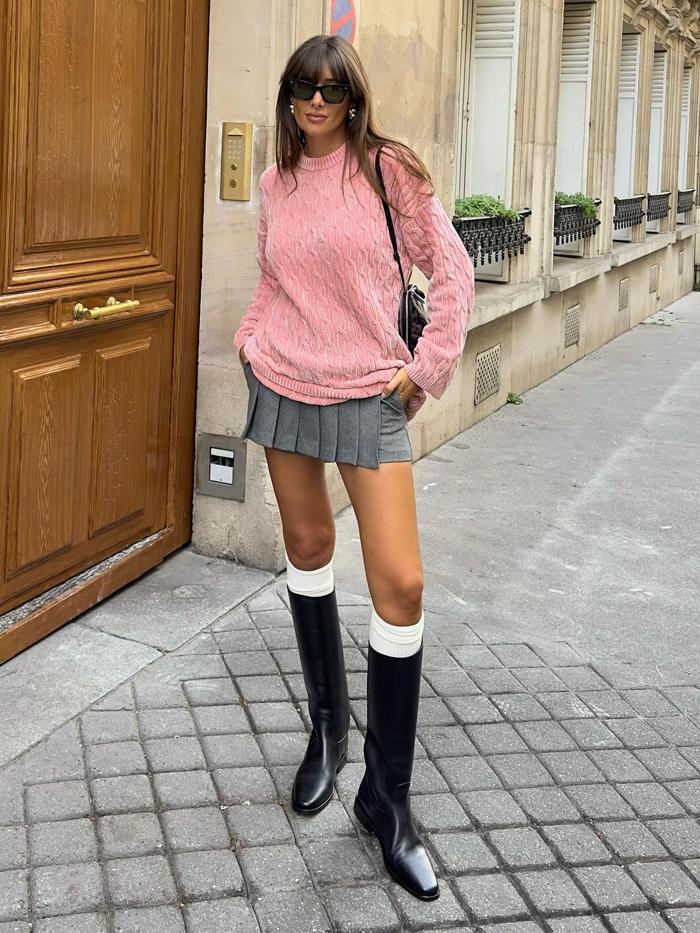 I spent a lot of time thinking about French style and the ways in which I can channel my inner Parisian on the daily. I like croissants and will take wine with my meals, but I find the most satisfying way to tap into their je ne sais quoi is through assembling an outfit. At the risk of generalising, you could argue that the French woman's appreciation of wardrobe staples and basics is finely tuned. Of course this doesn't apply to all French women but it does to the ones I follow. I regularly look to them for new and fresh ways to wear pieces that are lingering in my wardrobe, or to inspire me to don items I haven't for a while. And right now, I'm turning to them for guidance on boot outfits. 
It's been a while since I've worn boots. After six months of wearing either sandals or flat shoes (mary janes for the most part), now that the colder weather has kicked in as quickly as a flick of a switch, I need to acclimatise myself to wearing boots again—and fast. So, I decided to round up some French-girl boot outfits to get me started. 
Aside from one of the looks I just had to include, all of the French outfits you see before you centre on black knee-highs of either the flat or heeled variety. Whatever your sole preference, black boots are some of the hardest-working footwear you can invest in (they're practically on overtime in my wardrobe). So, if you already own a pair of black knee-high boots (I'm willing to bet the odds of that are in favour) then I'm sure the French-girl boot outfits you're about to see will come in handy for your own styling purposes. 
Scroll on to see six easy French-girl boot outfits you can (and should!) try this season. 
Style Notes: All-black outfits never fail to look sleek, especially when you layer in leather textures. Tucking her leggings into her knee-high boots, Anne-Laure's gives the athleisure staple a serious gloss over. 
Style Notes: Pink is one of the prevailing colour trends of the season—combining it with grey really grounds it. A slingback or heel would give this look a totally different vibe—the boots make it feel incredibly cool. 
Style Notes: Breaking up the black-boot theme, this ensemble, featuring sand-coloured lace-up ankle boots, instantly lifts Aida's get-up and elevates her jeans while the wool coat bestows it with an overall classy finish. This is the sort of look I can see myself running errands in or meeting friends for weekend brunches. 
Style Notes: Leather skirts can be tricky to style, especially when it comes to choosing the best footwear to go with them. Follow Sylvie's lead by pairing them with boots in a matching hue. The addition of a denim jacket makes this outfit feel all the more low-key and current. 
Style Notes: Classic leather knee boots look great with just about any dress or skirt option, but I particularly enjoy it when fashion people style them with minidresses. Salomé's matching grey mini and blazer combo feels especially French for some reason. 
Style Notes: Bouclé jackets and cardigans instantly look fancy thanks to their premium fabrications and gold buttons, and I love how Emmanuelle has given hers a downtime spin with some chunky, track-sole knee highs.