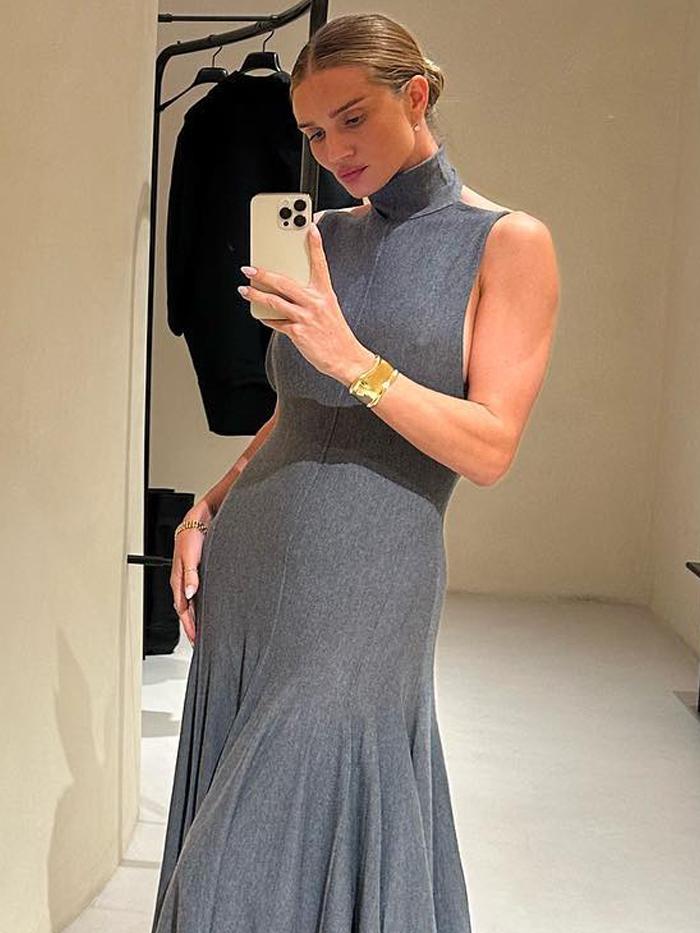 Rosie Huntington-Whiteley wears a grey maxi dress from Khaite.
If you're in search of a new, effortlessly chic outfit solution for the winter season, look no further because I've just uncovered it. The fashion world is currently abuzz with the versatile and elevated grey colour trend but now, we're getting into specifics. Everywhere I look, people are wearing grey dresses, and I completely understand why. 
Rochelle Humes wears a grey dress from Zara. 
The grey dress trend has the ability to transcends seasons and offers a slick alternative to the timeless little black dress. A piece that has recently graced the elegant shoulders of fashion icons like Rosie Huntington-Whiteley and previously made a statement on Kendall Jenner during Paris Fashion Week, it certainly seems like a sage investment for not only the winter season, but also next year, too, as grey played an integral role on the spring/summer 2024 runways. 
Kendall Jenner wears a grey dress during Paris Fashion Week.
High-end brands including Khaite and 16Arlington initially brought the grey dress trend into the limelight, cementing its luxury status and connotations. Still, the high street has warmly embraced the look, too, with the likes of Zara, H&M, and Marks & Spencer putting their own spin on it by way of midis and minis, In fact, its the sheer away of interpretations of the grey dress trend that act as a testament to its widespread appeal; you'll find them in knitted and sweater form, but also finished in satin and draped jersey for evening. 
French influencer Sylvie Mus wears a grey minidress. 
Regardless of the when and the why, scroll on to see my edit of the best and chicest grey dresses on the market right now, so you too can embrace it, just like the style set. 
Just add knee boots and leather outerwear. 
I can't believe Rochelle Humes's Zara dress is still in stock. 
I'd like to wear this entire outfit. 
In case you were wondering, this is Rosie's exact maxi dress. 
This also comes in failsafe black and boasts an extended size range. 
This is the one I'm most tempted by. 
Tick off two trends in one with a draped silhouette. 
Subtle cutouts make just as much of an impact as bigger ones. 
Simple and so effective. 
This has just had a restock in every single size. 
Sweetheart necklines are still very much a thing. 
I saw this in store and couldn't believe how expensive-looking it was. 
Change the vibe by layering this over a T-shirt.
A great eveningwear option. 
Alaïa is knocking it out the park this season. 
Charcoal greys also work with this trend. 
Next Up: From Dresses to Bags, I've Handpicked 20 New-In Pieces Just in Time for Payday