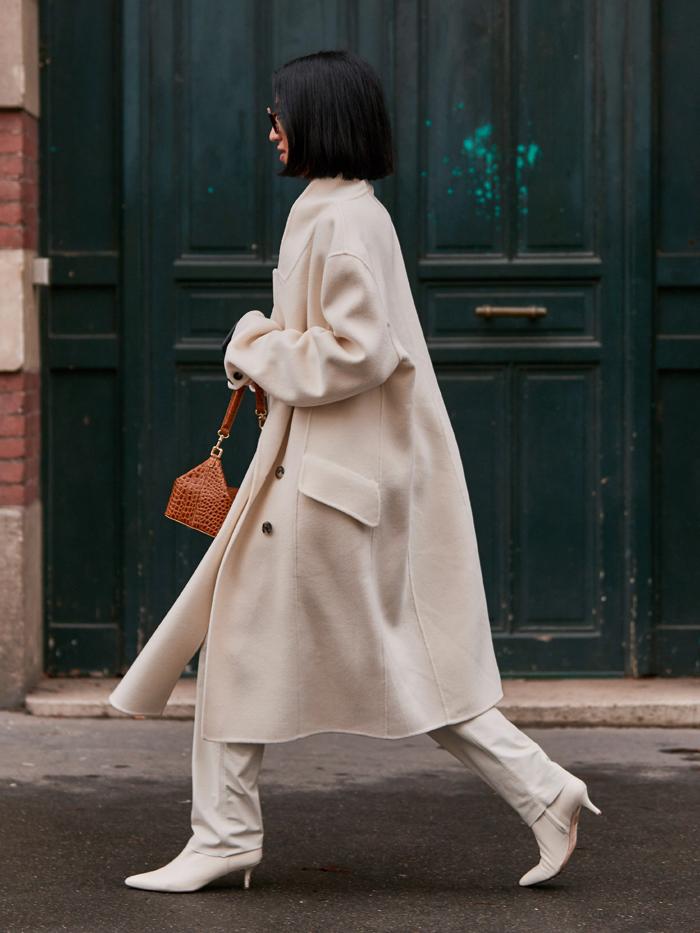 You might assume that to look expensive, you need to buy eye-wateringly expensive things, but looking rich isn't just about flashy logos and jewellery so valuable it must be stored in a safe. There are little tricks that can make any outfit look more elevated, from ensuring your shirts are always crisp to the colours that appear to add a couple of zeros to the cost of your outfit.
Many of these styling rules have been set by stealth-wealth luxury brands, such as The Row and Phoebe Philo for Céline, who show that timeless, classic pieces always add an air of sophistication to your look. Think biscuit-coloured knitwear, an oversized trench coat and a perfectly starched white shirt.
Intrigued? Keep scrolling to see the nine things that will always make you look richer than you are (without sending your bank balance into the red).
Style Notes: An easy way to look expensive is to make sure your clothes are as immaculate as possible and in our book, nothing looks as luxurious as a freshly pressed, white shirt. Plus, you don't actually have to go to the dry cleaner or spend hours ironing; just invest in a decent steamer.
I love Arket's shirts thanks to their chic, relaxed fit. 
A long-line cut that's perfect over leggings.
Wear with… everything!
Style Notes: So the argument could be that wearing neutral colours head-to-toe isn't going to suit everyone's personal style, but there's something eternally elegant and confident about the choice. If you can risk going for all-cream, then we salute you (and your stain avoidance).
The whole Who What Wear team love H&M's tailored trousers. 
Ultra cool and ultra stylish.
This has shot right to the top of my wish list now. 
Style Notes: There's something about ultra-cheap shoes that has the potential to really ruin a look—not to mention they might be poorly made and therefore less beneficial for your foot health, and probably bad for the environment if you can only get a small amount of use out of them before they have to be discarded. It's a good idea to invest in slightly more premium footwear options that are timeless, and then ensure you get them resoled and keep them looking in good condition in order to last longer. 
These look so much more expensive than they are. 
This is a great pair of simple heels that will work hard in your wardrobe. 
Buy now, love (and wear) forever.
Style Notes: Invest in quality fabrics such as silk. Timeless, elegant pieces add an air of sophistication to your look and can easily be dressed up or down. Plus, the high street has a great offering of such pieces right now. You can wash many silk pieces at home—ensure you have a detergent for delicate fabrics and a very low temperature setting on your washing machine. Rejoice!
Arket has a great offering of silk-blend pieces right now.  These trousers come in a pink and beige colourway too.
Pair with great jeans and you're set. 
A very chic dress that isn't tied to a point in time or a specific trend, so you'll get more wear out of it. 
Style Notes: Another key way to always look and feel put together is to appear well groomed, and an oversized sturdy umbrella with a wooden handle will ensure your immaculate DIY blow-dry (or whatever hairstyle you're nailing that day) stays in place, no matter the weather.
Style Notes: Whether pricey or affordable, understated accessories—and that's covering everything from watches and jewellery through to belts and handbags—will always look considered and premium when they tap less into trends and more into classicism. Keep the lines clean, the detail to a minimum and print and colour muted.
This best-selling COS bag doesn't stick around for long. Get it while you can. 
I can't believe how expensive this under-£60 watch looks.
The kind of belt you'll wear over and over, and wondered how you ever coped without!
Style Notes: All Who What Wear editors agree, a tailored coat or classic trench instantly elevates any outfit. Choose camel or monochrome for extra style points.
Mango never fails us when it comes to fantastic outerwear. 
Opt for a belted iteration for a classic silhouette.
A decent trench coat may cost you over £100, but when you think about the fact it's never out of fashion, it's not a bad investment.
Style Notes: Okay, this might not be the most useful advice in the world, but there's no denying that mini handbags have become a status symbol—even if they are completely impractical on a day-to-day basis. Perhaps that's precisely why they're favoured. In fact, Gigi Hadid often leaves the house with a tiny handbag that's only big enough for a lipstick and a credit card. Because, really, what more could you need? Um… Kindle, hand sanitiser, umbrella, makeup bag, phone charger. So mini bags are for specially appointed days!
This beautiful cream bag could easily pass for designer. 
This will fit all the essentials. 
This is the perfect evening bag.
Style Notes: Even if your clothes are affordable, it's worth investing a little extra in getting pieces tailored to fit you like a glove. You'll get more wear of them if they're flattering and comfortable, fact. Influencers such as Monikh often share the process behind taking items to their local tailors, but there are also apps such as Sojo that you can book via your phone.
If you didn't know already, COS's tailoring is excellent right now.
When buying tailoring on the high street, buttons on the cuff and a back vent opening as seen on this version always look more premium. 
Next Up: Experts Agree: These Autumn/Winter 2023 Fashion Trends Really Count
This story was originally published at an earlier date and has since been updated.