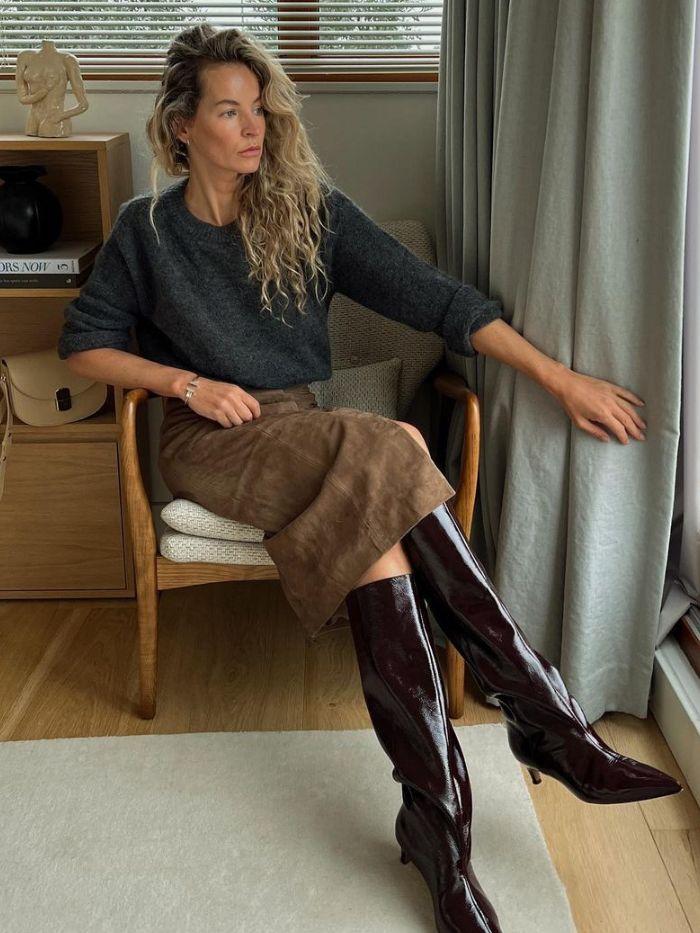 After what felt like the most confusing September and October of all time, the weather has finally cooled down. And whilst it's not quite time to start wearing scarves, tights and faux fur coats, we are excited to ready ourselves to hunker down and make the most of the cosiest season in the calendar by wearing jumpers, jackets, boots and more of autumn/winter 2023's biggest trends.
For those who had gleefully packed away their "sensible clothes" in favour of swimwear and linen, I regret to inform you that now is definitely the time to start rebuilding your cold-weather wardrobe. But if you're bored by the thought of wearing the same autumnal outfits on rotation, fear not. I've searched through social media to find some winter outfit inspiration that is anything but samey. 
If the giant bows, head-to-toe leather and femme fatale dresses that made their way down the A/W 23 runways weren't exactly what you had in mind for this season's dressing, I've come up with nine entirely more wearable ways to tackle the trends, so all you have to do is chose your favourite aesthetic and let it inspire the rest of your wardrobe. 
From Emily Wells' take on dressy minimalism to Emili Sindlev's adorable nod to balletcore, keep scrolling to shop the chic influencer-approved outfit ideas we're already re-creating this season. Now, just to order a Pumpkin Spice Latte…
Style Notes: If there's any trend guaranteed to stand the test of time, it's pared-back minimalism. Quality staples never date, and as this look proves, investing in a good coat, pair of jeans and ankle boots you can wear with anything is a smart idea. You can mix and match the pieces and wear them all for years to come. 
A Who What Wear UK favourite. 
You can't beat the quality and fit of Citizens of Humanity jeans. 
Quite possibly the best-looking ankle boots of recent times.
Style Notes: If you've been waiting all summer to wear shearling again, you've come to the right place. Teddy coats and fleeces are about to come into their own, and adding easy leggings and a pair of trainers gives your weekend comfies a little more polish. 
Bring on the winter weather. 
On the days you don't feel like wearing jeans, try leggings for a smoother, more flexible fit. 
These add retro charm. 
Style Notes: The French are masters at putting together simple pieces in a way that makes them feel effortlessly chic, and this go-to off-duty look is a case in point. Whilst the rest of us decide on whether to wear straight, wide-leg or barrel jeans, Parisians stay true to the classics and team their slim skinnies with ballet pumps or loafers.
You can't get better cashmere on the high street than M&S.
Black denim always manages to feel a bit dressier than blue. 
If you're going to be wearing ballet pumps for the foreseeable, it's worth spending a little more on an investment pair. 
Style Notes: Those familiar with TikTok's 2×2 outfit formula will know just how easy it can make getting ready in the morning. Take Karina's "business casual" look (above); all it requires is two dressy pieces (a blazer and a long skirt) paired with two casual pieces (a white tee and sandals), and you've got a chic outfit that can rise to any occasion. Desk-to-dinner dressing at it's finest. 
Creams and beige tones look so gorgeous in winter.
A good white tee is a wardrobe staple. 
Perfect for transitional weather. 
Style Notes: I'm going to stop you right here before you rule out balletcore. The name makes it sounds far more literal than it need be, and really, the basic pieces that make up the look might already be in your wardrobe. Cardigans? Check. Slip skirts and dresses? Check. Ballet pumps? More than likely, check. Bonus points if you manage to incorporate pink. 
Such a good fit. 
The prettiest shade of pink. 
Zara has just about every kind of ballet flats you can think of. 
Style Notes: The best part of autumn/winter dressing is the cosiness, and fluffy knits, smooth suede and glossy leather make up a lot of what we're going to want to wear over the next few months. Keep warm in tactile fabrics that can be dressed up or down for work or play, and expect to see a lot more knee-high boots—they might just be overtaking the ankle boot as the shoe trend of season. 
H&M's jumper offering is so good right now. 
There isn't an outfit out there that this skirt wouldn't improve. 
The ideal heel height for wearing all night. 
Style Notes: Whatever you decide to call it, you can't beat the quiet-luxury look for minimal effort, maximum impact. Maxi coats and trenches are the perfect way to style the look for autumn, but for those wanting to get ahead of the crowd, a cape is the key piece I have a feeling we're going to see a lot more of this year. It's opulent and dramatic yet refined—everything we want from the quiet luxury aesthetic—but it's also perfect for those cool but sunny days when a heavy jacket is too much. 
I love this in camel too. 
You can wear this skirt again in spring and summer. 
These come in no less than eight different colours. 
Style Notes: There's just no escaping the Y2K trend, so rather than avoid it, we've decided to rework it. If you wore cargo trousers the first time around, you probably think of the crop tops and platforms you wore then too, but Monikh Dale's clever trench-and-trainers styling (above) proves just how easy it is to get the look right. Since the bandeau top also made a comeback in 2023, I guess it's only a matter of time until we can expect the halterneck and bolero cardigan to show up, too.
A classic trench.
How to do cargo trousers the cute way. 
A good pair of white trainers goes with everything. 
Style Notes: Marilyn's interpretation of varsity prep (above) is another grown-up take on a popular trend. Take school-uniform basics (knits, skirts, socks, loafers and maybe a blazer or two) and give them a dose of luxury by toning down the colour palette and adding premium accessories. It might not be exactly what you'd wear to school, but this look is top of the class. 
The unexpected shape is so cool. 
I'd wear this with a T-shirt and knee-high boots.
Classic, timeless, chic. 
No one will believe these are from M&S. 
Next Up: 7 Anti-Trend Outfits I'm Seeing Everyone Wear Right Now
This story was originally published at an earlier date and has since been updated.