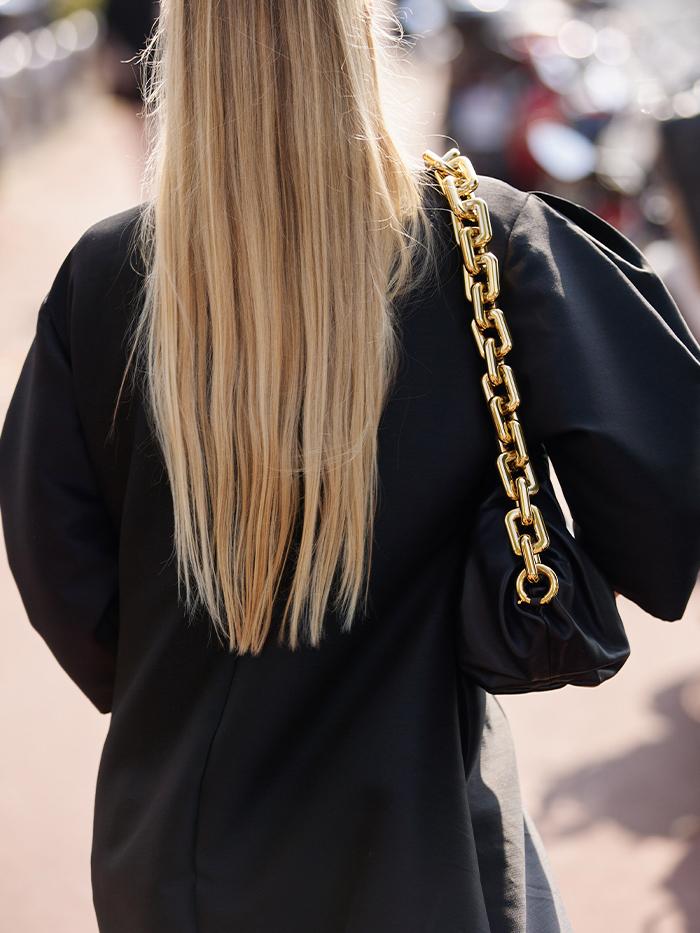 People often get a little bit confused when I harp on about my thin hair. "Your hair isn't even that thin," they say. However, it's important to note that just because somebody has a lot of hair doesn't mean it's thick. My hair is long, sure, but when my lengths are overdue for a cut, they look scraggly and my lack of actual strands becomes all too apparent.
However, that's not to say that my hair isn't consistently thin all over. At the nape of my neck, I'd say I have an average amount of hair, but as you move your attention toward the crown of my head, you could probably count the individual hairs sprouting out of my scalp. Over the years, I've become somewhat self-conscious of the bald(ish) patch where my thin hair parts at the crown of my head and have dedicated a lot of time and money to finding ways to disguise it. But there is one thing that has made this quest exceptionally difficult: I hate the feeling of volumising product in my hair.
I have found that most volumising hair products add so much unwanted grit, weight and density to my already-drab strands that they actually leave them looking as though they haven't been washed for approximately three weeks. On top of that, I like my hair to feel clean, fresh and light, like a soft, fluffy extension of my being, and volumising hair products do their very best to dampen that vibe.
However, after years of turning my nose up at virtually every styling product that came my way (especially you, dry shampoo), and after one very special hairstylist showed me the difference the perfect formula could make, I started hunting out the best volumising hair products for thin, fine hair. And the truth is I've found a whole bunch that make my hair look much thicker and more textured than it really is. It's just about knowing what to look for. Before we get into the products that work for me (and to save you a bunch of time in trial and error), I've enlisted the help of celebrity hairstylist and co-founder of Percy & Reed Paul Percival to reveal his top thin-hair tips.
This is possibly the most important thing that I have learned in my pursuit of more voluminous hair. It makes a lot of sense too, right? The thicker the conditioner, the heavier and limper your hair will be. Percival reveals, "You have to make sure that you don't use a conditioner that's too heavy for your hair, as it will make achieving great volume more difficult. Avoid products that are too oily, too thick, wax-based or heavy creams that add weight." 
Instead of reaching for thick cream formulas, I've discovered that my hair can get its moisture kicks in other ways that allow it to maintain its bounce. My favourite? Oil. Whereas my skin seems to detest everything about oil, my hair can't get enough of it. "Using natural ingredients such as camellia-seed oil restores moisture and protects. Then macadamia-seed oil penetrates the scalp and hair for strength and elasticity. Finally, vitamin-rich carrot-seed oil works great to rejuvenate and regenerate," says Percival.
I'd say that lift is just about my biggest bugbear in that my hair doesn't have any. I can backcomb to my heart's content, but within minutes, it's dropped out and my floppy mop is back. To counteract the issue, Percival insists that you need heat, and you need to know what you're doing. "It's all about the blow-dry! Make sure you are lifting from your roots in an upright motion as you dry each section, this will give you a great foundation. Finish your blow-dry with a cold blast of air and hair spray."
So why is it that I feel as though when I give myself a blow-dry, it never seems to last longer than an hour? "It is essential to let each section cool before running your hands or a brush through it so that the style can 'set.' Otherwise, you will undo all your good work," explains Percival.
The words styling product are enough to send a chill to the very cores of those with thin locks. For those with thick hair, it seems styling products are more or less foolproof. However, when you're not working with a lot, fine-tuning your styling routine is a lot easier said than done. "Using the right formulation is vital," says Percival. "Start by using less of the product to begin with. Then add more if your hair needs it. Some volumising products can be heavy, so make sure you pick a lightweight formulation and work it into the root."
Not sure where to start? From shampoos to masks, keeping scrolling for the hair products that actually give my thin hair some volume without weighing it down.
Sometimes, its just the roots that need a helping hand. A couple of spritzes prior to blowdrying lifts roots with weightless volume and bounce.
Heavy mousses are best avoided if you have fine hair. Hair foams, on the other hand, have a lighter, frothy texture that lends all of the volume without any of the heaviness or stickiness. I love this by from Hair by Sam McKnight.
If you have fine hair, it can quickly look limp after a couple of days, especially if you have an oily scalp. A good shampoo that you can use daily will help lift away product build-up and oils from the scalp, leaving roots lifted and weightless. This one from Temple Spa does the trick and leaves hair super shiny, too.
Sometimes hair can benefit from support from the inside out, as well as topically. This set from Beauty Pie includes the brand's popular Healthy Hair Capsules and the Renewed Density anti-hair loss treatment which work in tandem to reduce hair shedding while encouraging health hair growth from the root.
Although this isn't sold as a volumising treatment, I do find that it adds next-level bounce to my naturally drab locks. It's hardworking, sure, but it's not a particularly heavy mask, so it doesn't create unwanted weight. The thing I love most about it, though, is the way that it leaves my hair feeling super clean without stripping it of oil and leaving it dry. Truthfully, I can't be without a tub.
I like to keep a bottle of this somewhere in the house for the rare times that I fancy going full-on bouffant with my hair. It's slightly weightier than other volumising products that I love, but it's that grit and weight that make it ideal for updos. I just spray at the roots, rub it in and chuck my hair up for the perfect thick-looking messy ponytail.
I try to stay away from styling products full of heavy silicones, and this heat-protection mist proves there's no need. It's lightweight, gives strands a subtle boost of moisture and uses soy protein to strengthen. I simply spritz it over my hair before I use the hair dryer, and it provides that extra bit of body my locks crave.
Just hear me out. I know this is slightly (okay very) expensive for a hair dryer, but since I started using it, it's upped my hair game tenfold. Getting my hair to hold any form of volume from a blow-dry was virtually impossible, and then the Airwrap came along. When I've got an extra half an hour on my hands, I go full out and use the curl barrels for the ultimate bouncy look. Surprisingly, though, my most-used attachment is the smoothing brush, which gives lift at the roots while minimising frizz.
Okay, I'm not going to butter this up. The price makes this a bit of a non-necessity. However, there's something about Oribe products that makes me totally weak at the knees. It looks amazing, of course, but it also does wondrous things for my hair. I spray from a distance, kind of scrunch my hair into place, and this stuff holds it without feeling really weighty.
The first time I laid eyes on this mask, I was sceptical that it would do anything good for my limp locks. It's a very thick hair mask, and, given past experiences, these sorts of formulas make my hair look even flatter than it already does. In fact, even as I applied it, I still wasn't sure. It wasn't until I actually dried my hair that I realised just how great it is. My hair didn't feel coated or heavy (it actually felt surprisingly light), my roots looked lifted, and my ends looked healthier. I've used it once a fortnight ever since.
Again, this product isn't specially formulated to create volume, but it was created specifically to offer weightless nourishment—and that's all I ask for. While thick shampoos and conditioners make styling any volume into my hair near impossible, lightweight formulas like this one make adding lift easy, breezy.
Above anything else, the main selling point for this particular conditioner is its unbelievable smell. It's honestly so good I struggle to express my overwhelming, all-encompassing love for the fresh, citrusy aroma. It smells so wonderful that I quite literally had to prise it from my boyfriend's hands when I found out he'd been secretly borrowing it. But besides the fact it smells out-of-this-world, it also gives my hair lightweight hydration and added bounce, which is a bonus, I suppose.
Unlike other volumising shampoos, this one really doesn't leave a film over strands. In fact, I still get the squeaky-clean feeling that I love post-shampoo without any dryness. It transforms my hair into the perfect blank canvas before styling.
This tiny little bottle packs a serious volumising punch. It might seem surprising at first that a powder product has the ability to create next-level volume, but this powerful stuff really is transformative. What I love the most about powders is that the intensity of the result is really down to how much you use. Given how fine my hair is, I use the tiniest amount and rub it into the roots at the crown for added hold when backcombing.
I'm not usually a fan of hair supplements. Yes, I believe that supplements can make your hair healthier. I'm just not sure how much they can make new hair grow. This supplement, however, comes in a very different form, as a thickening treatment that's to be applied to the scalp. I've noticed a significant change in the lift and health of my roots since using it. My hair feels bouncier, thicker and more full of life.
This stuff is ideal if your hair is naturally tousled or curly. Despite the fact that my hair is more or less poker-straight, for days when I've tonged it or used the wand attachment on my Airwrap, this provides the ultimate hold.
Unlike the Maria Nila powder, this styling powder from Bumble and Bumble is a little less full-on. I find it's quite difficult to go overboard with this stuff. If I want serious texture and lift in my roots, I apply it straight from the bottle, whereas if I want to just add some subtle volume through the body of my hair, I puff it into my hands first and run it through the lengths. I've used it for years and have no intention of ever giving it up.
This thickening spray is super buildable and gives hair a workable grit that keeps roots lifted all day long. And I use the word grit loosely. Yes, it delivers the same long-lasting hold as a traditional gritty spray, but it doesn't have the sticky weight that usually comes with that.
While it's rare that I opt for a polished hair look, for days when I want my hair to look sleek and glossy, this is my go-to. It adds shine, sleekness and gloss while also helping boost volume and bounce.
This was the first product that really encouraged me to start experimenting with volumising hair products, and it has recently been reformulated. Before this, I really didn't want anything to do with volumising products because I hated the weighty feeling they left behind. This dry spray, however, adds grit and lift to roots while absorbing grease and oil, making any style possible. If I could only keep one styling product, I think it would be this.
At first, it seems counter-intuitive to use a thick paste to cleanse your hair and add volume, but as soon as you have rinsed out this cleanser, everything makes perfect sense. Roots are left unexpectedly lifted and with added texture. Plus, the rose scent is heavenly.
John Masters Organics is quite possibly my most-loved haircare brand. As someone who has spent a lot of time trying to stay away from all-natural products that rely on oils, as they can weigh down my hair, when I first tried this shampoo, I was left dumbstruck. My hair was so bouncy and fresh-looking that people were asking me if I'd had a blow-dry. While my obsession with John Masters Organics products continues, this shampoo holds a really special place in my heart.  
When I first saw the word primer, I was worried this would be a thick cream that would make my hair instantly greasy. Luckily for me, it's actually formulated as a spray, making it much more lightweight than I anticipated. It kind of creates volume without the feeling of product in the hair, which is my dream.
I absolutely despise the feeling of dry shampoo on my roots. Half of the time, I feel as though it does the opposite of what I want it to, leaving my hair clumpy and greasy-looking. However, this particular formula is so lightweight that actually, I'm not mad at it. Granted, I'm yet to find a dry shampoo that feels as though it actually cleans my hair, but it does give my roots a lifted refresh—and all for less than £5.
First of all, this stuff smells incredible. It also looks great on the shelf. It helps then the formula itself is equally as stunning. For when you want hair to look lifted, beachy and tousled, this root styling spray makes for the ultimate reach-for.
This stuff takes a little getting to used to, but I can assure you it's worth it in the end. You apply the mousse-like foam onto dry roots and work it in with your fingers. At first, hair will feel wet and sticky. But after a few minutes, the product dries, leaving strands looking suitably bouncy and refreshed. 
One thing I have learned about my thin, flat hair is that if the roots are clean, the bounce and volume is 100% improved. This cooling scrub helps to remove any build-up and residue from the roots that could be weighing hair down.
If it's lift that you want, then you can't go wrong with Sam McKnight's Cool Girl Super Lift Root Boost, which delivers weightless volume to limp roots. Plus, I smells incredible.
Price shown is member price. Look for conditioners that aren't too heavy. If they're too nourishing, you might find they weigh down your hair. This one from Beauty Pie leaves lengths conditioned but bouncy.
So many volumising products leave build-up on the hair over time, making it feel limp and lifeless. All of Ouai's shampoos are incredible, but this one adds weightless volume, shine and bounce without any heaviness.
I recently got a cut at the Larry King Notting Hill salon, where the hairstylist ran this through towel dried hair with their fingers ahead of blow-drying. I couldn't get over how big and bouncy the finished look was, without feeling weighed down or crunchy. 
This post was published at an earlier time and has since been updated. Up Next: 5 Hair Colours That Don't Do Thin Hair Any Favours—and 5 That Absolutely Do.
Opening Image: The Style Stalker