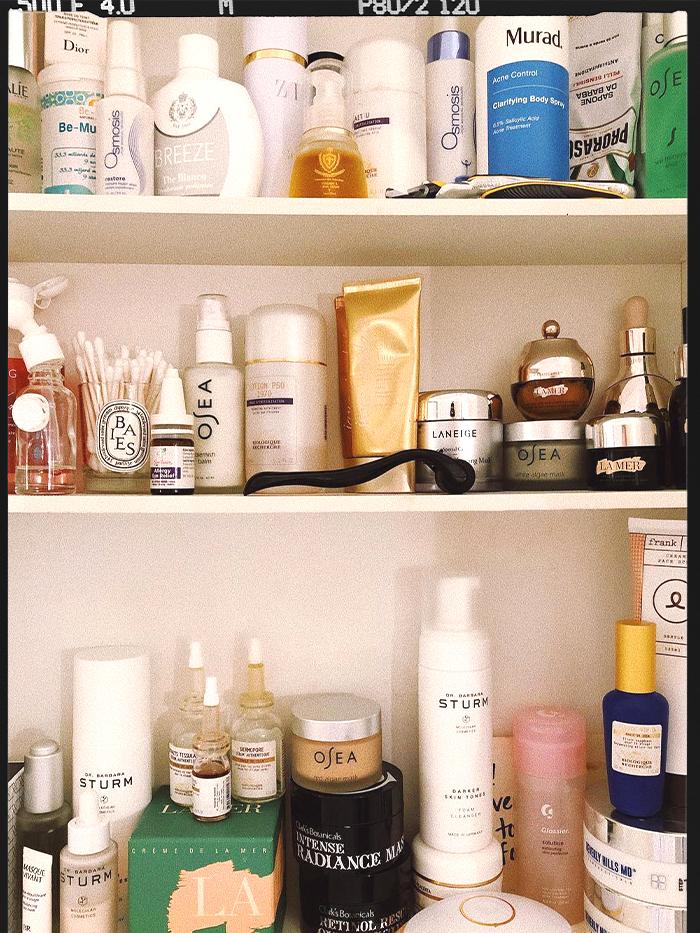 The world of skincare can be confusing enough to navigate, but luxury skincare feels like a whole new ballgame. It's easy to come across a high-end product and feel sticker shock. How is it possible that a serum can cost hundreds of pounds? We definitely felt that way before we began using luxury skincare. 
While it's true that not all expensive brands are worth the hefty price tag, some of them are truly worth every penny. Many luxury brands are powered by scientific research and use top-of-the-line ingredients that really work to penetrate your skin. 
Luckily, you don't have to go in blind and spend a chunk of your paycheck on an eye cream you're not sure will work. We've tried tons of different luxury brands, and know exactly which ones are worth spending money on. Keep scrolling to find 18 of our favorite luxury skincare brands (listed in no particular order) and which products you should try from each of them.
Before La Prairie became a skincare brand, it was La Clinique La Prairie, a rejuvenation clinic nestled in the Swiss Alps. A pioneer in cellular therapy, the clinic blended together lavish ingredients like caviar, gold, and platinum. La Prairie's products are just as much rooted in art as they are science—making this brand's iconic cobalt blue bottles the perfect addition to your vanity. 
This isn't just any face oil—La Prairie's newest nighttime oil is packed with retinol derived from caviar and squalane to hydrate, smooth and firm skin.
Kept separate in the bottle, caviar beads and gel cream emulsify in the pump for a freshly-blended eye serum. Pat this serum over your entire eye area (including around your eyebrows) for firmer, tighter skin.
Professor Augustinus Bader is a biomedical scientist and physician, and an expert in stem cell research. In 2008, he created a wound gel that makes it possible for skin to heal from trauma without skin grafts or surgery, and it was also the inspiration for his beloved skincare line. Every Augustinus Bader product is powered by a technology called TFC8, which blends together vitamins, amino acids, and minerals naturally found in your skin.
True to its name, this heavy-duty moisturiser is sumptuously thick and will leave even the driest skin feeling plump and hydrated, thanks to evening primrose oil, squalane, vitamin E, argan, and avocado oils.
This serum is deeply hydrating, but it also works to target dark spots and reduce the appearance of fine lines and wrinkles. Use it as a boost underneath its iconic cream, or incorporate it into your existing routine for a boost of radiance and hydration.
Tata Harper is one of, if not the best luxury skincare brand in the organic, ultra-green lane of traffic. Inside the brand's signature green and gold glass bottles, you'll find high-quality ingredients that are meticulously sourced from 68 countries all over the globe. It also prioritizes intense concentrations, so unlike lots of other labels on the market, each elixir contains potent doses of organic actives instead of watered-down ratios of ingredients. The products come straight from Harper's Vermont-based farm, and the brand even etches a batch number—which you can trace—into the bottle when it's ready to ship to you. 
The brand compares this dynamic duo to injectables, and if you're consistent with your application, we don't think it's that far off. Potent and effective, this concentrated eye and face serum set lessens the look of severe wrinkles by restoring youthful-looking plumpness and volume to the face. A little bit of each goes a long way which makes the super-steep price a bit easier to stomach.
Yes, this iconic brightening face wash is one of the most expensive options on the market, but it's important to know this organic formula isn't just a basic face wash—it's about three different high-quality skincare products in one. Whether you use it as a cleanser, exfoliator, mask, or all three (yes, really), the all-star blend of apricot, white willow bark, arnica, white clay, olive, and so much more work instantly to leave skin radiant, balanced, and never stripped of moisture.
If you haven't heard of plastic and reconstructive surgeon Dr. Lara Devgan, or her eponymous line of medical-grade skincare, you—and your skin— are in for a real treat. After years of experience and training at Yale, Johns Hopkins, and Columbia—Dr. Devgan's carefully curated line of luxury skincare offers targeted formulas that yield results inspired by her lauded in-office treatments.
Reach for this HA serum for a dewy, glass skin-like finish. What separates it from the pack is itsmixed molecular weight hyaluronic acid which boasts small fragments that more effectively penetrate into the dermis to hydrate from within while the larger fragments reside on top of the skin to create a beautiful finish. It also packs a potent dose of vitamins B3 and B5.
If you've ever considered lip injections, try this SPF-spiked lip gloss instead. 
Tatcha is guided by ancient Japanese beauty wisdom. Each product is based on three main ingredients: green tea, rice, and algae. These Japanese superfoods have a rich history—they're also the building blocks of geisha beauty rituals.
Japanese indigo extract calms irritation and redness while hyaluronic acid and ceramides hydrate and plump skin. This moisturiser works hard—in clinical studies, 93% of participants said that their skin showed improved radiance after just one night of use. 
If you gave oiler skin, then allow us to point you in the direction of this weightless moisturiser that drenches skin with moisture without clogging pores.
Here's a secret: If I could only use one luxury skincare brand for the rest of my life, I would stock up on every last item from IS Clinical (the IS standing for Innovative Skincare) and call it a damn day. I've tried the majority of the brand's formulations, and I don't think there's been one thing I haven't immediately re-stocked the second I hit empty. The brand has been around since 2002 and was founded by biochemist Bryan Johns (we have almost the same last name, maybe that has something to do with my obsession?!) and each formulation is backed by comprehensive studies executed by a world-class team of renowned pharmacologists, geneticists, biologists, and physicians. Sold yet?
If you can't or simply choose not to dabble in the retinol department, this holy-grail, celebrity-loved serum will grant all of the same benefits. As its name would suggest, it's chock-full of strategic active ingredients that work in harmony to resurface, exfoliate, hydrate, brighten, and repave—if you will—uneven skin texture. 
Sisley-Paris may very well be one of the most luxurious and, ahem, gobsmackingly expensive skincare brands out there, but if your budget allows for the splurge, we can't say enough could things. At the zenith of French beauty, the indulgent brand combines the rarest (and most beautiful) botanical ingredients from all over the world to create the most delicious skincare elixirs. Think fares like rare Black Baccara rose and delicate saffron flower—just to whet your appetite. The d'Ornano family only prioritizes the highest, crème de la crème extracts doled out in the highest concentrations.
This incredibly lovely eye contour fluid instantly calms irritation, soothes puff, and helps brighten and lighten dark shadows. It's infused with the brand's signature black rose elixir and is the ultimate addition to your beauty routine, morning, night, or both. (It's especially magical pre-concealer.)
Over £300 for a wrinkle and dark-spot targeting serum is nothing to sneeze at, but this also isn't your average serum. Lansium extract and hexylresorcinol, a top-tier anti-dark spot ingredient, tag team to combat the appearance of dark spots so that you're complexion will look more clear and even as time goes on.
If you're curious as to the significance of "111," it all goes back to 2001 when one of the most respected plastic surgeons in the industry, Dr. Yannis Alexandrides, opened his London-based skincare clinic located at 111 Harley Street. In an effort to expedite his patients' recovery post-surgery, and after discovering that skin ages faster in outer space due to environmental extremes, he sought out a team of scientists responsible for the wellbeing of astronauts (casual, right?) and ultimately collaborated to produce his now patented NAC Y² formula, a cutting-edge trio of peptides and antioxidants you'll find in a few of the brand's signature (and most expensive) products. If you're after results, albeit at a hefty price, this luxury brand doesn't disappoint.
111Skin really delivers in the instant gratification department, and if you're someone who'd like a more lifted, toned, and tightened up complexion by morning, consider applying this diamond peptide- and hyaluronic-acid studded overnight mask pre-beauty sleep.
The only people who shouldn't try this concentrated glow booster are those who are allergic to radiant, lit-from-within-complexions. 
You may be familiar with the iconic fashion house, but Dior's skincare is just as luxurious. Christian Dior's deep love of flowers characterized his fashion designs, and it's the driving force behind Dior skincare, too. Dior's skincare line is blooming with tons of different flowers (all cultivated in Dior gardens) that benefit your skin, like rose and hibiscus. 
This rose-powered serum took 20 years of research to develop, and it packs a punch. Micro-pearls filled with rose sap work to penetrate the skin to firm and plump.
Longoza flowers are known for their regenerative properties. This eye cream uses longoza seeds to target and smooth fine lines around the eye area. 
Even if you have never used La Mer, you've definitely heard of it. The brand has such a cult following that it's almost ubiquitous among skincare lovers at this point. Rumor has it that the cult-famous cream was created by a scientist trying to heal burns sustained in a lab.
Crème de la Mer is the iconic product that started it all. It's considered by many to be one of the best moisturizers in the world—and for good reason. Fermented lime rinds and seaweed help power this ultra-moisturizing cream that leaves skin nourished and impossibly soft.
Meant to be used as a first step in your skincare routine, this multi-tasking oil can be used on your face, hair, body and cuticles. Like all La Mer products, seaweed is one of this oil's star ingredients.
For years, Vintner's Daughter only had one product: its iconic Active Botanical Serum. Now the brand has a grand total of two products to choose from, but the small number is purposeful. Each product is packed with a myriad of active botanicals that pack a major punch when it comes to noticeable skin benefits. Founder April Garguilo built the brand to address skin issues she suffered from, like hormonal acne and discoloration.
While many serums target specific issues, this serum packs a multi-layered punch, with 22 botanical extracts blended in. The serum soothes, moisturizes, brightens and combats damage. 
Formulated as the Active Botanical Serum's perfect companion, the Active Treatment Essence can be used as a toner. Unlike the serum, the essence has water-soluble vitamin C and niacinamide that help mitigate dark spots. It also leaves skin feeling hydrated and supple.
From its stunning, incredibly glossy blue packaging to the liquid-gold contents of said bottles, everything about Mutha (appearance-wise) screams luxury. Luckily, as soon as you actually start applying the beautiful products, that luxury becomes even more pronounced. Mutha was originally dreamed up by mother and brand founder Hope Smith while she was pregnant with her first son. Unable to find something she could trust ingredients-wise to prevent stretch marks and nourish her skin, she began to concoct her own all-natural formulas boasting the purest ingredients she could find in her kitchen. The result: ultra-luxe formulas free of fillers, parabens, petroleum, phthalates, and sulfates. If you haven't tried the brand's body elixirs, you most definitely need to—especially with the dry months of winter ahead—but Mutha's facial offerings are just as delicious. 
This dark circle-diffusing eye cream contains pearl powder, coffee seed, and botanical extracts, which work in harmony to diffuse the look of darkness, firm up fine lines and wrinkles, drain excess puff, and rehydrate the crepey areas. It absorbs really well and delivers a bright-eyed filter effect, even on the witchiest of days when you haven't logged as much sleep as you wish you had.
Brand founder Susanne Kaufmann grew up in a mountainous region of Austria, and has always known about the benefits of the regional plants. Her sustainable skincare line is filled with these natural ingredients, and many of her products are also refillable.
Think of this enzyme peel as your ticket to smoother, more radiant skin. Papaya powder helps gently exfoliate while ginger and coffee extract wake up the skin and minimize the appearance of pores. 
Sure, there are tons of hyaluronic acid serums out there, but sodium hyaluronate is a smaller molecule, which means it's able to penetrate your skin on a deeper level, leaving you more hydrated. This plant-based serum is full of sodium hyaluronate and citric acid, which works to reduce the appearance of fine lines.
Tina Chen Craig, often remembered by her online moniker Bag Snob might be a legendary figure in the fashion world, but ever since she launched and became the co-founder of luxury skincare brand, U Beauty, she's found herself in the epicenter of the beauty industry, with the brand's tight collection of products garnering high-praise and even higher buzz amongst anyone seeking healthier, ultra-youthful looking skin. The fever all started with the U Beauty's "damage-erasing" Resurfacing Compound, but anything you decide to splurge for is a surefire bet toward 100% satisfaction guaranteed.
Clean, vegan, non-GMO, cruelty-free, and formulated sans fillers, this already-famous serum is not only game-changing and exciting, but it also has some lofty claims. For instance, beauty lovers such as Chriselle Lim have gone on record stating the serum slashed her normal skincare routine in half, and the brand states that the key ingredients are so multitasking you can actually kick all of your other serums—such as vitamin C and hyaluronic acid—to the curb. In addition to its famed Siren Capsule Technology, the Compound's genetic makeup consists of other complexion heavy-hitters like antioxidants, retinol, and vitamins C and E. 
Say hello to the newest power player within the U Beauty fam. It's an ingenious multitasking cream that utilizes the brand's signature double patent-pending Siren Technology to help noticeablecorrect hyperpigmentation while shielding skin from further UV damage and other environmental-induced skin symptoms.
Pure, botanical ingredients are at the heart of every Chantecaille product. Chantecaille uses rose water made from Rose de Mai, a rare rose that's naturally chock full of vitamin C, in most of its skincare products.
Pure rose water has a myriad of benefits, from soothing to balancing the skin. Misting this water onto your skin will calm down irritation and impart antioxidants to boost radiance. 
The perfect bi-weekly mask to restore hydration and smooth skin, this rich cream can even be left on overnight if you have parched skin in need of a serious hydration boost. 
SkinCeuticals plays parent to some of the most iconic and beloved skincare formulas in the biz. (Ever heard of that little serum called C E Ferulic?) Backed by science and supported and recommended by countless dermatologists and skin experts, the brand is a surefire bet if you're looking for performance-driven products that are worth every penny of their expensive price points. 
Say hello to the most famous serum of all time. Yes, it's an investment, but if you want a vitamin C serum that can truly do it all and then some, trust the leagues of celebs, editors, and facialists who keep this bottle as the tip-top priority within their skincare routine. 
That said, if you're oily or acne-prone (like me) this is the vitamin C formula that you'll want to reach for to get your SkinCeuticals serum fix instead. (Read my full review here!)
Driven by science, Dr. Barbara Sturm's skincare line is beloved by beauty enthusiasts all over. Known for her pioneering in cellular regeneration, Dr. Sturm is one of the most well-known doctors in the beauty field.
Consider this toner an extension of your cleansing routine. Formulated to remove common residues in tap water, it's the perfect base for your other skincare products. Plus, it helps regulate the skin's pH levels and soothes irritation.
Bistorta root, wild rose, and almond are just a few of the powerhouse ingredients found in this radiance-enhancing serum. Use it as the last step in your skincare routine for an incandescent glow.
Shani Darden is one of the most sought-after celebrity estheticians in Hollywood, catering to the glowing likes of Jessica Alba, Shay Mitchell, Rosie Huntington-Whiteley, and many more. If you can't make it in for a visit to her gorgeous, state-of-the-art spa in Los Angeles, her eponymous, results-driven skincare line is the next best thing and will turn your vanity into a spa-like experience of its own.
This serum is so luxurious and moisturizing it could serve as your entire skincare routine. The soothing, serum-esque consistently gently lifts away the day or night's accrued grime without leaving your skin dry or stripped. 
Regarded as one of the best retinol serums on the market, Shani Darden's famed Retinol Reform is the product to own if you're looking to serum your way to brighter, smoother, more youthful-looking skin. My mom, who's 73, swears it's made her age spots and fine lines all but disappear.
Next: I Asked Beauty Editors Which Skincare Brands Are Really Worth the Money
This article was originally published at an earlier date and has since been updated.