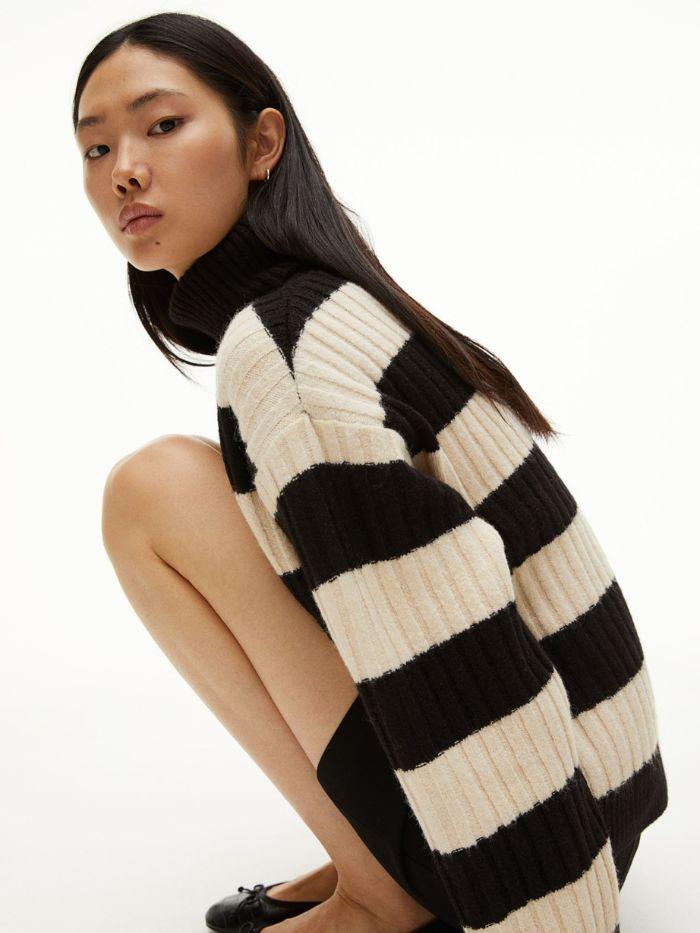 Ask any fashion editor and they'll reluctantly share that their secret to buying expensive-looking knitwear for autumn is H&M. From oversized cardigans and turtlenecks to cashmere sets and rib-knit dresses, the Swedish retailer never misses when it comes to cosy, soft things that bring us comfort during the chilly season. 
Despite the humid sunshine we've experienced over recent weeks, it's officially sweater weather. Knowing that, H&M did us a solid by dropping a crop of comfy sweaters, dresses, and sets, offering 30+ covetable options for us to choose from. Shop the ones that I'm most excited about, and don't worry, I won't judge you for snagging more than one. 
I wear cardigans like this with jeans all year round and fully plan to keep it going during the colder months.
What'd I say about expensive-looking sweaters? 
These fitted rib-knit pieces are stunning, and they come in a variety of colours too. 
I want to wrap myself up in this right now. 
I'm obsessed with this chocolate brown turtleneck. 
Off-the-shoulder knits are back in this autumn. 
This autumn, I'm seeing a big push for these fuzzy mohair knits. 
What's not to love about this knit dress—I'll wait. 
This sweater will live in your wardrobe for ages. 
Yes to the whole look. 
Layered with a shirt, this jumper gives preppy vibes. 
This collared jumper is so versatile.
I'm buying one in every colour. 
A true closet must-have. 
This one-shoulder top looks so sleek. 
I adore this Balmain-esque fluffy knit. 
This one's a no-brainer. 
This sweater was made to fit the coastal-grandmother trend. 
You'll never run out of ways to wear this evergreen sweater. 
Every autumn wardrobe needs one of these jumpers.
No words are needed for a chunky black knit. 
I love this khaki-brown hue.
I've already ordered this and love it.
Navy knitwear with blue denim = perfection!
A jumper you'll have and love forever.
This piece was published at an earlier date and has since been updated
Next Up: 7 Trend-Free Outfit Ideas We're Stealing From Celebrities for Winter.