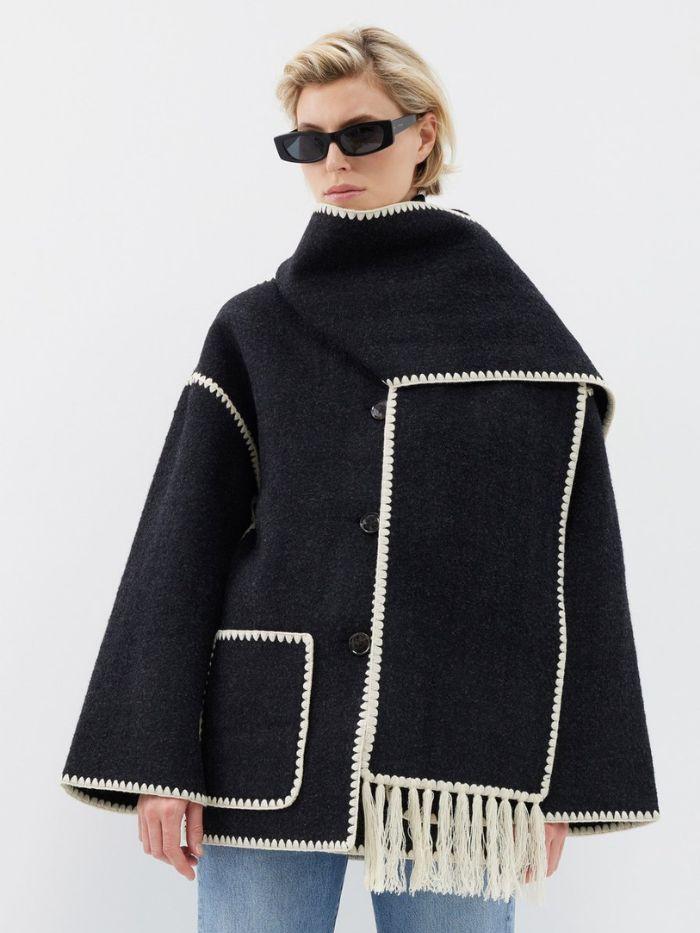 Believe me, I hear you. There are times when the end of the month cannot come soon enough, and if you've been holding back from shopping until your pay cheque clears, firstly–well done, and secondly, welcome back to another well-earned payday. To help you find the best new pieces you'll want to shop and wear now, I've scoured the new-in sections of some of your favourite (and soon-to-be-favourite) brands to find the best seasonal gems to treat yourself and your wardrobe to.
From timeless tailoring to special dresses, high-street to luxury, these are all of the accessories to shout about and the ready to wear pieces so good you'd rather keep them secret, and, they're are all guaranteed to stand the test of time and bring you a little extra joy too. You've earned it this month. Happy shopping!
The ideal layering jacket for the chilly season.
This looks so chic with cream knits, but imagine how good it would look with a black wool coat too. 
I don't know if it's the luxe shade of green or the minimalist hardware, but this bag says "quiet luxury".
Missed the hot red trend the first time around? It's back for another autumn/winter, and this draped dress is perfect for everything from the office to a dinner date. 
T make your everyday turtleneck feel runway-ready.
HUSH are experts in chic, minimalist wardrobe staples like this soft wool coat.
I've never seen a sleek leather jacket that I didn't like. 
It's the run up to Christmas and jewellery makes a truly special gift (even if it's just for yourself). Louise Sinclair's Hinged collection focuses on elegant curves and links, and whether you prefer the colourful enamel rings or the timeless chain bracelets, you're guaranteed to get compliments on these outfit-elevating accessories.
Finery are back with another bestseller-in-the-making. Just imagine this cute cardi with a wool mini skirt, knee-high boot and a belted coat.
And just like that I've never been happier at the prospect of packing my bags. Whether it's a weekend staycation or a long haul flight, Nere's matching luggage sets make travelling even more exciting.
An easy, fuss-free flat shoe for the days you'd prefer to do comfy-chic. 
The best throw-on-and-go dress I've seen this month. No ironing required.
How to get the luxury look, on the high-street. 
River Island Studio takes the brand's regular offering to an entirely chicer level, and these wide-leg trousers will look like you spent three figures without having to shell out. 
I don't know about you, but nothing makes me feel more luxurious than fresh sheets and a new set of PJs, and this collab from Veronica Beard and Petite Plume is the key to sleeping well in style. 
An easy striped knit you can wear with skirts, jeans, leather trousers, cargo pants…
The long back coat is a classic, but have you tried navy? It's just as dark, just as versatile, but undoubtedly expensive looking. 
This would be the standout piece in a well-curated jewellery box.
Aspinal's bestselling travel wallets take the fuss out of organising your documents, so the only thing you have to worry about is which of the 14 different colourways to go for.
The tailoring is so immaculate, you'll wear this for years to come. 
I'm sorry if I'm the first to say it but, it's nearly Christmas. In the spirit of self-gifting, you can't act too quickly to secure Missoma's jewellery advent calendar before it sells out completely. It comes in gold, silver and fine iterations. 
Tuck into skinny jeans and add some cute flats. 
Our favourite jacket of the last 2 years is finally back in stock. Run, don't walk. 
The easiest way to channel Parisian chic. 
The kind of chic shirt you can wear all year round. 
Cashmere and denim is ultimate autumnal pairing. 
Victoria Beckham beauty has done it again. Expect to smell the brand's new signature fragrances on the style set this season, starting with suite 302, an intoxicating blend of black cherry, leather and tobacco leaves. 
With styles this good, I'm happy to commit to sweater weather. 
I've been waiting all year for the weather to be cool enough to wear one of these Loewe scarves. 
Chic. Sleek. Perfection.
There's a reason that these designer-looking flat boots are one of Massimo Dutti's bestsellers. 
You don't need to spend three figures on a leather jacket to look like you did. 
How to get the results of a spa-grade facial at home. Hello, glass skin.  
Wear with jeans, tailored trousers, satin slip skirts, sweeping maxi skirts… the list goes on. 
Looking for something to wear in the "too-hot-too-cold" in-between? Allow me to suggest a sleeveless knit. 
If you buy any boot this autumn, make it a knee-high boot. The mid-heel height only scores extra points. 
Whether you wear it with a white tee and jeans or a slip dress and slingbacks, Massimo Dutti's wool jacket adds polish to any outfit. 
Something tells me that this strokably soft crossbody is about to be very, very popular.
Mesh shoes might have been the trend no one saw coming, but with styles like this, it's easy to see why they're sticking around. 
Just when I thought that the H&M cropped jacket was the chicest I'd seen all week, I spotted this on the Zara site. Don't make me choose…
No need to size up with this snuggly knit. It"s relaxed shape is the perfect loose fit for an effortlessly laidback look. 
I can't be the only one ready to pack away my summer sandals and dive head first into boot season. Thankfully I've already found my dream pair. 
No one will believe that this bag is from the high-street. I mean, just look at it….
Just add a strappy, heeled sandal. Trust me, it makes perfect sense. 
How to make gold hoops feel cool again.
I'm impressed by LK Bennett's denim, but aside from all of the skinnies, flares and turned up pairs, it's the classic straight-legged blue that stand out from the rest.
It's official–The Row make some of the best quiet luxury bags, ever. 
Want to achieve that incomparable post-facial glow at home? You're going to want to start with La Prairie. The secret to cleaner, fresher skin. 
I haven't stopped thinking about these shoes since they first landed. The perfect dressy-flat-meets-ballet-pump hyrbid.
Up Next, Welcome to the Great Try-On: Every Key Buy of the Season Tested IRL